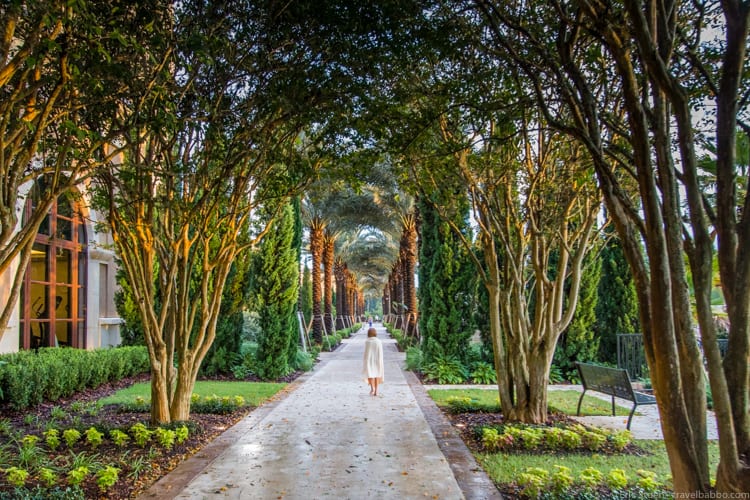 Four Seasons Orlando – a Review
I do very few posts that are pure hotel reviews – TripAdvisor is great if you're just looking for reviews. But sometimes a hotel is the destination (Four Seasons Bora Bora), or a hotel stands out because of what they do wrong from a kid perspective (the Mauna Lani) or right from a kid perspective (the Rosewood Mayakoba), and I like to highlight it. The Four Seasons Resort Orlando at Walt Disney World (aka Four Seasons Orlando) did everything right.
When I planned a trip to Orlando this summer with my two oldest kids (7 and 9), the plan was to stay at the Hard Rock Hotel for four nights and go to the nearby Universal Orlando parks for two days (Harry Potter!) and spend a day at one of the Disney parks. Then I read about the new Four Seasons resort at Disney World and figured that it made more sense to split our time between the Hard Rock and the Four Seasons. While we thoroughly enjoyed the Hard Rock Hotel – it's a perfect place to stay if you're going to Universal – we absolutely loved our two-night stay at the Four Seasons. In fact, the kids loved it so much that they voted not to go to Disney World or Epcot at all, since they wanted to spend the full two days at the hotel. What kind of a hotel makes kids forget about Disney World? Here's what the Four Seasons Orlando did well:
Four Seasons Orlando: The Check In
As I was signing the necessary paperwork at the front desk, my kids were whisked away by Wayne the concierge and taken to a large interactive map of the resort in the lobby. Wayne used the touch screen to show the kids the entire resort and talked about all of the fun things to do, like the kid's club, the waterslides, and the game room. I've never seen so much attention paid to the kids at check-in – such a cool touch.
Four Seasons Orlando: The Room
Not only were there kid-sized robes in the room, there were play things (a tutu/tiara set and a sword/eyepatch set), NatGeo Kids magazines, chocolate lollipops, and milk chilling in the refrigerator. Plus, the room was designed from a family perspective. The sinks and shower settings were easily reachable, and the king bed and very comfortable sofa pull-out could easily fit a family of four, if not five. We had plenty of room.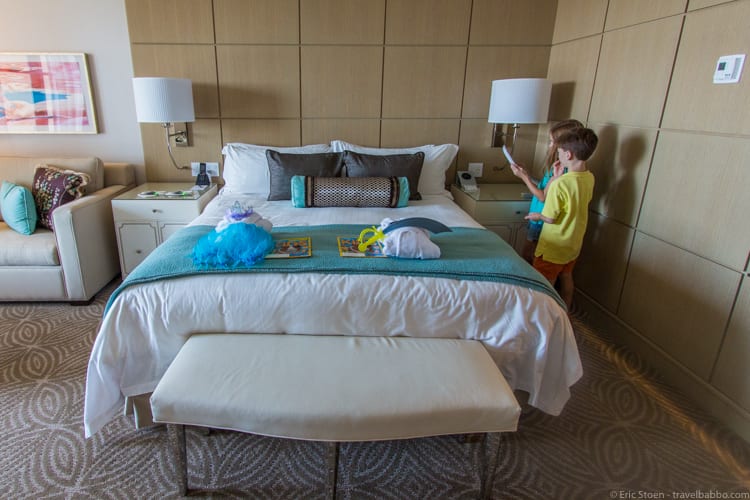 No Mini-Bar
I hate coming into a room and seeing the mini-bar filled with things that we're not going to touch. If there's a refrigerator, I want to be able to use it for leftovers. The refrigerator had milk and waters, but still plenty of room for anything that we wanted to put in there.
Kid Passports
At check in the kids were given Four Seasons passports. Each area of the hotel had a page, and the kids had to go to each spot in order to get stamps. When the passports were completed, they could take them to the front desk and receive a token for a free gelato. I loved the scavenger hunt aspect, but even more, I loved that they included the spa. How many luxury hotels want kids running into the spa to get stamps? Most hotels would be horrified at the thought, but the Four Seasons makes sure that kids are welcome everywhere.
Note: Four Seasons Orlando has now changed from passports to treasure maps. At check in kids receive a pirate treasure map and secret decoder glasses. They use the glasses to reveal a code word for each location on the map (The Spa, Fable, Ravello, etc.) and they have to give the code word to the host at each location to receive their special stamp. Once all 10 locations on the map are stamped, they can go to the front desk to redeem their "treasure," a token for gelato at Lickety Split.
The Four Seasons Orlando Pools
There's a large shallow infinity pool. There's a meandering lazy river. There's a water park. There's an area for pool volleyball and basketball. And there are two very fun waterslides. We spent many, many hours roaming among them all, and just hanging out in a private teepee-shaped cabana next to the waterslides. So fun!
No Surcharges
There are none of the fees or surcharges that other hotels have. Four Seasons Orlando doesn't have a resort fee. If you want to use one of the cool cabanas around the pools, it's included. There's even free sunscreen by the pools. There's no surcharge for the kids club – you can use it as much or as little as you want to – and the Hideout game room has a lot of activities for older kids at no cost. We took advantage of pretty much everything around the hotel except for the spa and our final bill only showed our room charges, taxes, and meals. And if my kids were still under five, their meals would have been free. The overall trend is for hotels to nickel and dime more and more, so it's great that Four Seasons is bucking the trend.
The Four Seasons Orlando Restaurants
We had excellent breakfasts, lunches and dinners at the hotel. The food was excellent, and there were interesting choices on the kids' menus, like pulled pork and Manchego mac & cheese. The kids loved all of the food. And Rachael our server at Ravello talked Harry Potter with my daughter for a good ten minutes – best service ever!
Gelato
The Lickety Split coffee house is fun and very well designed. Since there was a Nespresso machine in the room I didn't get coffee there, but the kids loved the gelato. They highly recommend the stracciatella and the birthday cake flavors!
The Hideout
My kids are a little old for the Kids for All Seasons kid's club, but they loved the Hideout. The pinball, foosball, chess, interactive tables and board games were all fun. Note: I understand that pinball has now been replaced with virtual reality and more video games. Hmmmm.
The Vibe
I love when hotels can strike that perfect balance where they are luxurious AND comfortable, and kid-friendly without bothering their adult guests. A lot of the Four Seasons properties do this well, and Orlando is no exception. It's undoubtedly a five-star hotel but my kids were comfortable everywhere. And as a parent I'm far more relaxed when I don't have to be paranoid about my kids making a little noise or otherwise behaving like kids.
Four Seasons Orlando Costs
When we stayed at Four Seasons Orlando, rooms were as low as $397/night. A search of dates throughout 2022 however doesn't show anything below $764 however. That's annoying, since we've stayed at very few hotels around the world in that price range.
To bring down costs, look for sales (e.g. fourth night free) and be flexible with your dates. If you can't find rates that fit into your budget, email the hotel and ask if there are any deals that you're not seeing. You never know when a reservations agent will come through with a great deal.
I also like booking through Hotels.com since every tenth night is free. That's like saving 10% on every hotel night.
Room with a View
We were in a Park View room. The view was great, and it was fun watching the Disney World fireworks in the distance at night. But we weren't in the room all that much, so I would have been just as happy in a lower-priced Four Seasons Room, or Golden Oak or Lake View Rooms. Except…that the Park View rooms and suites now have in-room wine machines! You can pour a glass whenever you want without calling room service, and it's charged to your room.
Pin This