Take Your Kids Everywhere!®
Welcome to Travel Babbo! I used to work in healthcare, but was (not so secretly) addicted to travel. I would always post about family trips on Facebook, trying to inspire my friends to take their kids to crazy places too. Then in 2014 I quit my job and started this family travel blog to inspire more people.
I've been to 101 countries and seven continents. As a child I saw some of Europe and the South Pacific on family trips, but my travel addiction really began in college when I studied in Florence, Italy for a year and Heidelberg, Germany for a semester. Every weekend was a 3-day weekend, and the goal was to see as much as possible in those three days. This was in the days before cheap, easy intra-Europe flights, so traveling meant taking overnight trains – not the most comfortable mode of travel, but it worked, and I saw much of Europe. Once I graduated from college and grad school I kept it going. Email and international cell coverage made it easy to do my job remotely. Digital photography added a new creative element to the travel. I studied Norwegian for a couple of summers in Oslo. I met up with friends around the world. My goal was to see at least five new countries a year, which I managed for several years.
And then I got married. Travel with my wife was just as fun. Then we had kids (currently 13, 16 and 17), and it got really fun. I fully understand that a lot of people like taking breaks from their kids and heading overseas without them. We're not like that. Two of our kids got to Europe before their first birthdays, and our third at 16 months. And starting at age four, each of my kids gets to pick any destination in the world every year for a one-on-one trip with me. I love the bonding and the different dynamic when I'm traveling with just one child. And my kids aren't shy about picking crazy destinations – trips have included Australia (ages 4 and 6), Hong Kong (5), Belize (4), Easter Island (6), Iguazu Falls (6), Palawan (8), Bali (9 and 10), Japan (7 and 8), the Maldives (9), and Antarctica (8 and 12). And for two of our 10-year-old trips, we went around the world. The kids can pick anywhere they want, as long as it's not highly dangerous. And no, we don't home-school – we just take full advantage of school holidays.
Posts here detail our trips with the kids: the things that we've learned and the places we've discovered in more than 800,000 miles of family travel. There are a lot of ways to travel with kids – the most important thing is just doing it. Book a trip and go. But there are definitely ways to do it better, like playing the frequent flier mile game. If you go to my Start Here page, you'll see my top posts for saving money as well as my most popular posts, our favorite destinations and tips for traveling with kids.
As for the Travel Babbo title… In 2012 I was lucky enough to win Conde Nast Traveler Magazine's Photo of the Year contest out of 21,000+ entrants. The magazine planned an amazing two weeks in Florence for us. The first two days there three different people called me Babbo – Italian for Dad or Daddy. The kids started using it and it stuck – they haven't called me Dad since we returned from that trip. The funny thing is that Babbo only means Dad in certain parts of Italy. In other areas it means Idiot. I'm pretty sure the kids mean the former – most of the time.
Awards and Honors
CNN/Forbes – The World's #4 Travel Influencer, 2017
Hubspot – The #5 Top Travel Influencer on Instagram, 2018
Fodor's Travel – World's Top Family Travel Influencer, 2019
Feedspot – The #3 Luxury Travel Influencer, 2023
Society of American Travel Writers (SATW) – 3x Muster Award Winner for Travel Photography, 2024
Society of American Travel Writers (SATW) – Bronze Photographer of the Year 2022
Society of American Travel Writers (SATW) – 4x Muster Award Winner for Travel Photography, 2021
Society of American Travel Writers – Gold – Family Travel – Turkey: An Amazing Trip to Cappadocia with Kids, 2020
LUXLife Travel & Tourism Awards – Best Family Travel Writer USA and Award for Excellence in Travel Photography, 2020
Conde Nast Traveler – Photo of the Year, 2012
Australian Society of Travel Writers – Judge – Annual Awards Competition, 2018-2023
North American Travel Journalists Association – Gold – Family Travel (Online Publication) – South Greenland: Kid-Friendly Adventure in a Stunning Destination, 2018
North American Travel Journalists Association – Gold – Family Travel (Online Publication) – The Ultimate Family Tradition: One-on-One Vacations with Dad, 2017
North American Travel Journalists Association – Silver – Luxury and Resort Travel (Online Publication) – Six Senses Laamu in the Maldives: Our New Favorite Resort Anywhere, 2017
Society of American Travel Writers – Silver – Photo-Illustrated Article – The Brilliance of Sunrise, 2022.
Society of American Travel Writers – Bronze – Travel Tips – How to Get from the Airport to Your Hotel, 2022
Society of American Travel Writers – Bronze – Website, 2020
Society of American Travel Writers – Bronze – Travel Tips – Florence with Kids: What to Do and Where to Stay in Our Favorite City, 2020
North American Travel Journalists Association – Bronze – Independent Travel Blog, 2019
North American Travel Journalists Association – Bronze – Family Travel (Online Publication) – Florence with Kids, 2019
North American Travel Journalists Association – Bronze – Family Travel (Online Publication) – Giving the Gift of Travel, 2016
Shorty Awards – Nominee, Best Online Travel Content, 2018
Brand Ambassadorships
Groups I'm a Part Of
Places You'll Find My Writing and Photography
Highlighted Press Coverage
Other Places You'll Find Me Featured
As Seen in Vanity Fair Italia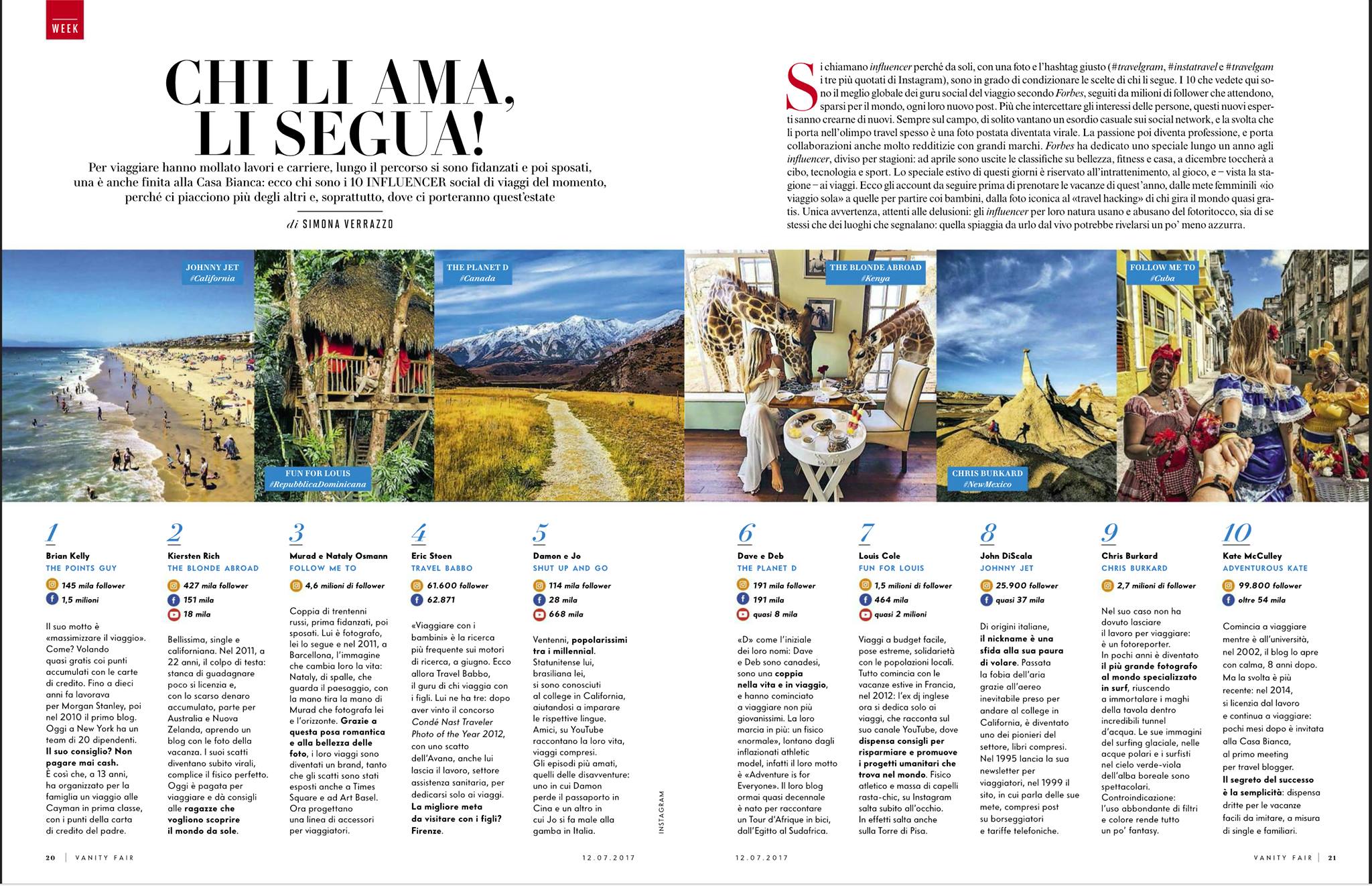 Where I've Been
I've traveled to over 100 countries and all seven continents. This list goes back thirty years, but most trips are fairly recent, and well over half were with my kids (noted with an *).
North America:
Antigua, Bahamas*, Barbados, Belize*, Bermuda*, Canada*, Cayman Islands*, Costa Rica*, Cuba, Dominican Republic, Grenada, Haiti, Jamaica*, Mexico*, Netherlands Antilles, Nicaragua*, Panama*, St. Lucia, United States*
South America:
Argentina*, Brazil*, Chile*, Colombia*, Ecuador*, Peru, Uruguay
Europe:
Austria*, Belgium*, Croatia*, Czechia*, Denmark*, Estonia, Faroe Islands*, Finland, France*, Germany*, Greece*, Hungary*, Iceland*, Ireland*, Italy*, Latvia, Lithuania, Luxembourg, Malta*, Monaco, Netherlands*, Norway*, Poland, Portugal*, Russia*, San Marino, Slovakia, Slovenia*, Spain*, Sweden*, Switzerland*, UK*, Vatican City*
Africa:
Botswana, Ethiopia, Kenya*, Morocco*, Seychelles*, South Africa, Tanzania*, Uganda, Zambia, Zimbabwe
Asia:
Bhutan, Burma, Cambodia*, China, Hong Kong*, India*, Indonesia*, Israel, Japan*, Jordan, Laos*, Lebanon, Macau, Malaysia, Maldives*, Oman*, Philippines*, Qatar*, Saudi; Singapore*, Sri Lanka, South Korea*, Taiwan*, Thailand*, Turkey*, UAE*, Vietnam*
Oceania:
Australia*, Fiji, French Polynesia*, New Zealand*
Antarctica:
Antarctica*
My Current Travel Wish List
Georgia, Iran, Uzbekistan, Dubrovnik, Mauritius, Silk Road, Namibia, Mongolia, Northern Lights, Kerala, Nepal, Finnish Lapland, Madagascar
Some Of The Coolest Things I've Done
Rafting the Zambezi River in Zimbabwe
Exploring Antarctica twice with my daughters (at 8 and 12-years-old)
Hanging out of a train in Sri Lanka
Traveling around the world in two weeks with my 10-year-old daughter, and then doing the same with my 10-year-old son
Accidentally hiking to the top of Table Mountain in Cape Town
Celebrating New Years Eve in Oslo and Paris
Riding on a Mardi Gras float in New Orleans (Krewe of Orpheus)
Hiking the Inca Trail four days to Machu Picchu
Going through the Vasari Corridor in Florence
Seeing Carmen at the Vienna Opera House
Piranha fishing in the Amazon Rainforest
Bungee jumping 300 feet from the bridge between Zimbabwe and Zambia
Working for President Reagan for a year at his LA office (not travel-related, but really cool)
Skiing in Austria
Flying halfway around the world to attend a friend's birthday party in the middle of a Lithuanian forest
Hiking the Great Wall (4x)
Attending a royal Indian wedding in Jodhpur
Climbing Harbour Bridge in Sydney twice, once with my 10-year-old
Sleeping in the Thar Desert in India
Hiking around a Fijian island
Tracking grizzly bears in Alaska
Hiking to see mountain gorillas in Uganda
Attending the World Cup in Russia and three Super Bowls
Conferences Attended
Adventure Travel World Summit 2016, 2017, 2018, 2019, 2022, 2023
Family Travel Association Annual Summit 2016
ITB Berlin 2015, 2016, 2018
NATJA Annual Meeting 2016
New York Times Travel Show 2017, 2020
SATW Annual Conference 2018, 2019
Social Travel Summit 2017, 2019
Study Abroad & Global Citizenship Summit 2017
TBC Asia 2016
TBEX International 2015 x2, 2017, 2023
TBEX North America 2015, 2016, 2017, 2018
TravelCon 2022
Favorite Foods
Mango (ripe), dark chocolate (the fewer ingredients, the better), sushi, key lime pie, rhubarb, cinghiale (wild boar). And watermelon juice, wine and coffee. We're not soda or beer drinkers.