Travel Babbo – Adventurous Family Travel
I launched Travel Babbo in 2014 with the purpose of inspiring others to travel with their children to crazy, unique places. As part of that I provide recommendations and guidance on destinations, hotels, tours, activities and guides, based on first-hand experience. If our kids haven't loved something, I won't recommend it to others.
Why Work with Travel Babbo?
Authority
I'm one of the top family travel experts in the world. I've traveled with my kids to all seven continents and over 60 countries. We've stayed at remote lodges, boutique hotels and large resorts. We've taken cruises, traveled independently and joined group trips. We've flown over 900,000 miles – on the world's most basic low-cost carriers, in several of the best Business Classes, and on everything in-between. We've traveled around the world in two weeks but also spent a month at a Tuscan villa. My kids are all dual US/European citizens.
Forbes named me the World's 4th Most Influential Traveler (I'm the only family traveler on their list) and Fodor's named me the World's Best Family Traveler. I've been quoted in the New York Times, Washington Post, Chicago Tribune, Real Simple and Men's Journal, among others.
I have over 700,000 followers on social media. In addition to @travelbabbo, I have the @familytravel account on Instagram, and I started the #takeyourkidseverywhere hashtag, now with 140,000+ uses.
High Quality Photography and Writing
I've won Conde Nast Traveler's Photo of the Year award, and my photos have appeared in Conde Nast Traveler, Bon Appetit and Holidays with Kids, in addition to numerous online publications.
I've won gold awards for family travel writing two years in a row from the North American Travel Journalists Association, I won four 2021 Muster Awards from the Society of American Travel Writers (SATW), and I was SATW's Bronze Photographer of the Year for 2022.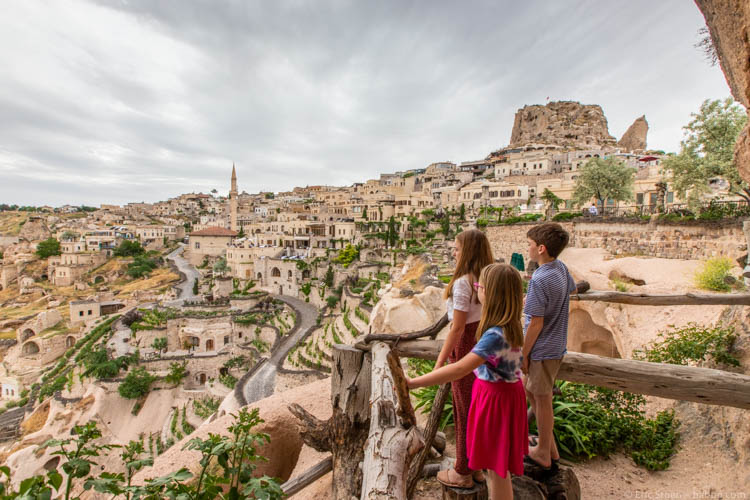 Integrity
I don't allow guest posts on my website, I don't write about places we haven't been, products we don't use or companies we haven't traveled with, and I don't have advertising. If I'm writing about you, your competition won't appear in an ad in the same post or anywhere else in my site. I'm happy to sign exclusivity agreements.
I have a business background, and I look at my partnerships from that perspective. It only makes sense for you to partner with me if I can deliver a positive ROI. I'll go above and beyond to generate as much business for you as possible.
I don't focus on my personality, or that of my kids, since I want people to notice the destination and not us. A good post should make people picture themselves at your destination. A photo of a smiling family up close, or a child eating ice cream without context, doesn't do that. I've traditionally traveled very little without my kids, but now that they're in two schools with two different break schedules, and since they don't want to miss school anymore, I'm taking more trips without them. Family travel will always be my passion though.
Insurance
I've maintained a $1 million Media E&O policy, including Multimedia Liability, through Lloyd's of London since 2018. I've never had a claim. My current policy goes through mid-2024.
Recent Comments From Readers:
"Hey, I wanted to let you know that you inspired my trip to Paris recently. Absolutely loved Paris in the fall. Stayed at Londres Eiffel Hotel for 8 days. They were wonderful & an excellent location. It was the trip of a lifetime! Thank you for recommending."
"My family visited Ashford Castle last month, and did the hour long hawk walk with the Ireland School of Falconry. One of our favorite experiences on our two week trip to Ireland. This is the third time I've booked something I have found on your website in the last year. Just wanted to say thank you for all the great information you post here, and on your social media accounts. I always review your site and accounts before booking any travel!"
"Hi Eric! I wanted to let you know that my family of five visited Florence in January and your info was a huge hit! We stayed at Palazzo Belfiore (loved it) and ate at many restaurants you recommended, including anywhere I could get my hands on coccoli! I fell in love with Florence – so lovely!"
"I've been following you a while and honestly, you have single-handedly changed my view of family travel. As the pandemic is starting to lift, I want to start the same tradition you have (again, you have inspired me) to travel with my daughter solo during the school holidays."
"We've followed your recs on several trips and you haven't steered us wrong thus far! You are one of the few travel bloggers that manages to maintain true authenticity in what you share. Thanks for keeping us inspired!"
"My husband and I took our sons to Tokyo for Spring Break this year. Just another in a long line of destinations your photography, posts and articles have inspired over the years for our little family of four. You inspire me! And because of your work, I go places that would have felt inaccessible or too adventurous. Thanks for being you!"
"Hi there! Found your blog on the Amazon tour you did and booked it immediately. Thanks for the inspiration!"
"I love your love of Italy and especially Florence. I'm headed there for the first time thanks to your account."
"I went to the Broadmoor's Emerald Valley Ranch because of your post on Cloud Camp. I trust your recommendations, especially for trips with kids."
"For our Eid break we decided to travel to Morocco using Plan-it-Morocco per your recommendation and had an amazing time!"
"We went to Six Senses Laamu after reading your reviews. We absolutely loved it. The video of your kids and the bikes with custom license plates prompted my kids to learn to ride bikes so they could bike down the jetty. They beg to go back at least once a week!"
"Took my 2 year old and 10 month old to Bora Bora after reading your post on the Four Seasons. Had the best trip ever! I already want to go back. I absolutely love your content and I lean on you to know mostly what destinations are doable/most enjoyable at each of my childrens' ages."
"I just wanted to write to say there are so many travel websites/blogs in general, and also with kids, but your website is just the best. Your photography is simply stunning, and I appreciate your concise posts and genuine opinions. Thank you for the inspiration. We are hoping to travel deeper in China this coming March, thanks in part to your post on smaller towns in China. Cheers!"
"Your posts about Naxos convinced my friend and I to travel there, and it was by far our favorite place in Greece, so thank you!!!"
"We wanted to go to SE Asia with our kids (8, 10, 13), and we've been there but your post on Cambodia and the other 5 countries made the difference for us. My wife and I read it, printed it, highlighted it, and called the hotels you mention to check availability. We ended up doing 1 week in Thailand and 3 nights in Siem Reap, Cambodia which was the highlight of our trip. We did the quad bike tour as you mentioned and loved it as well. We finished in Bali. Muchas gracias for all you did for us."
"We (my husband and 2 kids) copied your entire trip to Turkey. We even had lunch at Eravan Evi."
"This (Peninsula Bangkok) was the best hotel. We went based on your recommendation and it was so special."
"Based on your recommendations we are off to Turkey for spring break, staying at Argos and Ciragan Palace."
"Your blog is the most honest family travel blog I have seen to date."
"Reaching out to say I bought some Olukai shoes for our trip to WDW and they are amazing! I walked three parks in them and my feet don't hurt! I figured if you're traversing in them, they had to be good! We've also put down our deposit to work with Our Whole Village for a trip to Brazil and their river cruise. We can't wait!"
"We're taking my 9 month old and 5 year old to the Faroe Islands in the summer on your recommendation. So excited!"
"Ok, you convinced me! I just booked the Broadmoor!"
"Your trip post inspired our upcoming family trip to the Atacama. Can't wait!"
"Per your recommendation we are staying at Six Senses Laamu. Last year, we followed your suggestion and went to Six Senses Zighy Bay. Really loved the experience of arriving by paraglider. Thank you."
"Your recommendations work for adults as well. You've never steered us wrong."
"You inspired us to book our upcoming trip to Easter Island this June with a 4 and 8 year old!"
"We stayed at Albergo del Senato in Rome that you suggested and it's our all time favorite hotel! Thanks!"
"I love your feed. We went to Naxos because of you. Thank you for being our de-facto travel agent (along with TripAdvisor)!"
"This photo inspired our summer vacation – thanks! Amazing views, amazing place!"
"We were struggling to decide what safari to book when I stumbled upon your writings. Choice made. I am so excited. Keep on writing and inspiring! Thanks."
"I just booked Cler Hotel for next month after seeing the photo you posted on TripAdvisor. Traveling with my daughter, will be spending 3 nights there! So excited!"
"This is a delayed thank you – but THANK YOU for all your info about visiting Greece. Me and my husband took our 2 teenage boys to Naxos for 10 days last summer (and Athens for 4) and it was truly perfect. You are totally right – awesome island choice for families. Thank you, and enjoy your return to Greece!"
"We decided to visit Miniloc Island with our children based on your article, it was our favorite place yet."
"You're like a more legit version of the Bucket List Family!"
"You definitely inspire me!!! I am really glad that i found your blog….since finding it, when i think of a destination for vacation, the first thing that I do is check your blog to see your thoughts on it."
"Thank you for so many useful suggestions! We are incorporating some of your experiences into our grandson's 10th birthday trip in February to Kenya, Dubai, Oman and London. He is most excited about the paragliding into Six Senses Zighy Bay."
And Comments from PR Professionals:
"We LOVE your content from the campaign, and so does the client."
"Thanks so much for a fantastic partnership!"
"I think you may be my favorite person ever!!!"
"The client (a major DMO) was over the moon about your blog post and thoroughly enjoyed your content and photos."
"You are my least difficult influencer!"
"Just wanted to check-in to say we got wonderful feedback from the client's wider team this week, and they adored your campaign."
"We're super happy with the work. Thanks for being so easy to work with!"
'Thank you so much for the quick turnaround! The client loved the blog post and social posts"
Partnering Possibilities
Travel and product campaigns with blog and social promotion
Trip sponsorships
Professional photography
Brand representative / ambassador for products and destinations that I'm passionate about
Brands I've partnered with as a Travel Influencer include: Aegean Airlines; Adventures By Disney; Ancestry; Blundstone; Book Depository UK; Briggs & Riley; Capital One; Celebrity Cruises; Chase; Cinnamon Hotels; Discover Vail; Discovery Channel; DK Guides; Dollar; Drops Language App; Ecolab; Emilia-Romagna Tourism; Enterprise; FIFA; GoDaddy; Greater Los Angeles Zoo Association; InterContinental Hotels; Japan National Tourism Organization; Kammok; L.L. Bean; Loews Hotels; Lonely Planet Kids; Lutron; MasterCard; Mauritius Tourism; MiiR; MyQ; National Geographic; Nature Valley; NHTSA; Nite-Ize; Norton; OluKai; Oroweat; Panasonic; Plae; Qatar Airways; Ritz-Carlton; Rosetta Stone; Southwest Airlines; Swissôtel; Thomson Family Adventures; Tourism Authority of Thailand; Tracfone; Travelocity; Travel Manitoba; Travel Texas; Travel Wisconsin; Trello; TripAdvisor; Unbound Merino; Universal Orlando; Vail Resorts; Visit Colorado; Visit Greenland; Visit Mammoth; Visit Montana; Visit Trentino; Visit Utah; Westin; Wheels Up; Wyndham Rewards; and Zappos.
You can reach me at eric@travelbabbo.com or via my online Contact Form.
Media Kit (2023)