A Villa in Tuscany with Kids
A few years ago we agreed to take the kids (1, 3 and 5) on a Disney Cruise through the Mediterranean. Expecting to basically be trapped on a Disney ride for 12 nights, we scheduled the next part of the summer to be far more relaxing…a month at a villa in Tuscany. While the Disney cruise wasn't as bad as we imagined, we thoroughly enjoyed our month in Tuscany, and the kids did too. Here's how we did it.
Italian Villa Selection
We were looking for a small town in a central location, for easy day trips around Tuscany and Umbria. We short-listed Cortona and a few other cities and started looking at VRBO listings for them. The villa that looked best was located just outside of Cortona. Done.
Our Home for a Month
We chose a villa that easily slept the five us (with one in a crib), but also had two extra bedrooms for visitors. It also had a pool, acres of olive orchards, a great view of the Tuscan countryside, a washing machine, and wifi, which I needed in order to do my job remotely. The only trade-off was that the villa was a couple of kilometers outside of Cortona, so we wouldn't be able to walk into town and get coffee and bread in the mornings. The price came to 414 Euros a night, or roughly US$444 based on the current exchange rate. That's less than two hotel rooms most places in Italy would have been, plus we would have our own kitchen so we wouldn't have to eat out every night. And if we had shared the villa with another family, it only would have been $222 per family per night. That's tough to beat.
Cortona with Kids
Cortona is a hilltop town and the main parking lots are below the town, so with one kid in a stroller and two others with short legs it was a little bit of a hassle. Having said that, our kids have no memory of the stairs at all, so it obviously wasn't too bad for them.
We went into Cortona roughly every other day. What we loved:
The Playground and Public Gardens
There's a perfect little playground along the walking paths in the public gardens just east of the center of town. We spent hours at the playground and in the gardens.
The Food
We became lunch regulars at a few places, but one restaurant stood out: La Bottega Dell'Oste. It's not easy to find, but the food was incredible, and we overdosed on the lentils every visit. It will be the first place we go next time we're back in Cortona. NOTE: As of early 2020, their website is down, and there haven't been new TripAdvisor reviews in several years. I hope they're still in business!
The Gelato
Since we were typically in town in the afternoons, we would let the kids get gelato every time. We rotated among three gelato places and all were excellent.
The Charm
Cortona is a perfect little Italian town. There's a curving pedestrian street through the center of town. There are town squares. There are restaurants with outdoor tables. There are bakeries with small counters just perfect for ordering cappuccini. There are fruit and flower vendors. There's a weekly market. Cortona was the setting for Frances Mayes' Under the Tuscan Sun, and gets more tourists as a result, but it still doesn't feel touristy. And yes, we saw Frances Mayes walking around town.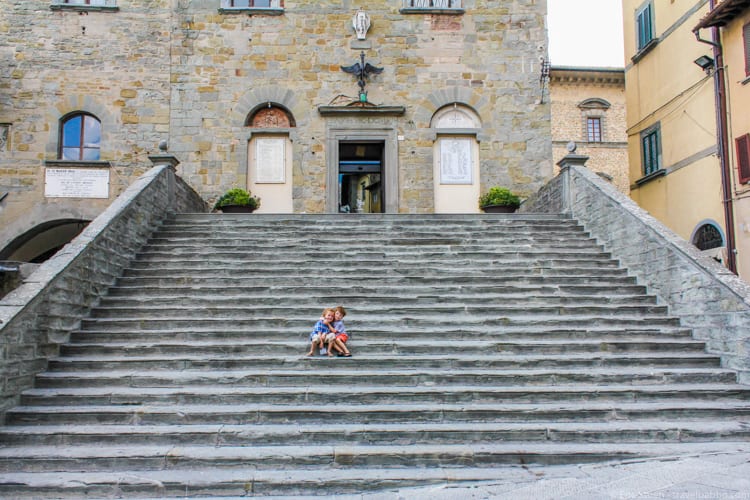 Day Trips around Tuscany and Umbria
We spent a few days just at the villa, but roughly every other day we took day trips. There were a couple that didn't go well (Gubbio, Orvieto) , but that was more the fault of the weather than the destinations – the kids just aren't going to enjoy time in any Italian town when the temperature is over 32 C / 90 F. Our favorite destinations, all within roughly an hour of Cortona (by car):
Siena
We had a great day in Siena. Parking was easy. The town is charming and more interesting than most because of all of its 17 distinct contrade (neighborhoods). The food and gelato were great, and there is more shopping than in other small towns. I've spent a lot of time in Siena over the years, and it's definitely a good base for a few days, but a day trip there also worked well.
Lake Trasimeno
We spent a day at the lake, relaxing and paddle boating, and had a great lunch in the lake town of Passignano.
Montepulciano
Another charming hilltop town with shops, great food, gelato (of course) and a playground. A lot of walking up and down throughout town, but it was one of our favorite places. And when you're walking at a kid's pace, the hilly streets aren't really a big deal.
The Perugina Chocolate Factory
We love Baci, so we made an appointment to tour the factory in Perugia. Unfortunately there was no chocolate in production when we toured, which seems to be majority of the time judging by TripAdvisor reviews, but it was still a fun tour with a chocolate museum, some chocolate making, a tasting and a gift store. The kids especially enjoyed it.
Pienza
Great cheese tasting everywhere, and amazing sunflower fields outside of town.
What we didn't do was attempt to go into Rome or Florence by car. Each city was more than an hour away, and neither one is easy to park in. We saved those for another trip.
Highlights of the Summer
Here's what we loved about that month at the villa:
Dinners
The kitchen was small, but dining outside on the patio every evening overlooking the Tuscan hills was magical.
Wildlife
There were horses just across the road from the villa that our kids went to see often. There were wild boars roaming around. There were dozens of bunnies around the villa. The kids loved all of it.
Olive Groves
The kids spent hours among the olive trees, playing hide and seek, finding sticks to use as magic wands and learning how to use sling shots (not with living creatures of course).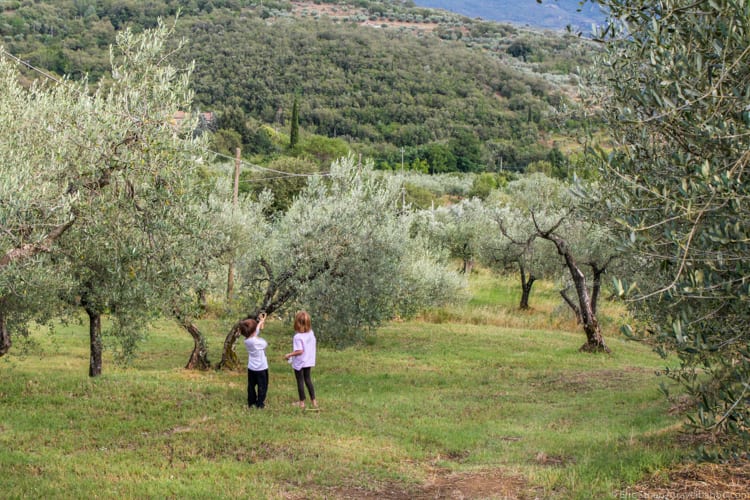 Fireflies
There were fireflies everywhere at night. So cool!
The Walking Path to Cortona
It wasn't great for young kids, but there was a walking path to town from the villa through the hills that we used several times. One parent would walk into town while the other drove the kids into town. It was a gorgeous walk.
Sunflowers
There are amazing sunflower fields between Cortona and the villa.
The Road of Death
OK, that was our (exaggerated) nickname for the one km long, one lane road leading to the villa. When we had to pass people, which thankfully wasn't very often, it wasn't easy. But we grew to love the road, and my wife would jog down the road to the sunflower fields every day and then walk back up – a great morning routine.
Visitors
We had three groups of friends/family stay with us at our Tuscan villa over the course of the month. Dining and enjoying wine outside in the evenings was even more enjoyable with friends.
The View
We never got tired of staring out over the Tuscan countryside. A great backdrop while I was working away on my laptop too.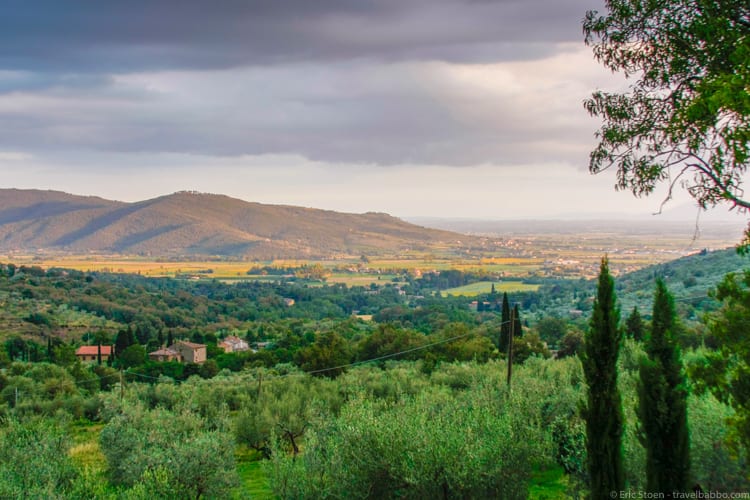 If you've thought of renting a villa in Tuscany, do it! It was a great summer, and we would do it again in a heartbeat. In fact the kids ask all the time when we're going back. We loved Cortona, but there are literally hundreds of other places in Italy where you could have a similar experience. If you want to rent the same villa we did, it's Villa Orlando. I thought we found it via VRBO, but I don't see it there anymore. Or do a wider VRBO search for Tuscan farmhouses. And for other options in Tuscany, check out PointsandTravel's article A Journey for the Soul.
Pin This