Airport to Hotel Transportation
A reader recommended that I write a post with options for traveling from the airport to a hotel. So here you go! Obviously a post like this can't be specific, but we've flown into hundreds of airports and had to get to our hotel every time, so I'll walk you through my thought process anytime we're not renting a car.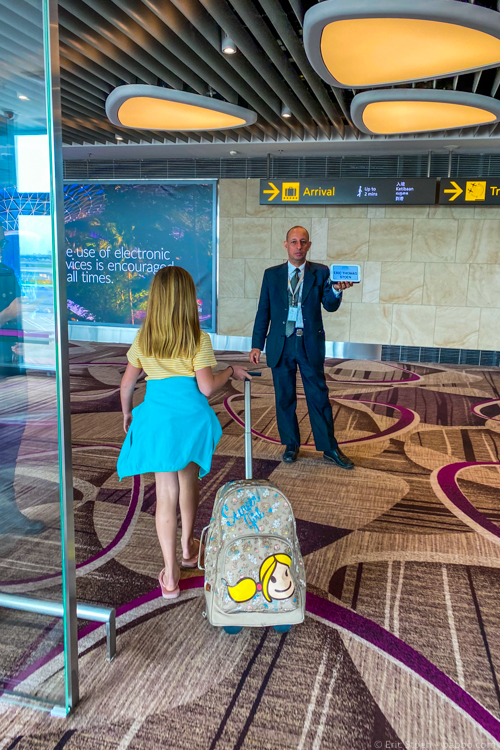 Start with Your Hotel's Website
First, head to your hotel's website and look for any sort of location information. Sometimes there's a Location or Map link/tab, or it's under Hotel Information, Where We Are or even on the Contact Us page. If it's a good hotel site, it will have the hotel's address, the distance from the nearest airport(s), and transportation options – including costs.
Use Google
I'll then head to Google and search for Rome Airport Transportation, for example. Ideally that will bring up the airport's transportation page, but also private transportation options and even blog posts with what others suggest. The only problem with blogs is that everyone is unique. A backpacker's guide to cheap airport transportation options probably isn't going to help you get your family of six to your hotel as quickly and efficiently as possible.
Check Uber or Lyft
Open up the Uber or Lyft app on your phone, put in your hotel as the destination and then change the pickup location to the airport. Ideally do this at the same time of day as you'll be arriving so you can see both estimated drive times and estimated costs.
Call Your Hotel
After looking at the hotel's website, Uber/Lyft and searching the internet for airport/hotel options, I'll usually have a good feel for what's fastest, what's cheapest, and what makes the most sense for us. But if I'm not 100% sure, I'll call the hotel and speak to the Concierge or the Front Desk. While they have an incentive to sell you on the hotel's private airport transportation, they'll be able to give you all of your transportation options.
My Airport Transportation Priorities
When I'm thinking through transportation, I'm not interested in what's cheapest. I mean, if the cheapest option is the best option, great. But I've found that we're typically tired when we arrive at our destination – especially at night – and the kids aren't going to want to have to switch trains or metro lines with luggage and then walk half a mile to our hotel. You can also get scammed or robbed because you're tired and in an unfamiliar place, or you can get lost. It's not worth making your kids miserable or having a nightmare experience because you wanted to save $10.
1. Taxi
If it's a short trip from the airport to a hotel, a taxi is usually easiest and cheapest (if the hotel doesn't have a shuttle). The problem for us is that we have five people and will usually require two taxis, unless there's a minivan taxi already in the queue.
Note: if people come up to you in the airport and ask if you want a taxi, always say no and head outside to the taxi queue.
2. Uber/Lyft
I love Uber and Lyft, other than possibly having to wait a few minutes, and having to figure out where to get picked up. If it's definitely going to be cheaper than a taxi, though, it's usually worth the slight hassle – especially since we can specify that we need a larger vehicle.
3. A Private Pickup
For longer drives (45 minutes or an hour), if I can book a private transportation service for a little more than a taxi or Uber will be, I'll do it. The only downside is that usually we have to wait for the driver to pay for parking and get his/her vehicle. But it's nice to have someone waiting for you at the airport, to know that he/she will have the right vehicle and know where you're going, and you'll know the cost in advance.
The other advantage to private transportation is that you can typically pay online when you book, meaning that you don't need to find an ATM immediately when you arrive. It's the same with Uber/Lyft.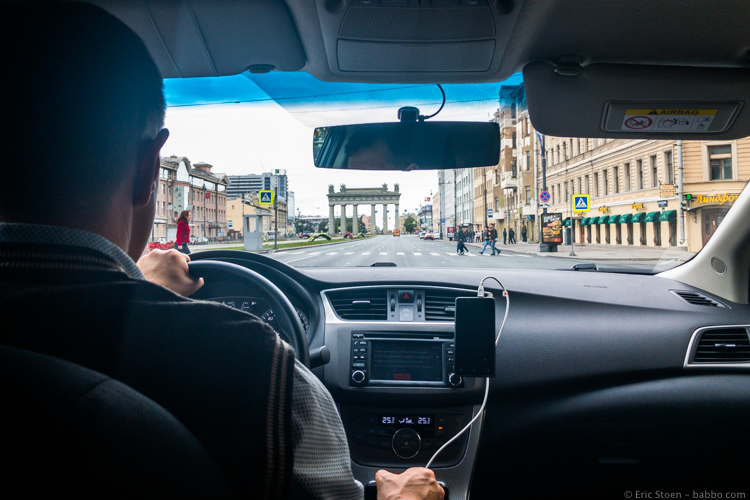 If we can book a private airport pickup through our hotel at a reasonable price, we will. I love using the arrival service of the Fullerton Hotel in Singapore and the Peninsula in Hong Kong, for example. But usually it's priced well above the normal transportation options, so it's a splurge when we do it.
4. A Hotel Bus
In a lot of cities an Airport Hotel Bus (sometimes called Limousine Bus) can be your best option. There will be a desk in the airport, or you can usually book online in advance, and a regularly-scheduled bus will take you from the airport to very close to your hotel. This is a great option in places like Tokyo and Seoul where the drive is long, and ideally where there are special lanes for the buses so you're not stuck in traffic.
Note that in some cities like Reykjavik the airport bus will take you to a central bus station where you'll transfer to a smaller vehicle that goes straight to your hotel.
5. The Train or Metro
A lot of the time a train or metro from the airport is more trouble than it's worth. But especially with Airport Express Trains, a train to the city can be the best option. It will typically drop you at the main train station, but there's a good chance your hotel is near there anyway. Or you can take a taxi from the station to your hotel. Oslo, Stockholm and Amsterdam are good examples of cities where the train always makes the most sense. And in Copenhagen, the metro from the airport is extremely easy, assuming there's a stop near your hotel.
In London we'll almost always opt for the metro (The Tube), as it's far preferable to spending time in traffic.
In Paris, a private transfer from the airport can be fastest if there's no traffic, but if your flight arrives or departs anywhere around rush hour, it's faster to take the train. Plus it's a lot less expensive. To get to my hotel (Londres Eiffel) I simply get on the B (blue) line at CDG airport, take the train to St-Michel Notre Dame, and transfer to the C (yellow) line to Pont d'Alma. It takes under an hour total.
6. A Public Bus
Some places the bus system is your best option. In Hong Kong if we're not staying at an amazing hotel and opting for their arrival service, we'll take the double decker city bus – usually A21 to Kowloon. There are multiple stops, but it's inexpensive and efficient. It's the same in Berlin – the public bus from Tegel Airport is usually the best way to go.
7. Something Exotic!
If we can take a boat from the airport directly to our hotel, we will! We've done this in Venice, Bora Bora, Palawan and the Maldives, and it's amazing every time. In Venice you can sometimes book a boat when you arrive, but it's better to arrange boat transportation through your hotel in advance. In virtually any island destination your hotel will arrange for a boat to meet your flight.
And in the Seychelles, we opted for a helicopter from the airport directly to the Six Senses Zil Pasyon. Definitely our most unique hotel arrival ever!
Airport Transportation Horror Stories
I've learned the hard way to choose airport transportation wisely! Here are just a few anecdotes, so that hopefully you can avoid the same negative experiences.
In Beijing my friend and I thought we did everything right, but still a guy jumped into the passenger seat of our taxi and tried to get us to pay a much higher fare on the way to the hotel. We fought him off and won. The story is here.
I had a backpack stolen on the train between the Madrid airport and city. It led to some very good things months later, but still I wouldn't want to the same to happen to anyone else. I wrote about it here.
In Amsterdam it's correct that the train is the best way to get from the airport to the city, but my son and I were given the wrong platform information by the ticket seller and ended up well outside the city. Always verify that you're at the right track!
Our flight into Tokyo Narita arrived seven hours late. After a long travel day, we just wanted to get to our hotel (Park Hyatt Tokyo), so I opted for a taxi over the scheduled bus service. Big mistake – it cost $265.
And a little different, but in Africa we arrived at one of our hotels after a border crossing and we were missing $1,000+ that was hidden in one of our backpacks – cash we were bringing for a hot air balloon ride. We don't know if it disappeared at the last place we stayed or during the crossing when we went inside to get our passports stamped, but a reminder to always keep your money and passports on you or use the hotel safes. Don't leave things in cars, even when your driver seems trustworthy. And never leave money, passports or phones in a rental car anywhere.
Airport Transportation Links
I'll list a few specific airport transportation options below. These are all from Get Your Guide and rated over 3.5 stars. If you're looking for a different city, you can simply click on any of these and then search on the website.
How about you? What am I leaving off of this list? Any alternate advice for traveling families?