SW USA – The Best Road Trip Destinations
This year, between June and October, we road tripped from California to Colorado four times and from Colorado to California five times. I spent over 200 hours in the car – with some combination of zero, one or two kids – and stayed at 18 hotels in five states.
We took different routes every road trip. We were in no hurry and figured as long as we were traveling by car we should visit places we had never been before, explore new towns, and stop at as many National Parks as possible. In total we made 14 visits to six National Parks – returning to most of them multiple times in order to see more.
Of everywhere we traveled throughout California, Nevada, Utah, Arizona and Colorado, these were the ten best road trip destinations we would recommend to other families. I should note that we drove through New Mexico twice but did not stop, as there was a 14-day quarantine requirement all summer.
Arches National Park / Moab, Utah
We loved Arches National Park and visited three times on our recent road trips. It's simple to navigate and the hikes are great for short legs, and we found it easy to escape the crowds even on peak summer days simply by visiting early in the morning and late in the afternoon.
I have a separate blog post dedicated to Arches National Park, but our favorite arches were Eye of the Whale Arch (only accessible if you have a good off-road car), Delicate Arch (sunrise is better than sunset) and Sand Dune Arch (an uncrowded playground for kids). And definitely go rafting on the Colorado River while you're there.
Where to Stay at Arches National Park
We stayed at three places in Moab – Inca Inn, Moab Springs Ranch and Hoodoo Moab (a Hilton property). Hoodoo Moab was downtown which made it easy to walk around town – there's not much to see but it made it easier to pick up food. Inca Inn was nicely inexpensive if you're not planning on being in your room much. We liked Moab Springs Ranch best though. It's a few minutes closer to the park, our cabin was spacious and nicely distanced from other rooms, and parking was literally steps from our door. We also want to try Under Canvas Moab (glamping) at some point, since we've loved our Under Canvas stays at other National Parks. They're closed in the winter though.
Zion National Park, Utah
Zion National Park is stunning, but it's also a hassle given its popularity. Shuttle Reservations are required for the Zion Scenic Drive, and the parking at other trailheads fills up quickly. Definitely go, but plan ahead, and try not to visit on a weekend.
The Canyon Overlook hike is good – the light is better just after sunrise than at sunset – and the Narrows and Upper Emerald Pools hikes are amazing. Angel's Landing is also supposed to be great, but I heard that it was so crowded this summer that it wasn't worth it.
Where to Stay at Zion National Park
We stayed at Cable Mountain Lodge and Cliffrose Hilton in Springdale, and at Zion Lodge inside the park twice. I highly recommend all three. Zion Lodge isn't as nice as the others, but it's iconic and its location on the Scenic Drive means that you can hike from there without a shuttle reservation.
I should note that I used Hilton points to stay at the Cliffrose. A lot of dates rooms there price in the $800-900 range and it's definitely not worth that much.
Bryce Canyon National Park, Utah
We never stayed overnight in the Bryce Canyon National Park area, but given the park's location between Zion National Park and Arches National Park, it's easy to visit when you're driving between the two. We drove all the way to the end of the main road once, stopped at a lot of overlooks, and hiked the Queens Garden Trail and the connected Navajo Loop Trail. It's a gorgeous area and well worth a stop whether you have an hour or a day to explore.
Where to Stay at Bryce Canyon National Park
As with Zion National Park, there's only one lodge inside the park. So stay there! The Lodge at Bryce Canyon is near Sunset Point and only a few minutes' walk from Sunrise Point, Thor's Hammer and both hikes mentioned above. Its restaurant has good to-go options too.
Capitol Reef National Park, Utah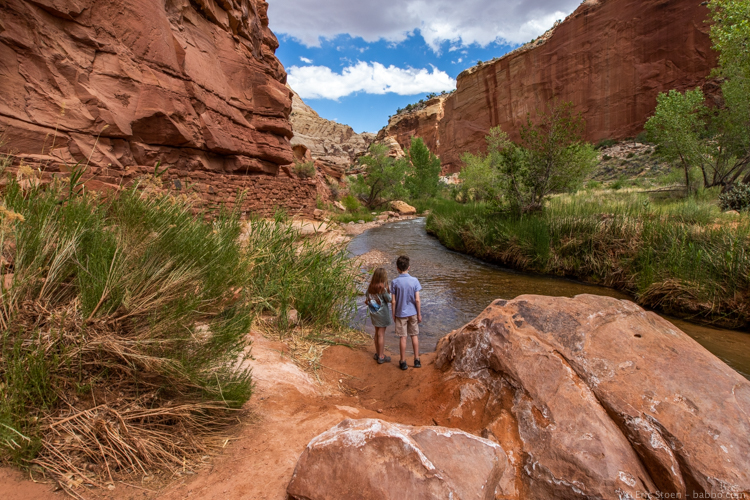 Capitol Reef National Park is an easy detour between Arches and Zion – you can see a good amount of the park from the road, and even stop and hike, without delaying your road trip too much. We did that once, but also stopped for two nights to see a little more. Our highlights were doing a llama hike (basically an easy two-hour walk with llamas on ropes) and the Hickman Natural Bridge hike.
Where to Stay in Capitol Reef National Park
We stayed in a cabin at Capitol Reef Resort. The location is excellent, and you can choose to stay in their hotel rooms, cabins, tipis (teepees) or covered wagons. There are campfires too. There's debate about whether the teepees are fun or cultural appropriation. If you come down on the cultural appropriation side, this probably isn't the hotel for you.
Sedona, Arizona
Sedona worked well for an overnight stop. I arrived, checked in to my hotel, explored the town, got dinner, and then drove to the Baldwin Trailhead and hiked the Baldwin and Red Rock Crossing Trails for sunset. The trails were uncrowded, with a good view of Cathedral Rock. Driving back to the hotel I stopped at several of the overlooks and did shorter hikes.
In the morning I hiked to Devil's Bridge. I parked at the main parking lot at 5am and arrived at Devil's Bridge at 5:45am, 15 minutes before sunrise. Over the course of an hour at the bridge I only saw 10 other people. It was a perfect place to watch sunrise. Walking back down to my car I passed at least 150 people though, and the parking lot was now full. It's always worth waking up early!
Where to Stay in Sedona
I based at Orchards Inn. No complaints all – a good location for walking to shops and restaurants, and my room had a great view.
On the way back from the Devil's Bridge hike I stopped at Casa Sedona for breakfast since it has the top-rated restaurant in Sedona, and the hotel looked great. I'd be tempted to stay there next time. It would be especially convenient if you plan on hiking to Devil's Bridge.
Horseshoe Bend / Page, Arizona
I'll admit that I visited Page solely because of Instagrammable Horseshoe Bend, but I enjoyed the area. I watched sunset over Lake Powell from the Wahweap Overlook, hiked to Horseshoe Bend for sunrise, and thoroughly enjoyed the Moqui Caverns partway between Page and Zion National Park. And of course most people come to Page for Antelope Canyon, which I'll explore next time.
Where to Stay in Page, Arizona
I really enjoyed the Lake Powell Motel. It's probably the nicest "cheap motel" I've ever been to. My room was great, the shower was good, and I appreciated Mark's recommendations. Would definitely return.
The Grand Canyon, Arizona
This may seem like an obvious inclusion, but it almost didn't make the list. My kids didn't love the Grand Canyon – one of our least-favorite National Parks – but it's a bucket list destination worth seeing once, so if you're road tripping around the southwest you should stop by. We hiked along the Rim Trail, hiked the South Kaibab Trail to Ooh Aah Point, watched sunset from Yavapai Point and spent a lot of time, including sunrises and sunsets, at the observation point near El Tovar Lodge.
Where to Stay at the Grand Canyon
This is one of those places where in my mind there's one perfect place to stay – the iconic El Tovar Lodge right on the rim. Bright Angel Lodge next door looked good too, and there are several other places inside the park, if El Tovar is full.
Vail, Colorado
Vail is an extraordinarily easy road trip stop. You can exit I-70, park and be walking around town in less than ten minutes. We'll stop by sometimes for breakfast or lunch if we time it right, and we'll also stop for a few days to enjoy the town and the mountain. A highlight this summer was tubing for an afternoon – so fun.
Where to Stay in Vail
We've stayed in a dozen hotels and lodges in Vail over the years. This summer we tried Four Seasons Vail for the first time and loved it. The location is great (in Vail but just a short walk to Lionshead), the pool is excellent, and parking was easy and free.
Aspen, Colorado
We went through Aspen a couple times this year and then stayed over for two nights. Aspen's amazing – a perfect Colorado mountain town with Maroon Bells, excellent hiking, and of course some of the best fall colors in the world. It's an easy detour from I-70, but we usually travel into Aspen over Independence Pass in the summer since it's a beautiful drive.
In September I happened to be there for the first snow of the year – crazy having temperatures in the 80s one day and then getting five inches of snow the next. It melted quickly though.
Where to Stay in Aspen
I stayed at the Limelight Hotel for two nights. The location is perfect, right next to the park and just 1-2 minutes' walk from restaurants and shops. When it was snowing though I got a wood-fired pizza from the lobby restaurant instead of heading out and it was excellent. Also loved the pool before the snow moved in and the overall vibe of the hotel.
Southwest Colorado / Telluride
We stayed in Telluride for two nights on one trip, and stayed an hour away (closer to Montrose) on another trip. Telluride is a perfect Colorado mountain town, with parks, local shops and restaurants and great hiking nearby. And the fall colors are incredible.
Since I had already stayed in Telluride, I went for a guest ranch on my final road trip of the year and loved it. The Double-G Guest Ranch is between Black Canyon of the Gunnison National Park and Telluride. There are horses and hiking trails, and I loved my cabin. The food was excellent.
Where to Stay in Telluride and SW Colorado
In Telluride we stayed at the Ice House Suites and Condos. We had a great setup for families, complete with a kitchen, and it was only a few minutes' walk to the middle of town, the park, and the gondola – in different directions. The parking garage is tiny, but otherwise no complaints.
And I highly recommend Double G Ranch. Contact Frank and Sandra through their website to book.
Honorable Mention: Seven Magic Mountains
We stopped at the Seven Magic Mountains art exhibit between Las Vegas and the California border three times this summer. I didn't include it on this list since it's really only a 10-minute stop, but it's one that you shouldn't miss.
Climbing on the art isn't allowed, but otherwise enjoy the site. It's best early in the morning before it gets crowded. Admission is free.
Where to Stay for the Seven Magic Mountains
We found it easy to visit on the drive back to California from Utah. Even from Inn on the Cliff in St. George we were able to make it to Seven Magic Mountains before sunrise. The one time we stopped in Las Vegas this summer we stayed at The Cosmopolitan. The view from our room was great.
Places that Missed the List
Other road trip stops that didn't quite make the top ten were:
Ojai, California. Loved the sunset hike to Piedra Blanca outside of town. Stay at Caravan Outpost or Ojai Valley Inn. My post on Ojai is here. These are the best Ojai restaurants.
St. George, Utah. St. George is a perfect stop on I-15. Head to Snow Canyon State Park. The Petrified Dunes there are a great place to watch sunset. Stay at Inn on the Cliff.
Colorado Springs, Colorado. Colorado Springs has great hiking (Garden of the Gods and Cheyenne Canyon) and the brand-new United States Olympic Museum. We had fun exploring nearby Manitou Springs as well this summer. Stay at The Broadmoor.
Other Road Trip Posts
This is my fourth road trip post from this Year of the Road Trip, and we did another in 2021. The others are:
Your Turn – Best Road Trips in USA
Have you road tripped? What would you add to this list? What are the best road trip destinations in the Southwest? And what are the best road trips in the USA? We want to keep going!
And I should note that we drove our own car for all of these. If you want to road trip but would rather do it in an RV, I've heard good things about RV Share.
Pin This!