A Covid 19 USA Road Trip
Like most of the world, we locked down for almost three months due to COVID-19. And we cancelled a lot of travel plans in the process, including trips to Italy, Turkey, Germany and Greece.
With summer here, though, it was time to get out of the house – in a safe way. So I took my 10-year-old daughter and 12-year-old son on by far the longest road trip we've ever done – 2,550 miles from the beach in California to Colorado Springs via Arizona and back via Utah. We were in the car roughly 44 hours, saw six states, including short drives through New Mexico and Nevada, and visited four National Parks.
Traveling During the COVID-19 Pandemic
I received a lot of questions on social media about our trip, mostly about restrooms and masks. For the most part this felt like a normal trip, but with fewer people at our destinations. Every gas station we wanted to stop at was open, and they all had open restrooms. There were also restrooms available in the quick bite restaurants we stopped at. So no issues at all regarding bathrooms.
Virtually all gas station, restaurant and front desk employees were wearing face masks, but there were exceptions. Maybe feeling safer due to plexiglass, workers at two gas stations and one hotel didn't have masks, and our server at one restaurant was maskless. We probably should have walked out, but we were hungry and there weren't a lot of options.
Tourists everywhere were far less likely to wear masks. This is understandable if you're hiking in a National Park, and we didn't wear ours when we were in uncrowded natural environments. But I was surprised how many people in stores and restaurants (when not eating/drinking) weren't in masks. Come on people – it's not hard to wear a mask and it saves lives. Telluride, Colorado was the best – virtually everyone wore a mask, even walking around town, and the restaurants and stores were strict about it. The Grand Canyon was second best, with 1/3 to 1/2 of people in stores and in the food hall wearing masks. Colorado Springs, Grand Junction (CO) and the National Parks in Utah were the worst – a lot of the time we were the only people wearing face masks.
A Southwest Road Trip Planner
When we were sketching out our road trip, the overall goal was to get to Colorado Springs to see family. But the thought of driving straight there in 18 hours or so didn't interest me – where's the fun in that? So we planned 12 days / 11 nights total, with back-to-back driving days only once. What our road trip planner looked like:
Day One: Ventura to the Grand Canyon (AZ), 9 hours
Day Two: Grand Canyon
Day Three: Grand Canyon to Telluride (CO), 7 hours
Day Four: Telluride
Day Five: Telluride to Colorado Springs, 6 hours
Days Six-Eight: Colorado Springs
Day Nine: Colorado Springs to Capitol Reef NP (UT), 8 hours
Day Ten: Capitol Reef NP
Day Eleven: Capitol Reef to Zion NP, via Bryce Canyon, 6 hours
Day Twelve: Zion NP to Ventura, 8 hours
The Grand Canyon, Arizona
The Grand Canyon was our first stop. I had only visited once, when I was young, and my kids had never been. We left our house at 7am and got to our hotel, El Tovar on the South Rim, at 4:30pm, stopping for half an hour along the way for gas and for lunch at In-n-Out Burger in Kingman, Arizona.
El Tovar is one of the iconic National Park lodges. It had been closed for three months for COVID-19 and had only reopened three days earlier. Occupancy seemed to be below 50%. Kind of amazing to be able to book at the last minute given its usual popularity.
As with everywhere on the road trip, we didn't do a lot of advance planning. After we arrived we checked in and then walked around the view points near the hotel. We had a mediocre dinner at the only place that seemed to be open, the Maswik Food Court a mile from the hotel, and then walked around more at sunset.
Our second day we had breakfast in our room (we brought bread and fruit with us) and then drove over to the South Kaibab Trailhead, or as close to it as we could get – parking wasn't allowed at the trailhead, so we parked on the street roughly 3/10 of a mile away and walked along the canyon rim to the start of the hike. The trail goes all the way into the canyon, but the popular place for families to turn around is Ooh Aah Point, a little less than one mile down. The total elevation loss to Ooh Aah Point is 700 feet.
This was a fun hike. It's a little steep in places, but nothing too scary, and my kids handled it just fine – even in shoes with little traction. We returned to our car and we stopped by the Visitor Center for coffee – there's currently no coffee in the El Tovar rooms because of the virus. Grrr. It's the only hotel on our trip that had removed its coffee machines.
We then had some down time, got lunch from a food truck in front of El Tovar, explored the South Rim from our hotel some more, got another less-than-good dinner at Maswik Lodge, and drove over to Yavapai Point for sunset. This was a highlight – there were a lot of people, but there are so many spots to watch the sunset that people weren't too close together, and parking was easy.
FYI, there was a sign at the Visitor Center with the top spots for sunrise and sunset, which is how we found Yavapai. The three spots they recommend for sunrise are Yavapai Point, Mather Point and Navajo Point. The three top sunset spots at the Grand Canyon are Yavapai Point, Lipan Point and Grand Canyon Village (basically the overlooks near El Tovar).
Telluride, Colorado
I grew up in Colorado Springs, but had never been to Telluride. From the Springs Breckenridge is only two hours away, Vail is three, and Aspen and Crested Butte (in the summer) are 3.5. Telluride though is six hours, which never inspired us to make the trip. But this summer it was a perfect road trip stop.
The drive from the Grand Canyon was easy, and once we entered Colorado it was gorgeous. Unfortunately the Four Corners Monument was closed to visitors. It's not the world's most exciting stop, but it's kind of required if you're passing by with kids. Oh well.
We arrived in Telluride early in the afternoon and, for a day and a half, simply explored the town and along the river. We also walked to a park and threw a Frisbee. There are great waterfall hikes just outside of town, but the kids had no desire to get back in the car sooner than they had to. The gondola unfortunately was closed when we visited, but should be open now.
We stayed at Ice House Suites, just two blocks off the main street and right on the river. Our suite had one room with two queen beds and then a sofa bed in the living room. After sharing two beds at El Tovar, it was nice to all have our own beds. We also had a kitchen and dining area, which came in handy for bringing to-go orders back.
We loved Telluride – kind of the perfect mountain town – and we didn't see any chains, which makes it feel more local. We had breakfast one morning at The Butcher & The Baker Cafe and dinner at Brown Dog Pizza and the Smuggler Union Brewery (across the street from our hotel). Everything was excellent. Our one lunch in town we ate leftover pizza.
Colorado Springs, Colorado
In Colorado Springs we got the car washed (lots of bugs) and spent time with friends and family, and I packed up some of my childhood things to bring back to California. If we hadn't had a full schedule we would have headed out to Garden of the Gods and would have hiked in Cheyenne Canyon. My favorite things in Colorado Springs are here, and I'll be updating the post soon with new restaurants.
This visit we got take-out from Fat Sully's Pizza, Dos Santos Tacos (their build-your-own tacos fed us for two meals) and Little Nepal (Indian). Very happy with all three.
Capitol Reef National Park, Utah
We left Colorado Springs at 7am or so, stopped in Grand Junction for gas and lunch, and arrived at Capitol Reef Resort around 3:30pm. We traveled the most direct route, but an alternate would have been to head south on Highway 128 to Moab through Castle Valley and then come back to I-70 on Highway 191. The kids voted no (it would have added an hour), so I'm going to take that route next month with my older daughter.
After checking into Capital Reef Resort, we relaxed the rest of the day and had dinner at the resort. Dinner was good. Breakfast the next morning at the restaurant wasn't good and the service was terrible, so we skipped it for future meals.
After breakfast we went hiking with llamas! When I booked the hotel one of the add-on options was a llama hike. I had never previously thought about hiking with llamas, but it was right there in front of me, so I went for it. Andrew from the llama outfitter next door showed up at the resort with three llamas (Quincy, Percy and Butch) and we headed off into the park. For two hours we basically walked with our llamas on lead ropes as Andrew told us about the land, the National Park and the history. We stopped at a few overlooks for water and photos, but otherwise made a loop in the park, crossing a stream a couple of times. We all enjoyed the hike, and the kids loved the llamas.
We had lunch at La Cueva a short drive away – excellent, although our server wasn't wearing a mask which annoyed me – and then headed through the park to the Hickman Natural Bridge trail. We loved this hike! It's roughly a mile from the trailhead parking to the natural bridge, and the scenery is gorgeous. Officially it's rated as Moderate, but my kids didn't have any issues at all.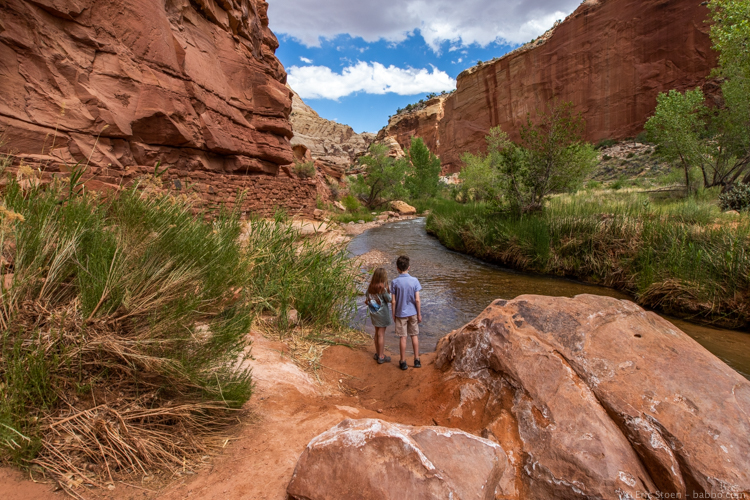 For dinner we walked across the street to Rim Rock and had a very good meal. There's also the Rim Rock Patio next door that's a little more casual. Both are probably better options than the restaurant at Capitol Reef Resort.
The next morning we headed off for Bryce Canyon, stopping first at Castlerock Coffee for pastries.
Bryce Canyon National Park, Utah
Our destination for the night was Cable Mountain Lodge at Zion NP, and we could have taken main roads and arrived in 3.5 hours. But several people reached out on Instagram to recommend that we take Highway 12 south through the Grand Staircase-Escalante National Monument instead. It only added half an hour and was stunning, so it was easily worth it. And then we detoured through Bryce Canyon National Park as well, since we were already right there, which added another two hours.
At Bryce Canyon we drove through the park to Rainbow Point, which is the end of the road, and then all the way back. We stopped at five overlooks and got a decent feel for the park. It was pretty, but without a good hike and further exploration we were a little underwhelmed. I'd love to return at some point when we have more time.
Zion National Park, Utah
Driving to Zion on Highway 9, we come in to the park through the East Entrance, drove through the tunnel and exited at the South Entrance. Our hotel, Cable Mountain Lodge, was just outside the gates. Zion was stunning. It was also the most crowded by far of the four parks we visited. We stopped at several points along the drive to get out and hike a little.
The Scenic Drive was closed so we continued on to our hotel, checked in and two hours later tried the Scenic Drive again, but it was still closed. A reason to go back – if it's ever open? Or maybe it would have made sense to stay at Zion Lodge inside the park to have more access.
We had dinner at Thai Sapa a short walk from the hotel (across the street) and slept well. My daughter loved sleeping on a wall bed for the first time! In the morning we got bagel sandwiches from the coffee shop at the hotel and then hit the road. Eight hours later we were home.
Final Thoughts on Our COVID 19 USA Road Trip
Our kids complain vehemently about long drives when we travel, including four hours between the Punta Arenas airport and Tierra Patagonia in Chile, and the 22 hours of round-trip driving between Marrakech and the Sahara in Morocco. So I was pleasantly surprised that this 44-hour trip worked out as well as it did. There was some complaining, but not a lot. The kids switched places in the car at the halfway point of each stretch.
Spotify helped. The three of us created an eclectic 9-hour road trip playlist and set it on shuffle. There were a few times when we had no cell coverage and Spotify stopped working, but it buffered well enough that we were able to listen to it most of the time. SiriusXM was a good backup, since it worked everywhere.
Our favorite park was Zion and least favorite was Bryce Canyon. Grand Canyon NP just beat out Capitol Reef for second place in the family voting. I'd go back to Capitol Reef and Zion in a heartbeat – so much more to see.
My daughter gives the trip a 7 out of 10 and says it wasn't bad. My son rates it a 5 and says he wouldn't want to do another road trip. They both prefer Europe and being able to base in pedestrian-friendly cities. But in a summer when Europe is largely inaccessible for Americans, I thought this was a great use of 12 days, we got a good feel for four National Parks, and the driving honestly didn't seem like too much. The smaller crowds at the parks undoubtedly helped us have a better trip. And other than wearing face masks at stops and in stores/restaurants, it was life as usual. Kind of nice to feel normal again.
Finance (Road Trip Costs)
All National Parks were free for us since we were using my daughter's 4th grade park pass. If you have a 4th grader, take advantage of the pass!
Our hotels cost:
Total = $2,133
We went for the iconic/coolest hotels everywhere in the best locations. We easily could have spent less and stayed elsewhere.
Meals were:
Arizona: $122
Colorado: $384
Utah: $374
Total = $880
In general we ate fast food when we were driving (Sonic, etc…) and nicer, sit-down meals at our destinations.
Gas added another $272, so total road trip costs were $3,285. Again, it's possible to do that for a lot less depending on where you stay and eat, and llamas aren't required of course. Camping would be far less expensive.
We had three people, but given that every one of our rooms could have slept four, our costs wouldn't have been much different with four people.
Other National Park Road Trips?
Have you road tripped to National Parks? Which did you like the best? We've previously visited Sequoia, Kings Canyon and Glacier with the kids and want to visit more – whether by flying or driving. Would love to know what your kids loved!