2023 Update
I've received a lot of questions about the company that planned our Morocco trip, Plan-It Morocco. Their website now looks like it's members-only. I've reached out to them for an update. At any rate, Morocco was amazing, and I highly recommend booking a trip – whether or not you're able to book with them.
Winter Break in Morocco
I've previously written about how we look for destinations close to our time zone for one-week school holidays. It's simply easier to adjust to your vacation, and then readjust back at home, if you only travel a few time zones away. Well, this year we decided to ignore that and travel to Morocco, nine time zones from California, for our February break.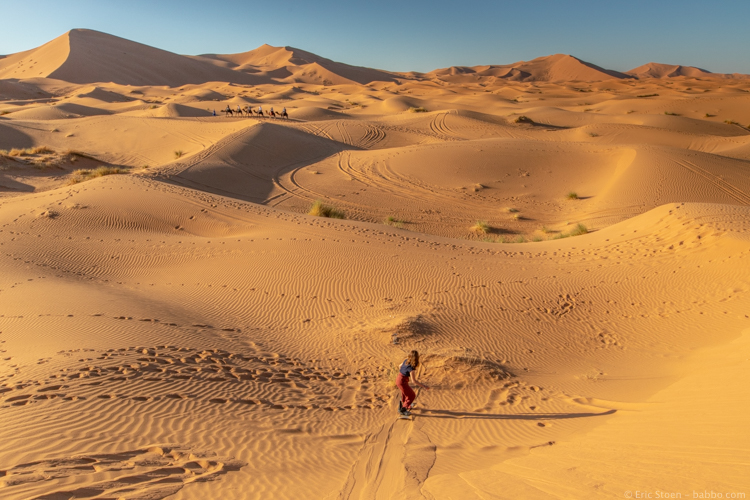 We took the kids out of school one day early (which two of them resented) and flew from Los Angeles to Marrakech on a Friday morning, with connections in New York and Madrid. We arrived at noon on Saturday.
Plan-It Morocco
We'll periodically use tour companies when planning travel to places that are completely new to us. We did this in Turkey last June and in Vietnam, Laos and Cambodia in July. Both trips were excellent, and we appreciated having family-friendly hotels chosen for us, activities planned around our interests, and drivers and guides everywhere – we were able to do and see a lot more and get a far better feel for the cultures. So we had no hesitation doing the same in Morocco.
I reached out to Plan-It Morocco to plan our Morocco with Kids trip and they handled everything from arrival to departure, with literally no issues along the way. They even gave my daughter a gift basket and card on her birthday customized with her favorite colors, animal and flower – a very nice touch. I wouldn't hesitate to book with them again.
How We Spent One Week in Morocco with Kids
Day One: Absolutely Nothing
After arriving in Marrakech, we were met by Amine, who would be our driver for the week, and taken to our first hotel, Les Deux Tours. We were jet lagged and fully appreciated that there was nothing planned for us the first day. And of everywhere we stayed in Morocco, this was the best hotel to spend half a day at. We had a villa with two rooms and a private pool, and the hotel's grounds are amazing, with gardens, pools, terraces and lots of animals (goats, peacocks, turtles, cats). We swam, got drinks near the hotel bar, explored everywhere, and somehow stayed awake until dinner.
A Note on Moroccan Food: the dishes are huge! We made the mistake the first night of ordering five entrees and a starter. It was way too much. At subsequent meals we ordered four entrees and it was still usually too much, so by the end of the trip we were only ordering three dishes. We were assured all along that leftovers in Morocco never go to waste, but still I highly recommend ordering fewer entrees than you have people – even if you're traveling without kids!
Morocco with Kids Day Two: Marrakech Sites
At 10am we were met at Les Deux Tours by Idder, our guide for the day, and we headed to the medina. Our first stop was El Badi, a 400-year-old palace that was once spectacular but is now in ruins, having been ransacked over the years. The film on what it used to look like is well worth a few minutes. A note to Moroccan tourism: restore El Badi! Seriously, start fixing it up, a room at a time, for both historical and tourism purposes.
From El Badi we headed to Bahia Palace – far more decorated, but also far more crowded. Given all of the people, I would have been happy skipping Bahia Palace, especially because our next stop was better: Dar El Bacha, a stunning 100-year-old palace turned museum (Musée des Confluences). I didn't come to Marrakech for cliched Instagram photos – no shots by riad pools or gazing up at lanterns for us – but I had to photograph my kids with the gorgeous Moorish architecture, especially since we had the museum largely to ourselves.
After Dar El Bacha we headed to Kui-Zin for lunch on their rooftop patio and then explored the souk. We learned about Moroccan rugs and had the full rug/carpet unrolling experience (which we've done several places around the world, but it's always fun). We purchased a few things throughout the souk, but really just enjoyed the meandering/confusing alleyways, and learning about all of the local crafts from Idder. We also visited with a hammam fire worker – the guy who keeps the fire going to heat the hammam water.
And then came my son's trip highlight! We walked through Jemaa el-Fnaa square past all of the juice stands, snake charmers and argan oil sellers to our car and headed to the Clock Cafe, where we met up with Master Calligrapher Malha Khattat for a lesson Arabic calligraphy. My son loves calligraphy, has an Instagram account devoted to calligraphy, and has even practiced Arabic before. For two hours or so Malha worked with us on letters of the Arabic alphabet and then our names. Nothing about it was easy, but my son was in his element. Thank you to Plan-It Morocco for setting this up for us! We've done art classes before, but nothing like this.
Dinner was back at Les Deux Tours.
Morocco with Kids Day Three: Marrakech Food
After breakfast at Les Deux Tours, we checked out, gave Amine our luggage and headed into the medina to meet up with Asmae, our guide for the day. Our first activity: a treasure hunt through the souk, straight out of the Amazing Race. We divided into two teams and Asmae gave us each a piece of paper with two ingredients, written in English and Arabic, a note with a third item written only in Arabic, and enough cash to purchase everything. We then set off into the food markets of the medina in search of our items.
When we finished the first task and gave Asmae our change, we moved to a different part of the market and received lists with new ingredients and more funds. And then we did it a third time at Jemaa el-Fnaa. By the end, we had accumulated most of the ingredients that we needed for tea and a tanjia lunch. We took everything to Chez Lamine Hadj Mustapha, where in short order they had our lunch in front of us, on a rooftop overlooking the square. Such a fun experience! Some items were easy to find, some were difficult, and they all involved communicating in some combination of English, French and Arabic.
After lunch we checked into Almaha Marrakech, a riad in the medina. The kids wanted some downtime, but my wife and I had seen some places in the souk the day before that we wanted to return to. We walked 15 minutes or so from the riad though the square to the souk, set off and before long were able to retrace all of our previous steps. I give full credit to my wife who's much better at directions, and at remembering every single turn, than I am! We spent a couple of hours buying glassware, door hardware, spices and more, before returning to Almaha just in time for our evening excursion.
At 6pm, Asmae picked us up and took us on a food tour of the medina. We started with a couple of street stands selling sweets and donuts and then purchased beef and spices for our dinner. After a great sunset walk through the medina talking food, we ended up at a small restaurant for dinner, where we handed over the ground beef and spices and maybe 20 minutes later had our custom-made keftas. This was our favorite dinner of the week! We loved 1) that you can bring food to restaurants to be cooked; 2) the keftas – so good!; and 3) that we were the only non-locals in a restaurant so local that it doesn't have a name! A lot of tourists walked right by. They had no idea what they were missing.
After dinner we walked with Asmae over to Jemaa el-Fnaa, bought fresh juice, nuts and dates, and then ended the night with dessert – snails and snail soup! OK, I don't think it's really going to catch on as a dessert option worldwide, but a lot of people in the square were enjoying their snails so we partook as well. When in Marrakech…
Morocco with Kids Day Four: To Skoura
So at this point it's worth mentioning that there are a lot of different ways to spend a week in Morocco, but the most popular options seem to be 1) cities only (some combination of Marrakech, Fes, Casablanca, Rabat, Chefchaouen and Essaouira) and 2) a city or two and the Sahara desert. We went for option two, which required roughly 22 hours of driving round-trip between Marrakech and the desert. It wasn't ideal, but there's really no way around it, other than a very expensive private helicopter option. If you want to visit the Sahara, you need to be in the car a lot.
Our first day of driving on the way to the Sahara was roughly six hours, including stops. The drive over the High Atlas Mountains was gorgeous, and despite the twists and turns our normally car-sick kids were just fine. Our favorite stop was at Atlas Studios – the largest movie studio in the world by acreage. Our visit didn't line up directly to a tour time, so I have no idea what we would have seen or learned with a guide, but we had fun for almost an hour exploring various sets, and the kids enjoyed being out of the car and running around. We also stopped at a kasbah which wasn't as interesting for the kids.
We arrived at our third hotel, Ksar El Kabbaba in Skoura, around 2pm. I immediately made a hammam appointment and then headed off to the spa. The hammam was excellent – basically a half hour of scrubbing. Then I explored the Ksar for a while before jumping onto bikes with my wife and son and riding around the Skoura palm grove. This was one of my favorite activities of the trip – so interesting going through very small villages and seeing daily life in rural Morocco.
My daughter and I photographed a little at sunset from the roof of the Ksar and then met the others for an excellent dinner.
Morocco with Kids Day Five: The Sahara Desert
We left Ksar El Kabbaba at 9am, spent time at a women's cooperative learning about (and buying) argan oil, and then around noon stopped in Tinejdad at a small roadside restaurant without a name for one of our best meals of the trip – meatballs with egg. It doesn't sound exciting, but it was excellent! Afterward we hit the road again, stopped once to try camel milk (it was ok – probably not worth seeking out at your local store), and then reached a small hotel at the edge of the desert.
We had tea (because "Tea in the Sahara") and then were picked up in a Land Cruiser for a 20-minute dune bashing ride to Africa Luxury Camps. This was the third time in a year I had been dune bashing and I loved it. My kids liked it. My wife was a little scared – the drivers always go a little crazy.
We arrived at the camp, changed shoes and immediately headed off to sand board – basically snowboarding but slower and with less turning. So fun! I went once, and my 14-year-old and 12-year-old went many, many times.
We then returned to camp and hopped onto camels for a sunset ride. My 10-year-old opted out so it was only four of us with a guide. We rode for maybe 20 minutes and then walked up a dune to a perfect spot for sunset. After sunset we rode back to camp.
Dinner was in the main tent – excellent given that we were in the middle of nowhere! And then there was singing and dancing around a campfire. The kids stayed in their tent and listened from there (their tent was next to the performance), while we sat out and enjoyed it. I also walked maybe 50 feet from the camp and photographed the stunning night sky. We were lucky to have a night with no moon. FYI, for the below shot I placed my jacket on the sand and set my Canon 6D MII on top of it, pointing the lens towards the Milky Way (easily visible to the naked eye). I used a 16-35mm lens at 16mm and focused to infinity. I opened the shutter for 30 seconds at f/2.8 & ISO 3200.
We all slept reasonably well, despite it being very cold! There are no heaters in the tents, but there are a lot of blankets, including heated blankets. We wore layers to bed as well.
Morocco with Kids Day Six: The Sahara to Aït Ben Haddou
Sunrise in the desert was beautiful, but wow the sun came up fast! We ate breakfast in the main tent and then packed up and dune bashed back to our primary vehicle waiting at the edge of the desert.
This was a long day of driving, but Amine broke it up with several stops. We watched a Gnaoua music performance, which I loved since obviously Morocco is in Africa but it feels very different than sub-Saharan Africa. This brought some African rhythms to our trip. We also had lunch, walked through the Todra Gorge and stopped at some overlooks.
In the late afternoon we arrived at Riad Caravane in Aït Ben Haddou, had tea and relaxed. Dinner was excellent.
Morocco with Kids Day Seven: Aït Ben Haddou and a Return to Marrakech
We started our last full day at Aït Ben Haddou, a UNESCO World Heritage Site a short distance from our riad. Most tourists do a quick walk through the largely-abandoned earthen clay village and then move on with their trips. Plan-It Morocco, however, arranged for us to take a cooking class within the walls of the village in the home of one of the only families still living there. We loved this – definitely the most unique setting that we've had for a cooking class anywhere! And the periodic groups of tourists taking short cuts though our "classroom" only added to the experience.
With the family living there, we made bread using a traditional oven, a beef tagine and two salads. We then ate everything for lunch – with our fingers. So fun! And my 14-year-old and the little girl who lived in the house bonded and taught each other games.
After lunch we hopped back in the car and drove over the mountains to Marrakech, stopping for roadside honey and argan oil on the way. Once again the kids managed to avoid car sickness.
In Marrakech we checked into our last hotel of the trip, Riad Kniza in the medina, and then headed out to explore. Fun, but we made the mistake of buying a fresh pomegranate juice for my son and he's never been sicker. So a warning based on our experience: the juice in Jemaa el-Fnaa square was good, but stay away from the street stands!
Morocco with Kids Day Eight: Marrakech to Madrid
Amine picked us up at 6:30am for our 9:15am flight to Madrid. It was a short drive to the airport, but it never hurts to arrive early. There were a couple of options to Madrid and we chose Ryanair based on price, knowing that baggage and everything else would be more of a hassle. It wasn't too bad though. The staff at Riad Caravane printed out our boarding passes for us, and then the desk agent in Marrakech overlooked that each of our checked bags was 3kg overweight. He warned us that we had too many carry-on bags and said that he would allow it but the gate agents likely wouldn't, but then no one said anything at the gate. FYI, there's a Paul Bakery at the airport that's excellent.
Where to Stay in Morocco
We moved around a lot, staying at six hotels in seven nights. Thoughts on each:
Les Deux Tours – Marrakech
We started at Les Deux Tours and it couldn't have been a better place to relax the day of our arrival, with a private pool, plenty of gardens to explore and animals roaming around. Shortly after we returned to the US the COVID-19 coronavirus pandemic exploded worldwide, and our thoughts turned to what we would have done if we had gotten stuck in Marrakech for several weeks or months. We all felt that, of everywhere we stayed, Les Deux Tours would be the best place to wait out a quarantine since there's so much space.
A note to other families: our kids loved having their own room across the pool from us, but they didn't have a bathroom so they had to come over to our room. If the kids were younger I wouldn't have felt comfortable with them doing that – especially in the middle of the night.
Almaha Marrakech
I loved Almaha Marrakech. The secret entrance is fun, the riad is beautiful, the library is amazing, the rooftop pool is perfect, and it was nice being within walking distance of the square and souks. Our kids' room was fairly far from our room – the farthest of anywhere we stayed – but that was the only drawback. If we could get rooms closer together this would be a perfect base in the medina.
Ksar El Kabbaba – Skoura
Given that Ksar El Kabbaba is in Skoura you're not going to book it unless you're traveling to or from the Sahara, but if you are in the area, it's perfect! We all rated every hotel/riad as we went and Ksar El Kabbaba was our second-favorite of the trip. The food was particularly good, plus it was fun to explore – rooftops, the palmeraie (via bikes), and the hotel's gardens. And my hammam experience was excellent.
Africa Luxury Camps – the Sahara Desert
We have nothing to compare Africa Luxury Camps to, but it was a seamless stay, from our pickup in Marzouga and dune bashing to sand boarding and camel riding to dinner and entertainment. It's cold in the desert, but they had enough blankets to keep us warm. We treated this like a camping experience and didn't expect too much and didn't take showers or anything like that. The tents do have showers though.
Riad Caravane – Aït Ben Haddou
Riad Caravane was our favorite place we stayed in Morocco. It's simply a perfect riad, from the decor (our style exactly) to the room setup (two rooms next to each other), and the service and food were wonderful. Even though it's in a remote location, we would love to return and spend a week there.
Riad Kniza – Marrakech
Every place we stayed has a five-star rating on TripAdvisor, so the range of luxury was interesting, with some being very simple (Riad Caravane) while Riad Kniza was over-the-top luxurious. That's usually not our style, but we really liked the location in the medina, the service and the room setup – it's the only place where we had a suite with two rooms. And the riad itself is gorgeous.
Morocco with Kids – Finance
Our seven-night trip booked through Plan-It Morocco was 1,850 Euros per person, including all hotels/riads, almost all meals (I think we paid for one dinner?), classes and activities, and our car and driver. That was based on five people and two rooms everywhere except Riad Kniza, and the highest level of accommodations. If you choose mid-level hotels you could get that down to roughly 1,500 Euros per person. Plan-It Morocco graciously provided me with a media discount with no expectation of positive coverage – more than anything they wanted feedback on our trip and itinerary so that they can perfect future trips.
I tipped based on what I usually do internationally – roughly $50 per day per guide in Moroccan dirhams. I ran out of dirhams at the end of the trip and the closest ATM to Riad Kniza was broken. I therefore tipped our driver US$250 at the end – basically what we had left. No idea what's standard?
Summary
I mentioned above that there are different Morocco itinerary options. We opted for Marrakech and the desert. It turned out great, and we loved the two hotels in between Marrakech and the Sahara, but it was a lot of driving for only one night in the desert. It would have been far better to have two or three nights in the desert, but we were limited by our one-week school break.
I think if we did a one-week trip again we'd probably opt to visit three cities and skip the desert, especially since we would have had less driving (you can fly from city to city, or combine driving and flying). But every family is different. If you really want to see the Sahara, or if your kids haven't experienced dune bashing and camel riding before, you may find it worthwhile, even for just one night. But go longer if you can!
Morocco with Kids – Plan-It Morocco
Over the past three years, even with Covid travel restrictions, I've had probably 10 people tell me that they booked through Plan-It-Morocco and had great trips. If you've traveled to Morocco with them, please comment below on how it went and what they set up for you that you loved. I'd love ideas for next time, and I want honest feedback in this post so that people planning travel aren't just taking my word on everything. Thanks!!