Family Adventure Vacations
We're always heading off on adventures around the world. Just the way we travel is an adventure – around-the-world trips with the kids, taking float planes to remote islands, walking across Tuscany – but we're also active, hiking, kayaking, climbing and cycling wherever we can.
Last year I wrote articles for both TripAdvisor and Travelocity on outdoor adventures with kids. This post is my de facto update – our ten favorite adventure destinations with kids; places it will be fairly easy to get kids off of devices and outside. Enjoy! And please comment below: what's the most adventurous trip you've taken? What's your favorite adventure destination with kids?
The Dolomites, Italy
Two summers we headed to Trentino, Italy and the Dolomites. We based out of Val di Fiemme and Val di Fassa for a week of adventure, including lots of hiking, cycling, running down ski slopes and playing at adventure parks. In winter of course there's skiing. And then there's the option to raft, paraglide, climb, kayak and do basically anything else that you can think of. We would return in a heartbeat – an amazing adventure destination that's off the radar of most Americans.
Patagonia
We've been all over Patagonia, from Punta Arenas in the southern section in Chile to San Martin de los Andes, much farther north in Argentina. The entire area is stunning and perfect for adventure lovers. We've hiked, gone on animal-based excursions, headed out on horseback, kayaked, cycled and simply explored. And it's all extraordinarily kid-friendly – your hotel or tour operator can match you up with activities perfect for your kids' ages and adventure thresholds.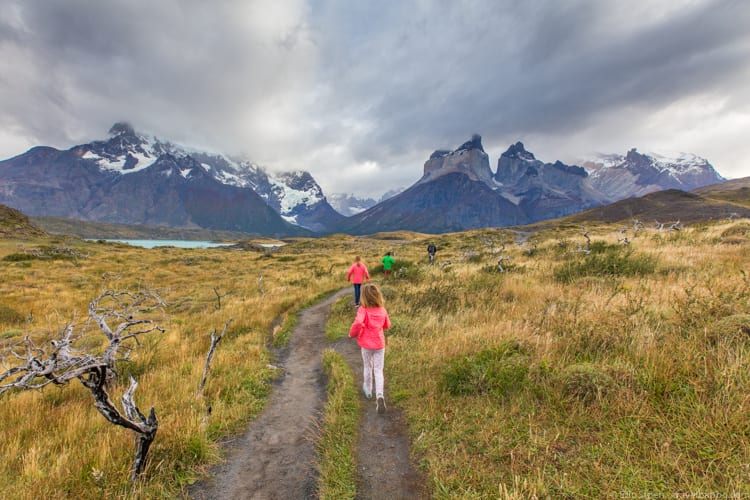 US National Parks
The United States has 62 National Parks and every one is perfect for inexpensive kid-friendly outdoor adventures – especially hiking and rock scrambling/climbing, but also kayaking, horseback riding, rafting, sand boarding and spelunking at different parks. The parks are particularly easy to visit on road trips.
Greenland
Greenland is amazing for outdoor adventure – especially because there really aren't roads. To get from place to place you need to travel by plane, boat, horse, ATV or on foot. We loved the hiking, kayaking and fishing – with icebergs! – and staying on sheep farms instead of in hotels made it all the more adventurous.
Palawan, Philippines
We absolutely loved Palawan in the Philippines. We based at El Nido's Miniloc Island Resort, swam, kayaked, paddle boarded, snorkeled and hiked, and explored several of Palawan's 1,780 islands. And when we weren't exploring we were relaxing in our overwater bungalow, which is always fun given that there really aren't that many places in the world where you can stay overwater, and most are more about romance than adventure.
Tuscany, Italy
Tuscany's best known for Florence, Pisa, Lucca and a lot of amazing hilltop towns, with all of their history, culture, architecture and art, but it's also a great adventure destination. Hiking through Tuscany from village to village on the Via Francigena pilgrimage path was an amazing way to see the countryside. It's also an outstanding cycling destination, plus there's rafting, caving, climbing, skiing, snorkeling/diving, and kayaking and sailing (don't forget that Tuscany includes the island of Elba).
The Amazon Rainforest, Brazil
What's more adventurous than heading into the Amazon Rainforest? Even better, it's easy to do! We flew into Manaus and then lived on a boat on the Rio Negro for four nights. We fished for piranhas, swam several times a day (in the same river as the piranhas, but it's safe), kayaked, headed up tributaries to waterfalls, walked around abandoned villages and took daily hikes. Plus we found caymans, sloths and stick bugs, which of course the kids in the group loved!
Antarctica
Yes, Antarctica is at the bottom of the world and it's not an inexpensive destination, but it is accessible, family-friendly and amazing! Simply book a cruise, fly to Ushuaia, Argentina and get on your ship, and you'll be in Antarctica a day and a half later. I've been to Antarctica twice – with my oldest daughter when she was eight, and with my youngest daughter when she was 12. Both trips were absolutely magical. Take your kids to Antarctica! Don't wait until you're retired!
Canada
Canada is all about adventure! We've hiked to lighthouses in Newfoundland, watched whales in both Newfoundland and British Columbia, ridden horses in Alberta, fished and banded birds in Manitoba, and kayaked and hiked everywhere. And I had my coolest dining experience ever in Montreal.
The Desert
I had several desert locations on my short list, including Chile's Atacama Desert, Qatar, Rajasthan, India and the Sahara, and then decided to combine them. Culturally there are differences between them of course, but in general you have dune exploration, camel riding, dune bashing, camping, mountain biking, sand boarding and quad biking, and then unique activities each place, like kayaking in Qatar, heading to hot springs and geysers in the Atacama Desert, and falconry in Qatar and the UAE. And virtually everything is kid-friendly.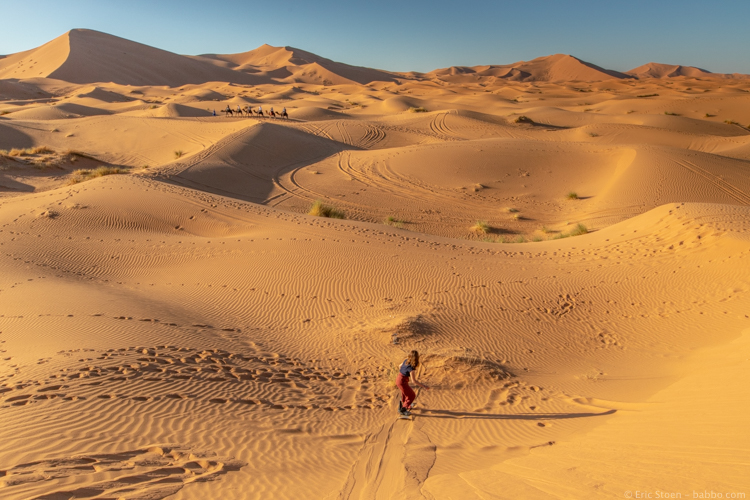 Other Family Adventure Destinations
Places that barely missed this list included the Faroe Islands, Panama, Costa Rica, Australia, the Galapagos Islands, Iceland and Sweden.
And of course there's your own backyard! In this year of the pandemic, international travel isn't easy or advised. So if your only option is to explore close to home, so be it. Book a cabin on a lake an hour away. Go hiking (on uncrowded trails). Or head to the park for some Frisbee. Just get your kids outside. And maybe next year a trip to the Amazon will be possible again…
What's your favorite family adventure vacation spot?