Sweden
I've never spent much time in Sweden. Blame my Norwegian roots. The Swedes and Norwegians traditionally haven't gotten along, and as I'm 33% Norwegian and only 4% Swedish, the Norwegian side won out. I've backpacked around Norway. I studied two summers at the University of Oslo. I've spent holidays with friends in Norway. In Sweden…well, we picked up a Volvo at the factory in Gothenburg 10 years ago, and I've flown through Stockholm several times.
Fast forward to this year. The Adventure Travel World Summit was in Gothenburg – a perfect opportunity to finally give Sweden a chance. And as part of the summit, I could choose a multi-day adventure anywhere in the country. Two years ago in Argentina my pre-summit adventure consisted of cycling, rafting, hiking and kayaking through Patagonia. Last year in Tuscany I walked….a lot. This year I wanted to do something new. Instead of sports or hiking, I chose to explore Sweden's forests.
I loved it.
Even more than Norway.
And it was extremely kid-friendly. Even though I didn't have my kids with me, I'd take them to Sweden and do the same itinerary in a heartbeat. I wouldn't say that about the more challenging adventures in Argentina and Italy. This was simply perfect for kids.
So what did I do, and how can you do the same? Read on.
Traveling to Köping
My adventure started in Köping, in the middle of Sweden. Even though it felt like I was in the middle of nowhere, Köping was actually remarkably easy to get to. I flew from Los Angeles to Stockholm via Frankfurt and overnighted in Stockholm. Stockholm is a great layover city, as the Arlanda Express train takes you from the airport to the center of town in only 20 minutes, and there are trains every 10-15 minutes. As I was arriving by train and departing the next day by train, I stayed just a few minutes from the central station at the aptly-named Central Hotel. My room was small and I didn't have much of a view, but the location worked perfectly and the included breakfast was very good. It was maybe a 15-minute walk to the charming older part of the city, Gamla Stan.
The next morning I took the 9:13 train to Köping, arriving at 10:30am. Just like that, I was in the middle of Sweden.
Wild Sweden
So yes, Sweden is wild. But Wild Sweden is the name of the tour operator that arranged everything for 11 of us for four days. It's possible, of course, to travel on your own. You can rent a car, book hotels and explore. But Wild Sweden's guides Marcus and Simon were incredible, and we would have missed out on a lot of amazing experiences without their expertise. So I'd highly recommend checking them out and hiring them, or joining one of their trips. This is everything they arranged for us:
Berry Picking
By mid-September the end of the berry season is quickly approaching, but there were still plenty of blueberries and lingonberries in the forests. And you're welcome to eat or take anything that you pick. We were told that only 4% of Sweden's berries are eaten every year, either by humans or animals (mainly bears). I personally tried to bump that up to 5%!
Mushroom Picking
Wild Sweden connected us with Hellen, a local B&B owner and a mushroom expert, who took us through her favorite section of forest and taught us all about mushrooms and which ones we should be picking. After filling our buckets with Golden Chanterelles and Autumn Chanterelles, we walked back through the mossy forest to saute them over a campfire for lunch.
Which brings me to…
Lunches and Dinners by Campfire
In four days we had six different meals next to campfires. Two of the meals were made in advance by our lodge (below), one was prepared by Marcus and Simon (following the mushroom hike), and we were responsible for three – lunch, dinner and breakfast at Kolarbyn. All were excellent, and in gorgeous forest, island and lake settings.
A Beaver Safari
Our first night we left our hotel by boat and headed up river to an island where we had dinner – above. On the way we learned all about beavers, and then after dinner, in the dark, we headed further up river to find beavers. We saw a lot of evidence of recent beaver activity but no beavers, so I went back to the hotel (jet-lag was getting to me). Several people opted instead to go up the river one more time and they immediately found beavers. Lessons: don't search for beavers when you're tired, and be patient!
A Moose Safari
Better rested, we headed out the next night for another lakeside campfire and dinner and then drove around central Sweden looking for moose. It wasn't hard to find them, as Marcus and Simon knew their usual haunts. I'm pretty sure this is the first time I've seen moose in the wild? And now I've seen 14.
Listening to Wolves Howl with a Full Moon
Although the beaver and moose safaris were fun, Wild Sweden saved the best for last. Following our moose safari, at roughly 10pm, Marcus and Simon drove us 45 minutes to a (very) remote location and we got out of the vehicles. We were instructed to be as quiet as possible, and the guides built a fire for us in complete silence. For over half an hour we stood there, warmed by the fire and by hot chocolate. Then we put on headlamps and walked down a road. Silently. After roughly 10 minutes we were told to stop and listen. Just minutes later wolves began to howl. It was absolutely magical.
Then we walked further up the road, and took a path, or something vaguely resembling a path, up a hill to a small opening in the trees. We had absolutely no idea where we were, besides "somewhere in the middle of Sweden". It was Friday the 13th and a full moon – the only time those two events line up for 48 years. We knew that there were wolves nearby.
And then our guides left.
Marcus and Simon headed off to get the cars, 20 minutes away, to save us a walk later. It would have been an amazing time for a prank. But there was no prank – just our group waiting in complete silence for another round of wolf howls, which started maybe ten minutes later. I'm pretty sure life can't get much cooler? We were never in danger – wolves don't go after humans, or at least they haven't in 100+ years in Sweden. And not that there was anything to photograph, and no one would have wanted to take out a camera and make noise, but the lack of photos just makes the memories that much more vivid. For the record, Marcus estimated that the wolves were 70-200m from us.
A Night at Kolarbyn
Sweden's forests at one time were full of charcoal camps, where men lived and burned wood to create charcoal for the nearby iron industry. At Kolarbyn Ecolodge, billed as Sweden's most primitive hotel, you can stay in a forest hut just like the charcoal workers did. There's still no electricity. There's no running water. And it's amazing!
The morning after our wolf experience we drove a short distance to Kolarbyn, where we spent the next 24 hours. We started by making lunch over a campfire (food is provided), had a bushcraft lesson (below) so that we could make fire in our huts later, and then had several hours of daylight left to explore and canoe. And there's a floating sauna! We canoed to it, but there's also a hiking trail.
Our night was based around fire. We made a campfire and cooked dinner. We made fires in our forest huts. And when it started raining we headed into the lodge, made another fire and spent time there. We washed the dishes from dinner in a stream in the rain, illuminated by our headlamps.
I slept well. The fire in our hut went out at some point in the night, but the warmth was trapped inside. I actually slept through breakfast – several people in our group cooked eggs over the fire. I timed it right to have a cup of fire coffee though!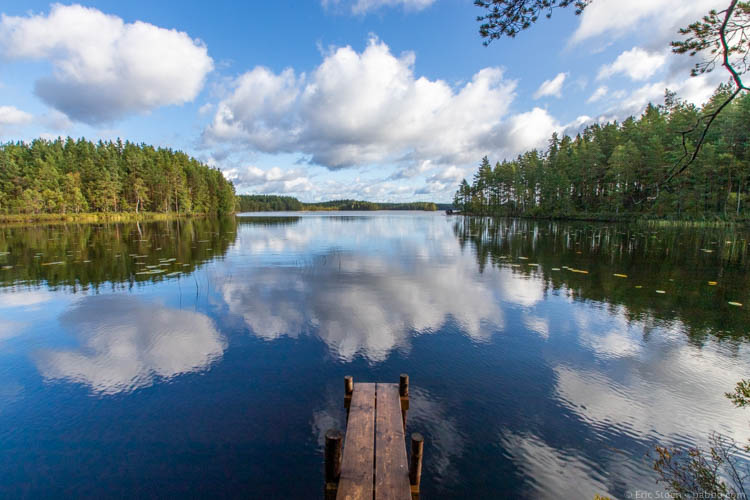 I seriously loved everything about Kolarbyn, and will likely do a separate blog post about it at some point. I would have loved to stay for two or three nights.
Bushcraft
Jonas Landolsi of Jonas Vildmark is a local legend, often heading into the wilds of Sweden to survive on whatever he can find for weeks or months at a time. For two hours at Kolarbyn he talked with us about how to survive in unique, but plausible, situations, and he taught us several techniques for starting fires without matches or a lighter. I HIGHLY recommend a session with Jonas in central Sweden. You can book a course on his website, or Wild Sweden can integrate him into a tour.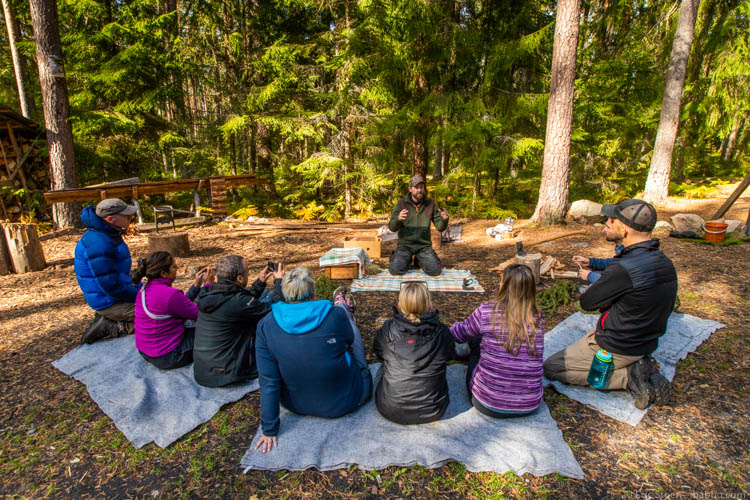 Where we Stayed: Färna Herrgård
Other than our one night at Kolarbyn, we based out of Färna Herrgård. There are six sections of rooms throughout the manor, with gorgeous gardens all around, forests just beyond, and a river that runs along the property. I loved my room. The food and spa were wonderful as well. A great base for central Sweden – as long as you also spend at least one night at Kolarbyn!
Specifics (may contain affiliate links)

To Book: Central Hotel | Färna Herrgård | Kolarbyn Ecolodge

TripAdvisor: Central Hotel | Färna Herrgård | Kolarbyn Ecolodge

Tour Operator: Wild Sweden

Medical Evacuation Coverage (highly recommended): Medjet

To Look for Flights: Kayak

Three Things to Pack: A headlamp (I love Nite Ize); Layers (it was cold at night); A knife (came in handy for cleaning mushrooms and starting fires)