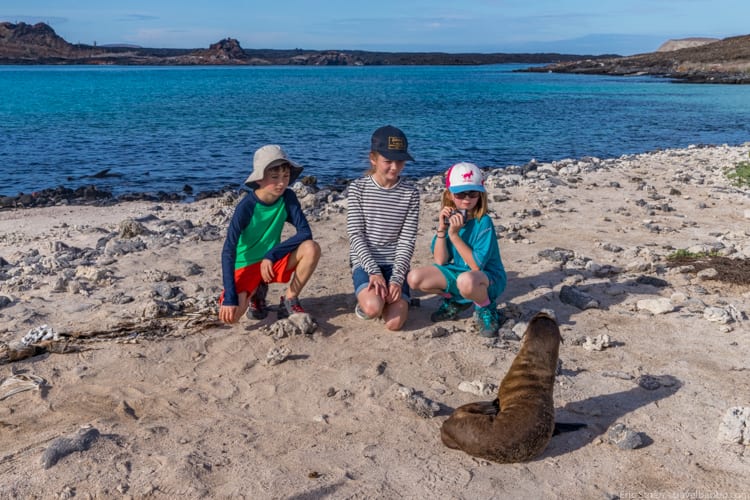 The Galapagos
When we have a one-week school break, my mentality is always to plan the coolest trip possible that's not more than a few time zones away. My kids love animals, so Ecuador's Galapagos Islands were an easy choice this year – it's a unique destination, it's warm in February, and it's only two time zones from California…even if the islands are way down at the equator.
There are two primary options when you head to the Galapagos with kids – a land-based trip or a ship-based trip. If you stay on one of the few inhabited islands and take day trips to nearby islands you can save a lot of money, but you're limited in the number of places you can explore in a day. Ship-based trips are more expensive, but you can see a lot more since the ship moves around at night. You wake up, eat breakfast and go ashore somewhere new.
We chose to go with a ship-based trip – a once-in-a-lifetime splurge. Then it came time to choose the ship size. Most Galapagos boats have capacities in multiples of 16, since park regulations require one guide for every 16 people. A 16-person boat would be a more flexible experience, and the idea of a small boat with fewer people was attractive (heck, we would be 5 of those 16), but a couple of us get seasick easily, and those ships rock more. Plus they're more expensive. At the other end of the spectrum are ships with 90-100 passengers. They're less prone to motion, and they're less expensive, but it's a far less intimate experience. We chose to go right in the middle, with the 48-passenger La Pinta (from Metropolitan Touring). There were actually 46 people on our sailing, with four nature guides. We were happy with our decision.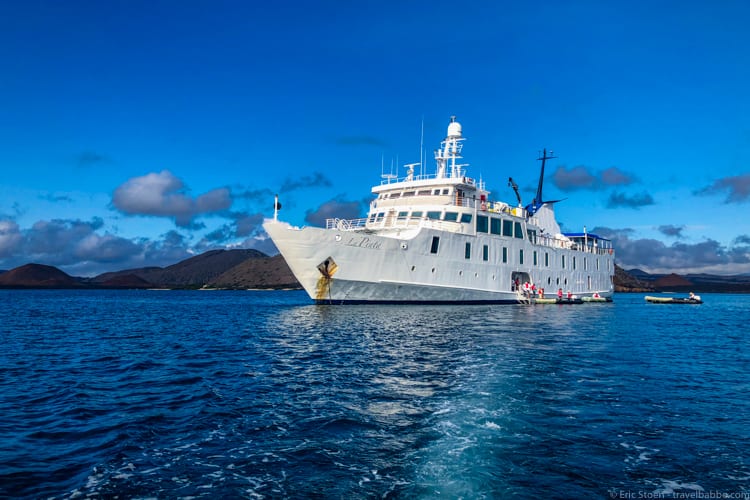 We booked a full package with Metropolitan Touring, including the ship cabins, plane tickets between Quito and the Galapagos, airport transfers, two nights beforehand at Casa Gangotena in Quito, a private tour of Quito, a night in Quito after the Galapagos, two nights at Mashpi Lodge in the cloud forest, and then one more night in Quito at the end. We booked international plane tickets ourselves, but otherwise Metropolitan handled all details. All we had to do was show up. And yes, we pushed the one week thing a little – the kids missed two days of school in order to fit everything in.
Arriving in Quito
I hate red-eyes – I'd always prefer to fly all day to get somewhere rather than do a 4-5 hour overnight flight. So we departed LAX at 6am, changed planes in Miami, and arrived in Quito (Ecuador's capital) around 7pm (4pm California time). We flew through immigration (I LOVE countries that don't make you fill out paperwork or require visas!), picked up our luggage and passed right through customs.
Ramiro from Metropolitan Touring met us at the airport, we boarded a small van, and 40 minutes or so later we arrived at Casa Gangotena. We loved the hotel – it's gorgeous, and perfectly-located, right next to the Church and Monastery of St. Francis. We were given two connecting rooms, 100 and 101, and we had those same rooms each of our subsequent two stays. It felt like coming home every time.
Quito
Our full day in Quito started with breakfast at the hotel (included), and then we met up with Ramiro to begin our city tour. We first drove up to the overlook at El Panecillo and let the kids run around while we enjoyed the view. Then we headed back down to the old town. We walked for maybe two hours, visiting the Presidential palace, several courtyards, some local markets and squares, and then finished at the Church and Monastery of St. Francis.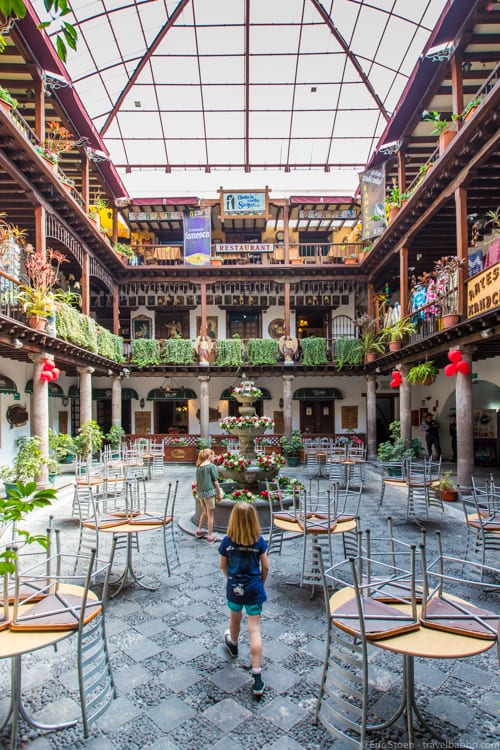 Sunday afternoon we walked around more, searching for empanadas. Virtually everything was closed however. At one point we asked a policeman where to get empanadas and he led the search for 15 minutes or so until we finally found one place open. We purchased some and then supplemented them with pork and potatoes from a woman cooking in her doorway. So good! We actually ended up trying a dozen types of street food throughout Quito over several days and it was all excellent. For the record, none of us got sick. We then met up with friends in a city square for drinks, we had Afternoon Tea back at Casa Gangotena, and we ate dinner at the hotel as well.
Other than our annoyance with restaurants being closed practically anytime we were searching them out, we loved Quito. Definitely my new favorite South American capital. We were warned about walking around late at night, but the city felt safe to us. Sunday was particularly nice with much of the old town closed to traffic.
Off to the Galapagos
On Monday we were picked up at the hotel at 7am and driven to the airport – maybe one hour with traffic. When we arrived, a rep from Metropolitan Touring handled everything for us. He guided us through the agriculture check, got our boarding passes, and waited in line to pay the first of our Galapagos fees ($20 cash per person for Migration Control cards). We then walked through security and boarded our flight.
One of the annoyances of getting to the Galapagos is that most flights go through the port city of Guayaquil, so we had to fly there, wait for a few people to leave the plane and a few others to take their places, and then continue on to the Galapagos. Total flight time, including 45 minutes on the ground in Guayaquil, was three hours. We picked up one hour moving to Central time and landed around 11:30am…right behind another flight. The line for a non-official passport stamp and park entrance fees was therefore extraordinarily long, and slow. We finally made it to the front, got our stamps, and paid our $400 in park fees – $100 for each adult and $50 for kids. But they define kids as 11 and under, so we had to pay $100 for our 12-year-old. Note to Ecuador: our 12-year-old is not an adult yet. Not even close. But enjoy her extra $50.
From there we picked up our luggage, handed the luggage over to Metropolitan for transfer to the ship, and boarded a bus for five minutes to a dock, then a ferry for five minutes from Baltra Island to Santa Cruz Island, then another bus to lunch on Santa Cruz.
Lunch at Ristorante Aquelarre was excellent – probably our best tour-stop lunch ever. Then it was off to see the giant tortoises! Close to the restaurant we pulled off the main road and drove maybe 3km down a dirt road to a tortoise reserve. There were at least a dozen tortoises on the road that we had to drive around before reaching the reserve. We then put on boots (provided by the reserve) and walked around for over an hour in a small group with our guide Paul telling us all about the tortoises, their history, which islands they're on, what they eat, etc… A perfect introduction to the Galapagos! The kids loved it.
We then drove a little farther to Puerto Ayora and boarded a panga (Zodiac) for a short ride to our ship, the La Pinta, where our luggage was waiting for us in our cabins. We went through the safety drill, had a quick buffet dinner, joined a briefing about the activity options the next day, and went to sleep.
Galapagos – Day One
No time to rest on these cruises! There was a 6am wakeup call (via music throughout the ship), and then a 6:15am snorkel and wetsuit fitting. Then breakfast, and we were off on the first of three daily excursions – a panga ride around Eden Islet on Santa Cruz Island. We loved this! There were sea lions that kept swimming around our boat, and we saw marine iguanas, blue-footed boobies and lots more. Our guide was excellent. Actually, all of our guides were excellent – very knowledgeable, and committed to safety and respecting park regulations.
After a little downtime at the boat, we split up. My 12-year-old and I went snorkeling and my wife took the other two on a glass bottom boat ride. The snorkeling was excellent – lots of colorful fish and rays. Sorry, no photos. I was playing with shooting iPhone video with a waterproof case and nothing turned out well. Should have taken the GoPro. My wife and kids liked the glass bottom boat ride. They were in the same area as the snorkelers, so seeing largely the same scene, all without getting wet.
After lunch on the boat we boarded a panga to the small island of Sombrero Chino. We went on a short walk along the coast, seeing dozens of sea lions, and then headed to the beach. Some of our fellow passengers snorkeled off the beach, but we played in the water, relaxed and enjoyed the scene. Then came a highlight. My 12-year-old was starting to pack up when four sea lions came out of the water and headed straight for her. We had been told never to touch a sea lion, so she kept her hands hidden while they sniffed all around her for a minute or two. So amazing! Probably the highlight of the entire trip. And then to top it off we saw Galapagos penguins.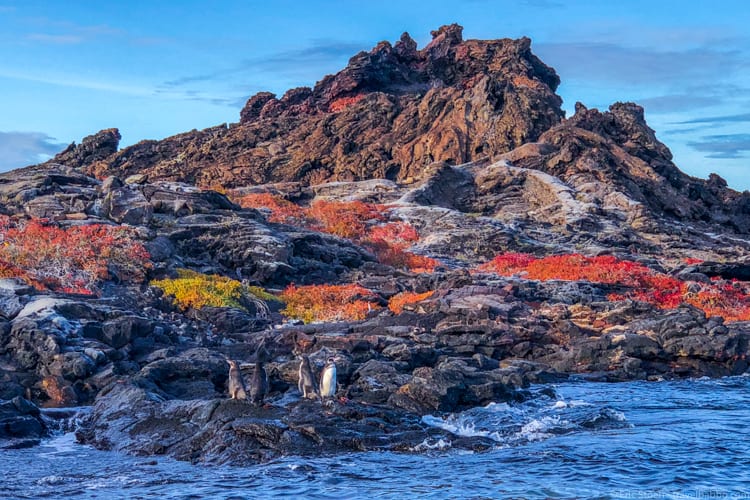 Back on the boat we had snacks up on deck, watched a gorgeous sunset, sailed close to a flamingo island, got our briefing on the next day's activities, and headed to dinner.
Galapagos – Day Two
A 6:30am wakeup, 7am breakfast and 8am departure. My 10-year-old son and I chose to do the hike (with 165 steps) up to the lookout on Bartolome Island. My wife and daughters took a panga around the coast, seeing lots of penguins and sea lions. We loved our excursions. So fascinating to see how different the landscape is on various islands – Bartolome Island is largely dry while surrounding islands with taller mountains are lush since they attract the rainfall. We saw lava lizards on Bartolome but that's about it. The view from the top made the hike worthwhile.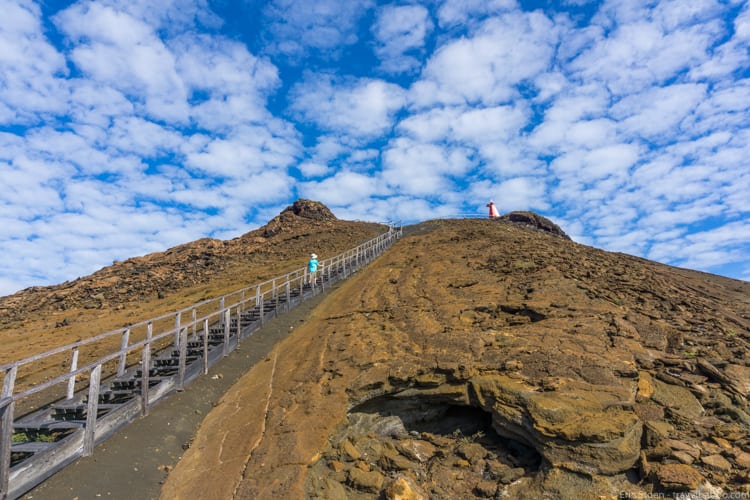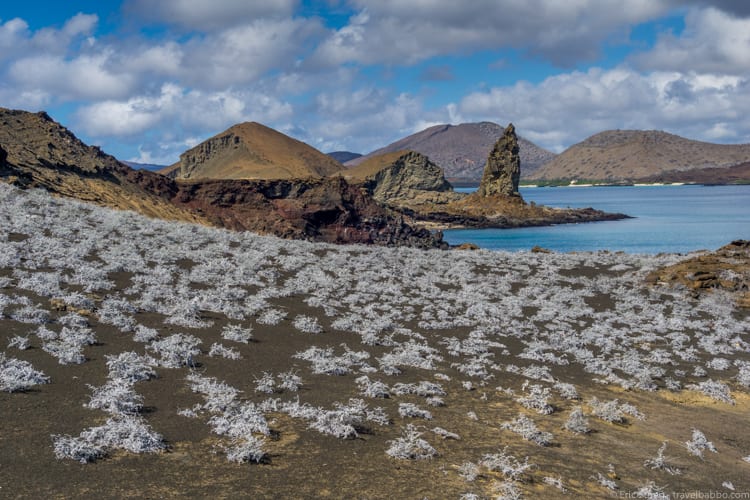 After a quick transition at the boat, I headed back to Bartolome Island with my two oldest kids for snorkeling while my wife took our youngest on a glass bottom boat. My 10-year-old son has never loved snorkeling but gave it another try and…lasted maybe 5 minutes before getting annoyed with the mask/snorkel/breathing etc… He went back to the beach. My daughter stayed out maybe 20 minutes and enjoyed it. I LOVED it! Maybe my favorite day of snorkeling ever, right up there with Bora Bora. I can't name any of the fish I saw, but there were tens of thousands. And rays. And starfish. And a large shark even swam right under me! Other snorkelers near me saw penguins and sea lions in the water, but I missed them. Next time.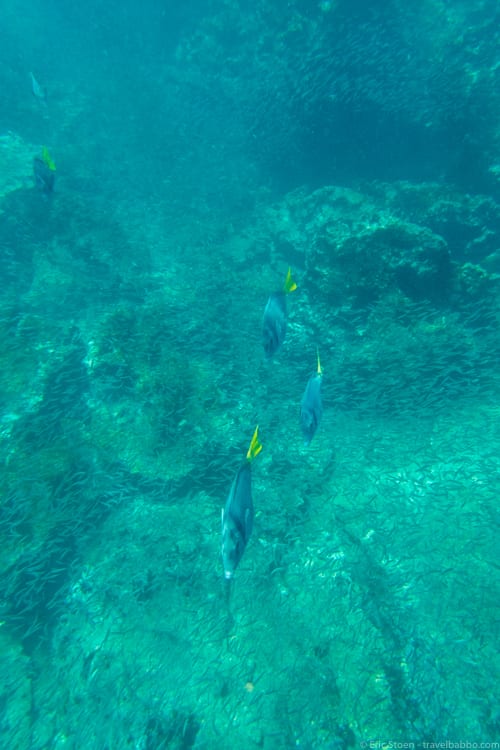 Then we went back to the ship, had lunch and downtime, attended an educational session on the islands and animals, and then pangaed (is that a word?) over to Santiago Island for a hike. It wasn't just any hike though – it was a walk for over an hour over hardened lava fields. One of our favorite hikes ever! Walking across the lava was like an obstacle course – fun for me, and really fun for my 10-year-old son who leaped and bounded over the crazy terrain, and ran up every incline he could. Paul (our favorite guide) led us and gave us the history of the island, which made it even better. Seriously, if you get the chance to hike on Santiago Island, do it.
Dinner was Ecuadorian – specialities from all around the country. Everything was excellent.
Galapagos – Day Three
Day three was all about Genovesa Island. We started at 8am with a small walk (flip-flops worked fine) on a sandy path past blue-footed boobies, red-footed boobies, Nazca boobies, frigate birds, gulls, sea lions, whale bones and lots more, and then walked through a lagoon searching for fish and seeing even more birds. A fun morning. Then back to the boat for kayaking – which was probably the only disappointing activity of the trip. We love kayaking for hours, and were excited to kayak in the Galapagos and see all sorts of crazy creatures. We headed out, were just getting started, and then were told to return to the panga. Seriously, it was only 15-20 minutes. When I questioned it, I was told that park regulations are strict and that it's not possible to get a permit for more kayaking. Hopefully regulations relax a little and people can enjoy kayaking in the future. But definitely don't get your expectations up.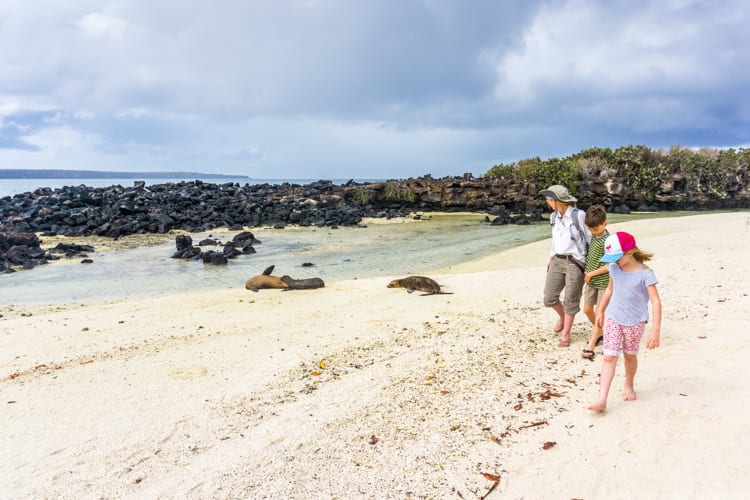 In the afternoon my son and I went back to Genovesa Island for a longer hike along a bluff. We walked up a few natural stairs and then wandered along paths for a couple hours, seeing all of the usual boobies, but mainly Nazca boobies, most with eggs or newly-hatched chicks. Very cool! My son's goal this trip was to photograph a frigate bird with a completely puffed out red chest. We got close on this hike, seeing over a dozen, but none that were puffed up and facing the right way. A good reason to return! The highlight though was the short-eared owls. Apparently it's difficult to see them, and we saw eight.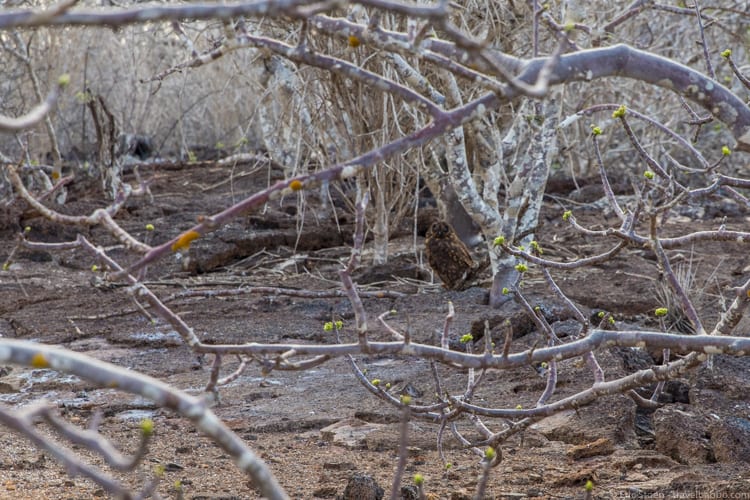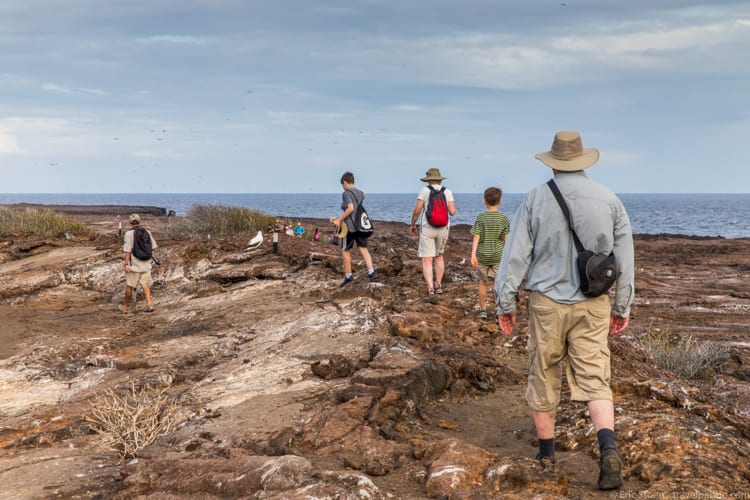 Back to Quito
On our last cruise day we woke up early, put our luggage out, ate breakfast and transferred back to the airport (only a 5-minute bus ride). A nice perk was that Metropolitan arranged for VIP lounge access for all of its guests, so we had a good spot to relax and wait for our flight.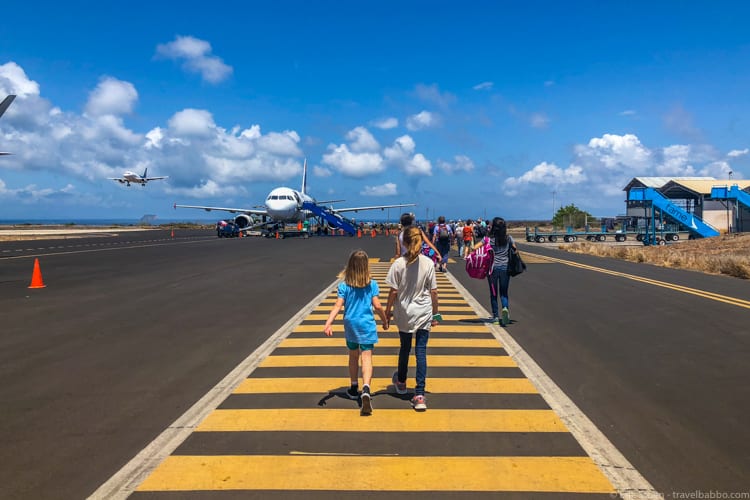 Unfortunately we once again had to stop in Guayaquil for 45 minutes. We made it back to Quito, got our luggage and hopped in a waiting van to take us to Casa Gangotena, where we were given our same connecting rooms. We walked around a little but ate at the hotel again.
And the next morning we headed off to Mashpi Lodge and the cloud forest, which was just as amazing as the Galapagos. My blog post on our Mashpi Lodge stay is HERE.
The Ship
Our previous family cruising experience was limited to three Disney Cruises in Europe and a Lindblad/NatGeo cruise to Antarctica. The La Pinta was very nice – equal to both the Disney Magic and the NatGeo Explorer. The shower was the best that I've ever had on a ship. Toiletries were L'Occitane. Satellite-based wifi was slow, but free.
Our cabins were huge – the biggest that I've seen. We were at the very back of the boat (cabins 321 and 323), which worked well since all excursions dropped us off at the back. It was quick walk up to the outdoor lounge. Nowhere on the ship was more than a minute away.
I loved that they had several special activities throughout the week for the kids aboard. My kids particularly liked the pizza making.
My wife and oldest daughter felt a little seasick our first night, and then again our last night. Actually my wife and both daughters skipped dinner the last night and stayed in the cabin – which was a little awkward because it was my 8-year-old's birthday and the chef had baked a cake for her! The staff brought it out the next morning instead. Most of the other guests were at dinner that night, so I don't think many were similarly affected by sea-sickness.
Casa Gangotena
Casa Gangotena was amazing – highly-recommended in Quito. We loved our connecting rooms, the Colonial feel of the hotel, Afternoon Tea, breakfasts (especially when they had watermelon juice), the rooftop terrace, and the service. I needed stamps for a couple postcards but everywhere was closed, and we weren't able to purchase them before departing for Mashpi Lodge. So the hotel staff walked them over to the post office the next day and charged the stamps to our account. And when my wife wanted to purchase a pair of the rain/mud boots that they had at Mashpi Lodge, the lodge called Casa Gangotena, the staff purchased them for her, and they were waiting in our room our last day. The only charge: $11 for the boots.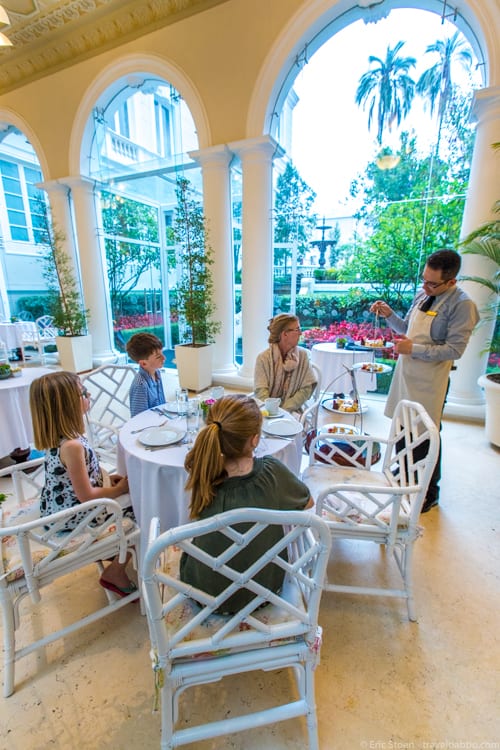 What We Loved
This was a virtually flawless trip – and I don't say that lightly. My wife and kids didn't even have any suggestions of ways that it could have been improved, and they're tough critics. Metropolitan Touring has this down to a science, with no issues at all with any transfers or ship excursions, and every guide was excellent, both in Quito and the Galapagos. While I usually plan all of our travel myself, it was nice stepping back and letting Metropolitan handle everything for us in Ecuador, from arrival to departure.
I also really appreciated that both wifi and photos on the ship were free. That's in contrast to virtually every other cruise line that charges ridiculous amounts for both. Our photos are going to be available for downloading in a week or so. Wifi wasn't fast enough to watch Netflix or anything, but it worked fine for downloading email and uploading to social media.
What We Didn't Love
We got a little tired of all the the 30-60 minute airport/hotel transfers, but there's no avoiding that. And there has to be a better way to get the two Galapagos fees (migration control and park entry) from people, instead of requiring waits in long lines in both Quito and upon arrival in the Galapagos.
And per my earlier comment, I would have loved more kayaking in the Galapagos.
When to Visit the Galapagos
The best time to visit the Galapagos with kids is December through May, which are the warmer, rainier months. We visited in late February and saw virtually no rain, but that could have been a factor of the islands we went to – we could usually see rain in the distance. From December to May seas are warmer and calmer, so better for snorkeling and being on a boat. But go whenever you can fit it into your travels. The animals aren't going anywhere, and the islands are located on the equator, so the weather never gets really cold or really hot. You'll have cooler, rougher seas June through November, but you'll also see different fish, attracted by the cold water, and more sea birds going after those fish.
Note that different animals have different mating seasons, so if you really want to see red-footed boobies courting, for example, or tortoise eggs hatching, do your research and make sure you're going at the right time. We saw lots of Nazca boobies with eggs and newborns, but very little courting.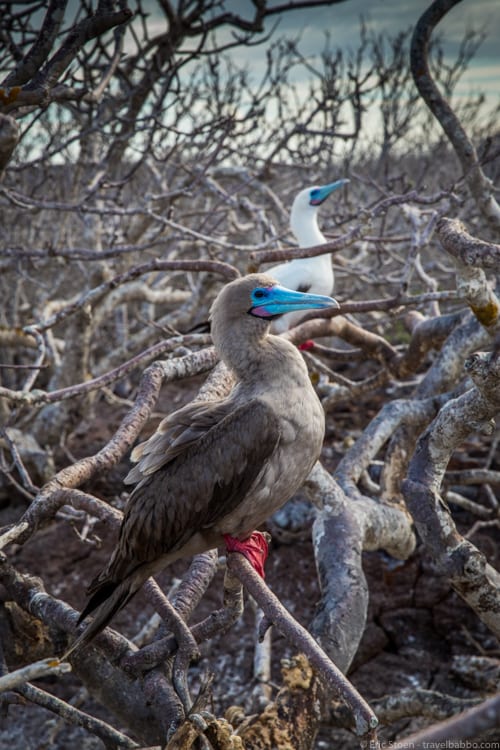 Activity
This was a moderately active trip overall. Looking at my iPhone health app, our total steps were:
Day 1, Quito – 14,350 steps, 51 floors climbed.
Day 2, Galapagos (tortoises, boarding ship) – 6,117 steps, 6 floors climbed.
Day 3, Galapagos (panga ride, snorkeling, beach) – 4,336 steps, 14 floors climbed.
Day 4, Galapagos (two hikes and snorkeling) – 8,094 steps, 36 floors climbed.
Day 5, Galapagos (two walks and kayaking) – 6,322 steps, 20 floors climbed.
Day 6, Galapagos/Quito (flight back) – 3,383 steps, 7 floors climbed.
Note that my wife and youngest daughter chose glass bottom boat and panga rides a couple of times when I was hiking, so they walked less.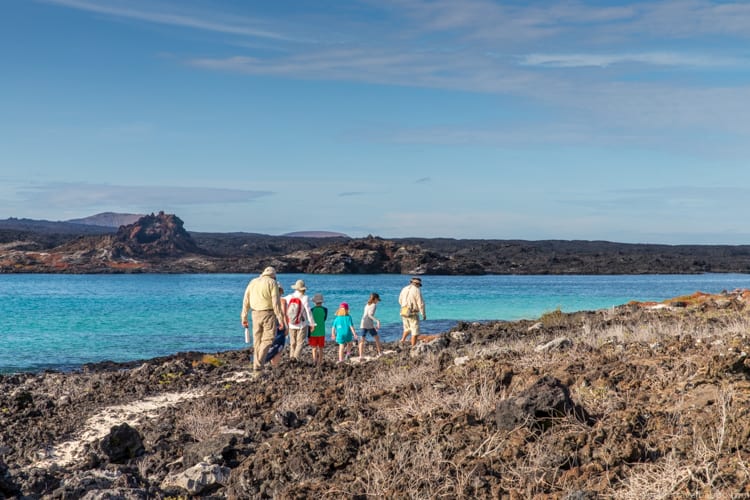 Packing Suggestions for the Galapagos
We overpacked because we believed the iPhone weather forecast for the Galapagos that showed rain and temperatures in the low-70s the entire time we were going to be there. Nope. That might be accurate at a specific weather station, but everywhere we went it was in the 80s and sunny. And there were dryers on the ship, so doing laundry was actually really easy. We didn't need sweatshirts. We didn't need water shoes (flip flops or bare feet worked fine for the wet landings). We didn't need rain jackets until we got to Mashpi Lodge. We wore light jackets in Quito, but that was the only place. Bring quick-dry pants, shorts and t-shirts, a sun hat, lots of sunscreen, flip flops and comfortable walking shoes. Everything is very casual.
Finance
I received a media rate, with no expectation of positive coverage. This trip as described – three nights in Quito at Casa Gangotena, a city tour, flights to the Galapagos, four nights on La Pinta, all transfers and most meals – is normally $20,080 for a family of four, or $25,239 for a family of five. Rates can vary a little by season, and there are sometimes last-minute deals, but in general you're looking at roughly $5,000/person. Like I said at the beginning, it's a once-in-a-lifetime splurge.
On the ship we tipped the recommended amount for crew ($75 per guest) and tipped more than the recommended $50 per guest for guides – because the guides were awesome. We also tipped all of our drivers and guides in Quito between $10 and $40 depending on the activity/drive. That was probably a little high, but I always over-tip when I'm getting a media rate. Ecuador uses US dollars which made things really easy. We took $1,000 in cash, used half of that for Galapagos fees and most of the rest for tips and meals/drinks. We put the ship tips on a credit card.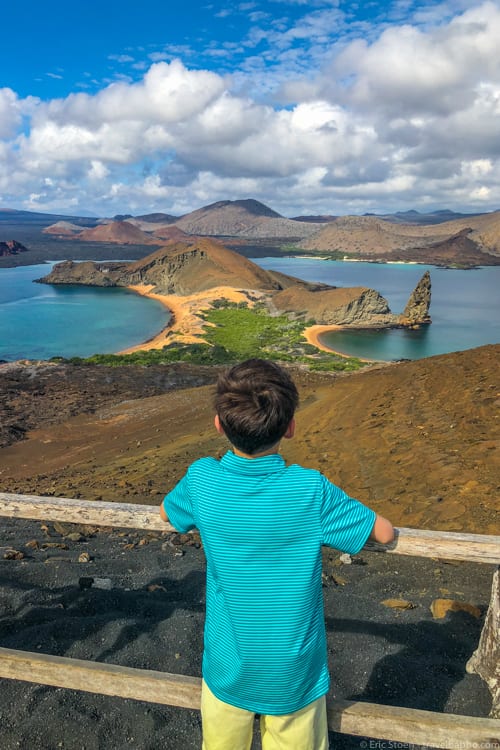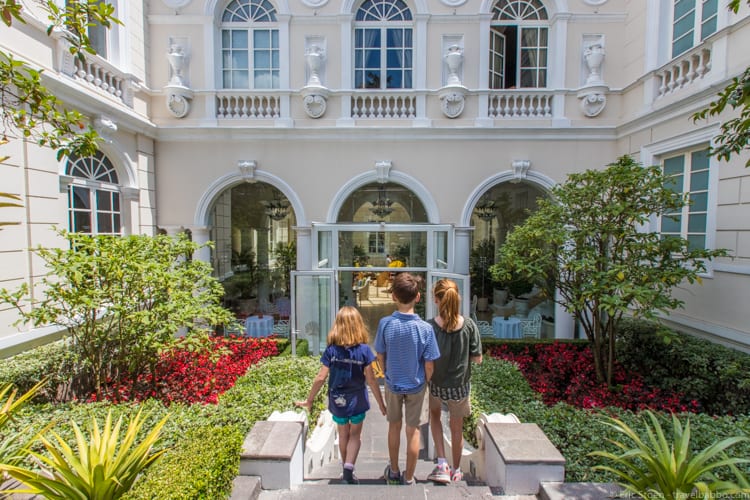 Links
Casa Gangotena: Direct | TripAdvisor | Travelocity | Hotels.com

Mashpi Lodge: Direct | TripAdvisor | Travelocity | Hotels.com

Metropolitan Touring: Direct

Travel Health Insurance and Evacuation: We have a 5-year family membership with Medjet Assist. If anything happens to us somewhere in the world, Medjet will arrange transport back to the hospital closest to our home. It's because we go to more rural places like the Galapagos that we have the coverage. For everything else we have an annual travel health insurance policy with G1G, which includes trip interruption.
Have you been to the Galapagos with kids? How did you travel around? What advice do you have for other families?
Pin This!