The Background / Australian Animals
When my oldest daughter was three, she came home from Pre-K and said that she wanted to go to Antarctica to see penguins. Great I thought – I'd love to go to Antarctica to see penguins too! I did a little research and found that eight was an ideal minimum age for a journey to the bottom of the earth. I promised her a trip when she was eight, but I didn't want to wait until then to travel with her one-on-one, so I asked if there was someplace else that she wanted to see. She said that she wanted to go to Australia to touch the Opera House – she had seen it on the Wonder Pets and thought it looked cool. Inspiration is inspiration, and off we went! That was six years ago. And yes, we went to Antarctica when she was eight.
That trip to Australia became the start of a tradition. Since then, I've let each of my kids, starting at the age of four, choose anywhere in the world to go with me every year. They've picked some fun places, including Easter Island, Croatia, Bali, Palawan and the Maldives. This year, my youngest daughter, at six, brought the tradition full-circle, choosing Australia. She said that she wanted to cuddle with koalas and other Australian animals.
The Planning
I started with Google and determined that the state of Queensland was the best for animal encounters. Then I turned to TripAdvisor. Looking up Things to Do in Queensland, and clicking on Zoos & Aquariums, I quickly found the Lone Pine Koala Sanctuary and Australia Zoo. Both offered ethical animal experiences, including cuddling with koalas and feeding and helping with the care of red pandas, lemurs, wombats, kangaroos, echidnas and others. My daughter was involved with every step of the planning and opted for five days in Brisbane for the two nearby animal parks and two days in Sydney at the end to see the Opera House and (maybe) see more animals depending on how satisfied she was with the encounters in Brisbane.
On TripAdvisor I ran a search of Brisbane hotels, entering my trip dates and setting the filter for Family-friendly. I clicked on the first hotel on the list and then clicked on the map on the right-hand side. I already knew that we would want to be near the river for the boat ride to Lone Pine Koala Sanctuary and near the central station for the train to Australia Zoo, and I glanced at all of the blue dots representing hotels in central Brisbane. The Hilton stood out based on its location between the two transportation sites and based on being situated on a pedestrian mall. That's pretty kid-friendly – being able to shop and dine close to the hotel. Clicking through to Hilton's TripAdvisor page, I clicked on the Families filter and glanced through several reviews. I didn't see any reason not to book, so I looked at the pricing options on the right. The best price was at Hilton.com. I clicked through and booked.
Next up was Sydney. I had Marriott points that I wanted to use, so after searching for Sydney Hotels I clicked on Hotel brand on the left side and selected the two Marriott options. The Marriott near Circular Quay had several recent reviews that mentioned major construction. No thanks. But the Pier One Hotel located in the Rocks area looked great and was designated family-friendly. I clicked straight through to Marriott's site, entered my member number and quickly booked a room for 80,000 points.
Ah, but my time on TripAdvisor wasn't over. My favorite area of the site is Things to Do – I use this everywhere we travel. In my old life as a backpacking student, I never planned anything in advance – it usually worked well to get off the train in a new city and figure out where to stay. Then I would wander around with friends and do things the old-fashioned way, waiting in lines for museums and stumbling across cool things to see. As a parent, though, I'm the opposite. If we have a finite amount of time in a city or area, I want to plan the absolute coolest kid activities in advance – including skip-the-line museum visits, kid-oriented walking tours, cooking classes and mystery activities – the things that I don't even know exist before I see them on TripAdvisor. In Brisbane we were already planning two days at animal parks and wanted a day in between to relax, shop and explore, so that left one day to do something different. One activity jumped out immediately – a mini-segway tour. The reviews and photos looked amazing! My kids have always wanted to do a Segway tour, but the minimum age for most tours is 12. This one though was for ages six and up. And given that it was bookable directly from TripAdvisor, it couldn't have been easier to arrange. $68.33 later I had a booking for our open day in Brisbane.
Brisbane with Kids
The trip to Australia was easy. We flew from Los Angeles to Sydney, passed though immigration and customs, transferred to the domestic terminal and caught a short connecting flight to Brisbane. We took a taxi from the airport to the Hilton Brisbane, explored with friends who live nearby for the rest of that afternoon (the City Botanic Gardens are excellent), and then fell asleep early (thank you jet lag).
On day two we walked over to the river and took the Koala and River Cruise directly to Lone Pine Koala Sanctuary. This was a perfect destination for a six-year-old obsessed with Australian animals! She loved holding a koala (she was a little young to hold the koala herself so a handler helped), feeding kangaroos and having a conversation with a cockatoo.
Returning to Brisbane on the boat after three hours, we needed a place for dinner. Out came my phone and the TripAdvisor app. As always I clicked on Near Me Now and then Restaurants. But for the first time I went into the cuisine filters and chose Australian – my daughter's choice! Mr Edward's Alehouse & Kitchen jumped out at us based on its location, rating and description. Clicking on Find a Table I saw that they were wide open when we wanted to eat and we walked over. After a good dinner we were asleep by 7:00, my daughter holding her new stuffed koala tightly.
Day three was our downtime day. We slept in, had breakfast (or brekkie, as it's known in Australian) at the hotel, shopped along the nearby pedestrian street, ate lunch, shopped more, ate dinner (at Harajuku Gyoza, thanks to the TripAdvisor app) and then went to sleep at a normal time. A very relaxing day, and great for bonding – one of the primary benefits to these one-on-one trips with the kids.
Day four was the highlight. We woke up early and caught a 7:37am train from Brisbane to Caboolture and then boarded a bus directly to Australia Zoo, arriving around 9:15am. We had booked three animal encounters in advance: feeding lemurs; walking a wombat; and feeding an echidna. Our lemur encounter was up first. A zoo employee met us at the information desk and we boarded a golf cart for a ride to the far side of the zoo. We then hopped onto a pontoon and were pulled across a lake to a private island inhabited only by lemurs, and not accessible by other zoo visitors. The lemurs greeted us and were soon climbing all over us as we fed them carrots, lentils, corn, rice and other lemur food. So much fun! After the lemurs we went to wombat area, met up with zoo vet Sam, and fed and walked Wendy the Wombat for almost an hour. Even more fun! My daughter wants to be Sam when she grows up. Then we had a little time before our echidna encounter, so we ate lunch, watched the croc show and walked the rest of the zoo. If you're going to visit Australia Zoo, I highly recommend going mid-week when Australian schools are in session! We had whole areas of the zoo to ourselves.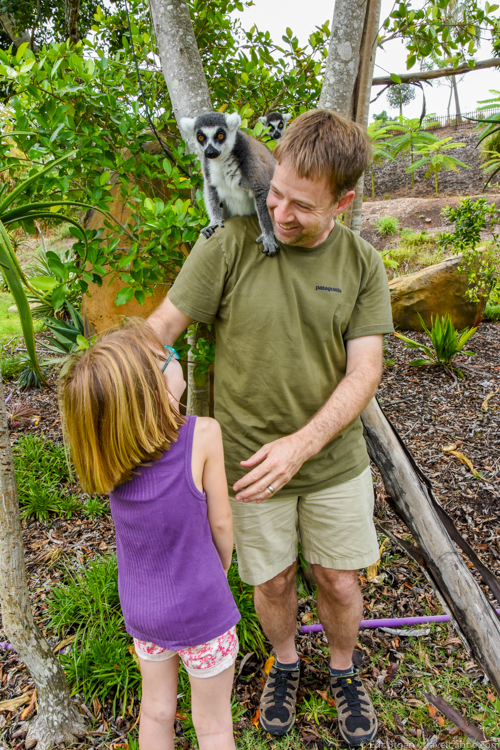 At 2:40 we met up with another zoo employee and walked over to the echidna enclosure. This turned out to be my daughter's favorite activity. As she filled her hands with echidna food (kind of an insect paste), Yellow the Echidna licked it clean. This continued for more than 15 minutes and my daughter barely stopped grinning! Then Prickles the Echidna came over and climbed over my daughter to try to steal some food, and she was even happier. Our three animal encounters added up to roughly US$275 and it was money very well spent – the zoo visit wouldn't have been nearly as fun if we had simply observed animals instead of interacting with them. I wouldn't be surprised if my daughter grows up to be a veterinarian, partly as a result of this one day.
We caught the 3:41 train from nearby Beerwah train station directly to Brisbane, had dinner at Harajuku Gyoza again and went to sleep.
Our final day in Brisbane was almost as much fun, thanks to the mini-segway tour that we had booked through TripAdvisor. Walking roughly 15 minutes from our hotel, we arrived at the Wheel of Brisbane (a large Ferris wheel), at the base of which was X-Wing Australia. My daughter was nervous. Glancing at the Riverwalk filled with cyclists, parents pushing strollers and tourists snapping photos, I was nervous too, fearful my six-year-old (or I) would lose control and hurt someone. I needn't have worried. Our guide Scott gave us a quick tutorial, we did a practice run, and off we went. I almost fell once but my daughter was amazing and never even wobbled, expertly maneuvering around people and objects. Our half-hour went quickly – we easily could have gone for a full hour. I would highly recommend this to everyone heading to Brisbane, and I'll be actively searching out other destinations where we can do this. My other two kids want to go!
After the X-Wing tour we ate lunch, had some downtime, and then went to see Matilda the Musical at the Queensland Performing Arts Centre. As much as I now plan everything, spontaneity is good as well – when we landed in Brisbane we saw billboards for Matilda so I quickly hopped online and purchased two of the last seats for Thursday night's performance. I had seen the musical before in New York and London with my other kids, but this was my daughter's first time and she loved it – a perfect end to a perfect visit to Brisbane.
Sydney with Kids
The next morning we headed to the airport and flew one hour to Sydney, took a taxi to our hotel (the Pier One) and walked around the harbor area. For dinner my daughter once again asked me to find Australian food, so I turned to the TripAdvisor app and located the Rocks Café near our hotel. This was our best dinner of the trip, and sitting outside it was fun to watch all the people dressed in costumes passing by on their way to Christmas parties. My daughter ordered the kangaroo filet (NOT on the kids menu!) and loved it. In fact she liked it so much that we went back the next night and she ordered it again. She loves animals but she also loves meat.
Our final day in Australia had been reserved for possible animal viewing, but we were fully satisfied with everything we had done in Brisbane so we headed to Bondi Beach instead, roughly 45 minutes from our hotel. My daughter had bought a boomerang and wanted to throw it, so we found an open spot at the beach and she practiced…and practiced…and practiced. We also had lunch nearby and explored the Saturday farmer's market, but it was primarily a beach and boomerang day, and it couldn't have been more idyllic.
As for our hotels, the Hilton Brisbane was perfectly located and we loved the breakfasts and the amazing breakfast staff. The beds were excellent but the bathroom was poorly-designed, with a sink too small to wash even a little laundry (we had a bizarrely high number of sauce drips over the course of the week). The Pier One was excellent but in a funny location – a decent walk to the ferries and buses of Circular Quay, which was a negative and we missed our bus to Bondi because we mis-gauged the walking time, but I also loved the walk, passing under the Harbour Bridge with a constant view of the Opera House. I'd stay at both hotels again. I've also stayed at the Shangri-La Sydney multiple times, with and without kids, and highly recommend it.
Summary and Finance
If we had the trip to plan again, we would do the X-Wing mini-segway tour twice (probably days three and five in Brisbane) but that's the only change we would make. Everything else was perfect, and we're glad that we went to Lone Pine Koala Sanctuary before Australia Zoo. Lone Pine was great but a lot smaller than Australia Zoo – I'm not sure if we would have been disappointed if we went to Lone Pine second, simply based on the size. We spent $3,100 for our round-trip tickets on United (LA-Brisbane and Sydney-LA) and then $191 for the Brisbane-Sydney flight on Qantas. The United tickets were more expensive than they needed to be – we paid probably $1000 extra to book W class and then used United upgrade certificates to move to business class. It's definitely nice having flat beds for 14-hour flights. The Brisbane Hilton was roughly $700 for five nights. The Pier One Hotel in Sydney was free with Marriott points. Both hotels included breakfast.
A note: Thank you to TripAdvisor for sponsoring our trip. The funny thing is that I didn't use TripAdvisor any more this trip than I would have anyway – I rely on the site constantly both when booking trips and when we're at our destinations. We've found kid-friendly hotels, restaurants, tours and activities around the world through TripAdvisor's website and especially through the app and couldn't plan (or optimize) a trip without it.
Other Resources
For Brisbane, I love this post from Thrifty Family Travels. They've done far more in Brisbane with kids than we have (yet)!
Pin This!