Summer Road Trips
In June I drove from California to Colorado and back with two of my kids and documented the road trip, including the COVID-specific elements, in this post. And then in July I drove half the route again, from Colorado to California, with my oldest daughter. And we did it better this time!
California-Colorado-California Routes
The drive from Ventura (Southern California) to Colorado Springs (Central Colorado) can be done in as little as 18 hours, but it's not an interesting drive: boring highways and very little scenery most of the way. The two paths we chose for the first trip were:
Ventura to the Grand Canyon (two nights) to Telluride (two nights) to Colorado Springs. 20 hours not including driving around the national park. The drive is uninteresting in California, moderately pretty in Arizona and gorgeous through the Colorado mountains.
Colorado Springs to Capitol Reef National Park in Utah (two nights) to Zion National Park (one night) via Bryce Canyon National Park to Ventura. Also 20 hours not including all of the park driving. California is still uninteresting, but most of the Colorado and Utah driving is scenic.
One major complaint of my kids the first trip was all of the fast food. We're not a fast food family, but on the first trip we stopped at In-n-Out Burger, Sonic, Wendy's, Freddy's Steakburgers and Fatburger at various off-ramp locations. Even getting a mix of chicken sandwiches and burgers, the food wasn't very good. So this trip my daughter and I designed our trip, in part, to avoid fast food. Our route:
Colorado Springs to Vail (just for lunch) to Moab/Arches National Park (two nights) to Zion National Park (one night) via Bryce Canyon to Ventura. 21 hours plus several more driving around Arches NP. We avoided fast food between Moab and Zion by having leftover pizza, and we drove straight from Zion to Ventura and had a late lunch at home.
And we're in the planning stages of our next California/Colorado road trip, in August, which will be:
Ventura to Las Vegas (one night) to Moab/Arches NP (three nights) to Colorado Springs. 18 hours, and very little in the way of pretty scenery along the roads. We loved Arches NP and just want to get back and explore more.
Colorado Springs to Vail (two nights) to St. George, Utah (one night) to Ventura. 18 hours, and not pretty, but it will be efficient. Looking forward to staying at Four Seasons Vail for two nights, our first luxury hotel stay in six months.
Colorado Springs to Vail
But back to this road trip. Vail is an extraordinarily easy stop off I-70. There's a public parking garage that's free in summer and only one minute from the highway – simply follow directions to Vail Village Parking, just past the Vail Transportation Center, and then walk into town across the Covered Bridge. We spent two hours or so in Vail, first getting coffee and then getting lunch at Pazzo's Pizzeria, an old favorite. Virtually everyone we saw in Vail was wearing a mask, even outdoors, so it felt nice and safe – the opposite of our stop in Grand Junction, Colorado a few weeks before.
Moab, Utah
Driving from Vail to Moab, we got gas at a small town somewhere in-between (easier than pulling off in Grand Junction) and then headed into Moab on Highway 128, which is stunning and much better than taking Highway 191, which is what your mapping software will suggest. Highway 128 follows the Colorado River much of the way, and it's easy to stop and dip your toes in at several spots if you're so inclined.
In Moab we stayed at Moab Springs Ranch, not far from the 191/128 junction and about halfway between downtown Moab and the entrance to Arches National Park. We had our own cabin (very nice in this COVID era) with a king bed and queen bed and parking just a few feet away. I loved Moab Springs Ranch – no complaints at all – but we drove into town at least five times in two days and felt like maybe it would be better to stay in the middle of Moab where we could walk to restaurants and stores? So our next trip we're staying at Hoodoo Moab.
We had breakfast at the Jailhouse Cafe in Moab and then our last morning we picked up food at the coffee place at Moab Springs Ranch before we hit the road. Both were very good. Our one lunch was at the Quesadilla Mobilla food truck. Excellent! You can't miss it – just look for the truck and the line. Our two dinners were at Zax (good burgers) and at Antica Forma, where we got excellent wood-fired pizzas, and had enough left over for lunch the next day driving to Zion.
Arches National Park
We drove into Arches National Park three times in a day and a half: our first night for sunset, the next morning for sunrise, and then late afternoon that day. All three trips we arrived before or after the entrance booth was staffed, so we were never asked to pay, although we have a National Parks Pass anyway so it was all the same – just nice to not have to wait behind other cars to enter.
Arches NP never felt crowded. We didn't see a single parking lot that was full, and we never encountered more than a few other people on the trails. 2020 still seems to be a great time to head to the parks. The hikes/excursions we did:
Sunset: Drive to Balanced Rock
We drove in just before sunset and ended at Balanced Rock, stopping several times along the way to walk a little (Park Avenue) or just for viewpoints. It was a beautiful evening and a relaxed drive. There was only one other family at Balanced Rock.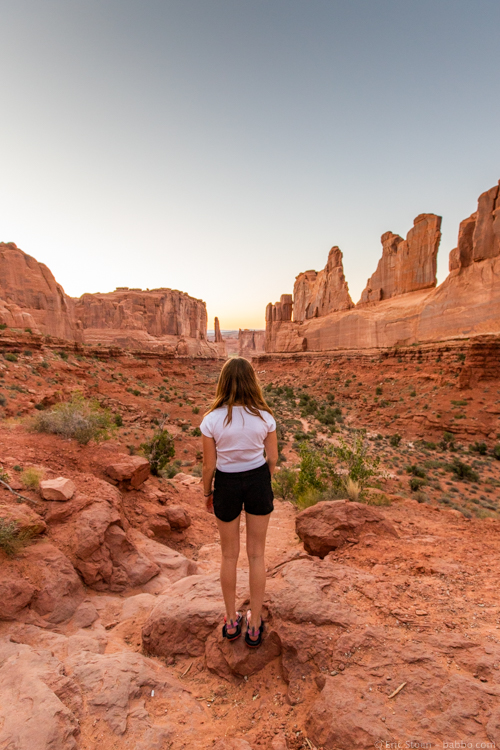 Sunrise: The Windows
We left Moab Springs Ranch one hour before sunrise and drove 30 minutes to The Windows, halfway into the park. There were 10 cars in the parking lot when we arrived and maybe 20 when we left an hour later.
This was a perfect spot for sunrise. Most people camped out at the North Window, but we walked around the North and South Windows and then over to Turret Arch. The best part of the morning was sitting near Turret Arch and watching the sun light up the rocks to the west – absolutely gorgeous.
We wanted coffee and breakfast so we drove straight into Moab from The Windows. Otherwise we would have explored Double Arch just across the road from the Windows parking lot. We'll do that next time.
After Lunch: Swimming in the Colorado River
After lunch at Quesadilla Mobilla, we drove to the Colorado River. More precisely, we drove up Highway 128 until we saw a perfect spot to swim. We parked in a small pullout, walked down to the river and enjoyed the very calm river for 45 minutes or so. This was my daughter's highlight from the entire road trip, and it's completely free!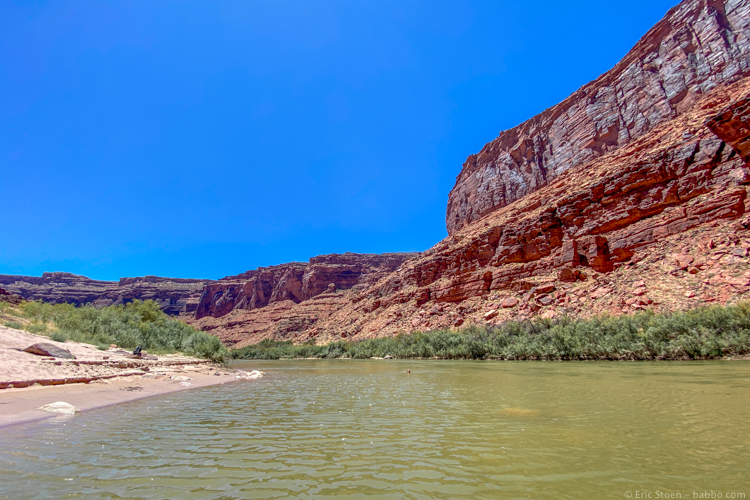 FYI, the swimming spot we found was just after mile marker 10, maybe half a mile south of the rafting take out. But there are dozens of places to head into the river. Our next trip we're going rafting (with Mild to Wild Rafting) for a different experience.
Late Afternoon: Sand Dune and Landscape Arches
After drying off we waited out the hottest part of the day in our cabin and then got an early dinner at Antica Forma. We dropped off our leftovers at our cabin and left for the park at 6pm, which gave us 2 hours, 45 minutes to explore before sunset. Our intention had been to hike to Delicate Arch, but that's supposed to be decently crowded at sunset, so we opted for other areas.
We started at Fiery Furnace just for a quick view (the trails were closed), and then drove on to Sand Dune Arch. This was our favorite arch – fun to run around (take off your shoes) – and no one else was there. It's also easy to reach, just a few minutes from the parking area.
We then continued to the end of the road and Devil's Garden. We walked first to Pine Tree Arch and then continued on to Landscape Arch. Given that you can't get close to Landscape Arch this was a little underwhelming, but it was a nice late-afternoon walk, and there weren't many others on the path.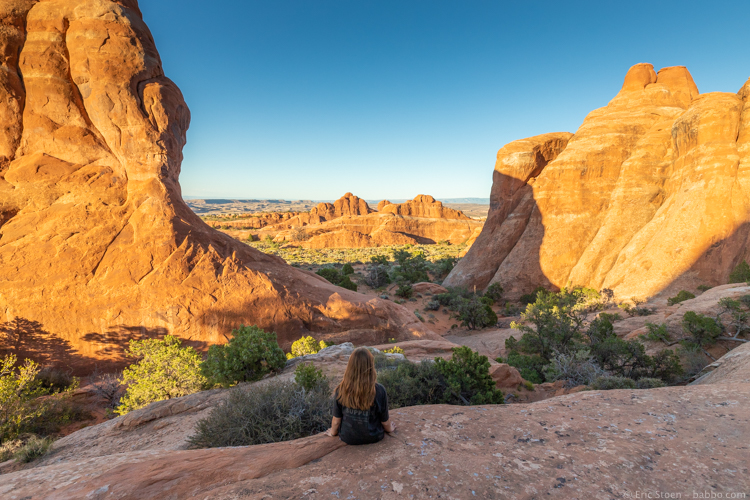 Coming back we still had a little time before sunset, so we drove to the Delicate Arch Viewpoint parking and hiked to the upper viewpoint. It's roughly a mile from Delicate Arch so it's not an amazing view, but it was still nice to see it. We'll do the full hike next time.
A note: After three visits to Arches National Park, I wrote up a post with our advice for other families.
Bryce Canyon National Park
From Moab to Zion we could have taken I-70 and I-15 and arrived in five hours, but we opted for the 6.5 hour drive through Capitol Reef National Park and Grand Staircase-Escalante National Monument instead, since it's much nicer, and then we detoured to Bryce Canyon National Park to give my daughter a quick view of the hoodoos. From there it was on to Zion via the East Entrance, which I think is the best way to enter the park anyway.
Zion National Park
In June at Zion we stayed at Cable Mountain Lodge, located just outside of the park. It was excellent, but this trip we opted for Zion Lodge for one reason: it gave us access to Zion's Scenic Drive. The Scenic Drive is so popular that it's closed to cars much of the year and they require advance shuttle reservations instead. It seemed easier to me to simply book Zion Lodge and be able to drive in.
The lodge is iconic and the location is amazing. We had a small cabin with one queen bed which wasn't ideal, but it was the only available option when I made the reservation. Neither of us slept well. But I'd stay there again next time – the setting is worth it.
We arrived in the early afternoon, checked in and relaxed. Dinner (take out only) was from the hotel's Red Rock Grill, which we ate in our cabin. And then at 6pm we headed off on the Grotto Trail right at the lodge, which connected to Kayenta Trail across the road and then to the Upper Emerald Pool Trail.
We LOVED this hike! We passed a few other hikers who were hiking down, but otherwise had the trail to ourselves. The hike itself is stunning, especially in the pre-sunset light, and the Upper Emerald Pool and surrounding cliffs are amazing. The waterfall was dry when we were there, but there was water in the pool. Highly recommended – one of my favorite hikes with my kids ever. It took roughly two hours round-trip, including maybe 30 minutes at the top, and it was still light when we got back (mid-July).
Zion to the Coast
We had breakfast at the coffee place at Cable Mountain Lodge (nothing was open at Zion Lodge early) and then jumped on the road. Our only stop: Seven Magic Mountains outside Las Vegas. I had forgotten about this art exhibit last month, so I made sure to seek it out this time. We had fun walking around the stone towers and photographing for a few minutes. And it was easy to visit: we got off at the Sloan Road exit and headed south on Las Vegas Blvd for several miles. Then we continued south after we visited and got back on the highway at Goodsprings Road. It barely delayed us at all.
Road Trip Summary
This was a highly successful Colorado-California road trip. We ate far better than we did during last month's trip and every National Park visit was better – with the exception of Capitol Reef, which we didn't stop at this time. We loved everything at Arches National Park and our hike at Zion, and really enjoyed our quick stops in Vail and at Seven Magic Mountains.
Finance
Moab Springs Ranch was $578 for two nights. Zion Lodge was $244 for one night.
Our annual National Parks Pass is $80. It pays for itself after two or three park visits.
Our meals added up to $270.98, including three breakfasts, two lunches, three dinners and a lot of coffee, ice cream and frozen yogurt stops.
Gas in our Volvo VC70 was $206.76. The Volkswagen Atlas we drove last month was more fuel-efficient and didn't require premium gas, so that's the car we'll be taking on our next California road trip.
Other Posts
Our tips for a perfect road trip are here.
Our ten favorite places we stopped in the Southwest from all road trips are here.
Our best road trip ever (in 2021) is detailed here.
And if you ever want to road trip but don't have your own car to drive, an RV could be the way to go? RV Share is supposed to be good.