Single Parent Travel
My oldest daughter just turned 14, which means that I've been taking one-on-one trips with my kids for 10 years. The short version of how the tradition started: my daughter, at 3, wanted to go to Antarctica. I told her that we could go when she was 8 and then asked her where else she wanted to go. She said Australia, I booked tickets, and we flew down a little after she turned four. Since then I've asked each of the kids every year, starting at 4, where they want to go. They can choose any destination that's reasonably safe.
The Benefits to One-on-One Travel
I've loved everything about these trips. I get to see new places that I otherwise wouldn't have planned trips to, and I get to spend time with one of my kids without other family members around. There's always a sense of adventure when we head off – especially because most of our destinations have been new to me. The kids do the planning and I do the booking.
Planning Bucket List Family Travel
I actually don't like the term Bucket List, but I'm using it here because a lot of people write to me looking for ideas for epic family trips, and I think these trips qualify as once-in-a-lifetime bucket list-type trips – except that we take them multiple times a year. How can we do that? I use miles when possible, I book well to minimize costs, and we're flexible. Sometimes we'll travel between Christmas and when school starts again in January if it saves us money. Up until 6th grade or so my kids haven't minded missing a week of school, so we've taken a lot of trips in October, November, February and March. And if we're looking at the summer, we can travel anytime between the end of May and beginning of September. It's a wider date range than a lot of schools have, so we're not always fighting crowds or paying peak-season prices.
After the kids choose their annual destinations, we'll go onto Kayak and check flight routing. This is the point where our trips usually expand from one destination to multiple destinations. If we can stop over in Singapore, or Amsterdam, or Doha for little additional cost, we'll do it. And if I've heard of somewhere amazing and it's relatively close to the routing we're looking at, I'll subtly suggest an additional stop. Why not make every trip an amazing trip? We've gotten to 36 countries so far on these one-on-one trips.
Our Top Ten One-on-One Trips
In looking at 20+ one-on-one bucket list family trips that we've taken so far, a lot have been amazing, some of been just ok, and a couple have been disappointing.
Taking into account feedback from my kids, here's my ranking of our ten best trips. Two are trips with my oldest daughter, two were with my youngest daughter, and six were with my son. That doesn't mean that I enjoy traveling with him more than the girls! We've simply had bigger adventures, and we've also traveled more together. My 14-year-old has actually opted out of taking annual trips the past few years – which is fine, since I want travel to be fun for the kids. If they'd rather stay home with their friends, that's ok. Except that we'll still take full-family trips several times a year.
1. Brazil's Amazon Rainforest
This is my favorite kid trip ever, and my youngest daughter's third-favorite trip. We started in Manaus and then spent a week in the Amazon Rainforest, both on a boat on the Rio Negro and in a jungle lodge.
The word that kept popping into my mind during the trip was "magical," and that still holds up a year and a half later. We talk about the rainforest walks, the amazing reflections, being unplugged for a week, fishing for piranhas, and the atmosphere on the small boat.
My blog post is HERE. We went with Our Whole Village. And it's even easier to visit now that visas are no longer required. Head to Brazil this year, and take your kids!
2. The Faroe Islands
My son and I loved the Faroe Islands last year. The islands, between Scotland and Iceland, aren't heavily touristed and they likely won't ever be, given the limited number of flights, hotels and rental cars. So book well in advance and you'll have the sheep, lakes and waterfalls virtually to yourselves.
We went on a number of hikes throughout the islands. Our favorite hike was the evening Mykines hike with Go Local Faroe Islands. Oda has the only B&B on the island, so there will never be more than four tourists spending the night – along with hundreds of sheep and tens of thousands of puffins. I'd go back to the Faroe Islands just to experience the amazing Mykines hike again.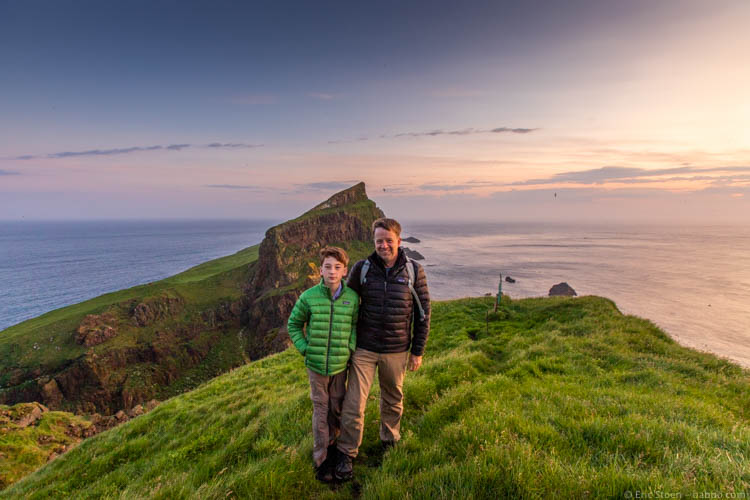 My Faroe Islands blog post is HERE.
3. Antarctica
Antarctica is spectacular, with mountains, snow and ice everywhere, icebergs, penguins (so many penguins) and whales. And there was absolutely nothing about our trip that wasn't kid-friendly. My 8-year-old had a great time whenever we went on shore as well as on board the ship.
I just asked my daughter, six years later, for her thoughts. Her response: "Antarctica was amazing! My favorite things were belly sliding with penguins, whale watching and kayaking between icebergs. I also loved when the ship parked at a sheet of ice and we had hot chocolate and snowball fights."
Take your kids to Antarctica! It's an absolutely unique destination, and the one-on-one bonding when you're on the bottom of the world without many other people around is amazing. And as family bucket list adventures go, it's an easy one to make happen – simply book with a good ship operator, fly to South America and they'll take care of the rest.
My Antarctica with Kids blog post from my first trip is HERE. My post from my second trip (with Adventures By Disney) is HERE.
4. Tokyo
My top three one-on-one trips all have one thing in common: they're remote adventures. There's something about being two of the only people in a huge rainforest, or on a remote island, or on the edge the world's most isolated continent, that makes your relationship with your kids just a little bit closer. Tokyo was strangely similar. There are almost 40 million people in the greater Tokyo area, so it's definitely not unpopulated, but as international cities go Tokyo is very foreign – hectic and without much English spoken or on signage. So heading there can be just as much an adventure as taking a ship to Antarctica! And my daughter (8) and I loved the experience.
In fact, we liked it so much that we went back the next year as well, that trip splitting our time between Tokyo and Kyoto. She says that she prefers our first trip since we had more time and explored more of the city.
My blog post on Tokyo is HERE. And Tokyo is far easier to get to than Antarctica!
5. The LEGO Inside Tour and Plitvice National Park
LEGO annoys me. We went on its Inside Tour at its headquarters and factory in Denmark when my son was seven, and it was amazing. But they recently changed the minimum age requirement to 10 because " the programme can be very hard and challenging for the average 7 year old kid." I disagree! My son loved it – it wasn't challenging at all, and by 10 he was more or less over LEGO. Regardless, it was a great experience, and I highly recommend trying to get one of the few spots if you have a 10-year-old (or older) who loves LEGO.
From Billund we flew to Amsterdam, overnighted, and then continued on to Zagreb, Croatia. We loved Zagreb, and especially our day trip to Plitvice Lakes National Park. It was a nice addition to the trip since LEGO was based on being inside and at a theme park. At Plitvice my son could run and explore and enjoy nature.
My LEGO Inside Tour blog post is HERE.
My Zagreb/Plitvice blog post is HERE.
6. Around the World with a 10-Year-Old, Version Two
My daughter, at 10, planned an around-the-world trip for her annual one-on-one trip with me. Her destinations: Orlando; Paris; Dubai; Oman; Borobudur; Bali; and Sydney. It was a good trip, except that at two weeks it was a little rushed. When my son, at 10, wanted to do the same, we took a few more days and it was a better trip overall. His destinations: Copenhagen; South Greenland; the Seychelles; Abu Dhabi; Mumbai; and Singapore.
I HIGHLY recommend letting your kids plan an around-the-world trip! Ask them for a list of 5-7 places in the world that they want to see, and then piece together the flights – not necessarily expensive given all of the low-cost carriers in the world. It's not traveling deeper, but it's fun to connect random places into one epic adventure. I'm waiting for my third child to settle on her RTW destinations. Can't wait to see what she picks!
My first around-the-world with kids blog post is HERE.
My second around-the-world with kids blog post is HERE.
7. The Maldives
My son's virtually always chosen island destinations for his trips, including the Faroe Islands (#2 on this list), Greenland and the Seychelles (#6), Easter Island (#9), and Palawan in the Philippines. It wasn't a surprise when he said that he wanted to go to the Maldives.
We loved the Maldives, particularly the first resort that we stayed at, Six Senses Laamu. In fact we liked the resort so much that we went back the next year with the entire family. It's simply perfect, from the overwater villas to the food and staff, but the best thing about the resort is that each villa comes with bicycles. They were our transportation to meals (including unlimited free ice cream), beaches and the pool, and a lot of the time we would ride just for fun. I mean, how often do you get to ride around a private island in the Indian Ocean? Of everywhere we've been, this is the one resort that we want to return to as much as we possibly can. Hopefully we'll find a way to get back in 2020.
My blog post on our first trip to the Maldives is HERE.
My blog post on our second visit is HERE.
8. Sydney, Australia
My trip to Sydney with my 4-year-old started our tradition of one-on-one travel. Looking back it really was an excellent trip – which is good, because if it didn't go well, my wife likely wouldn't have let me travel solo with the kids again!
Sydney, and Australia as a whole, are very kid-friendly. There's no language barrier, it's warm when North America is cold, there are cute, unique animals, and people are friendly and laid-back. Plus dining is easy, and it's only one flight from LA. As with all of our other trips, my daughter set the agenda. This particular trip involved beaches, several animal encounters, a theme park, and a lot of exploring Sydney and buying souvenirs! My daughter liked it so much that she routed two of her other one-on-one trips through Sydney.
If you're looking for an easy destination to start your own solo kid trips, Australia is perfect.
I don't have a blog post on this trip, since it was well before I started writing about our family travels. My post on my trip to Brisbane and Sydney with my younger daughter is HERE.
9. Easter Island
Easter Island was in the same category as Antarctica for me – somewhere that I knew about and wanted to visit but hadn't thought about going anytime soon, and I didn't associate it with family travel. But at six-years-old my son asked to go, so I said yes. We stopped in Panama for a day to see the canal, overnighted in Santiago and then flew out to Easter Island. Coming back we added on Iguazu Falls in Argentina. He was already missing a week of Kindergarten. Why not make it epic?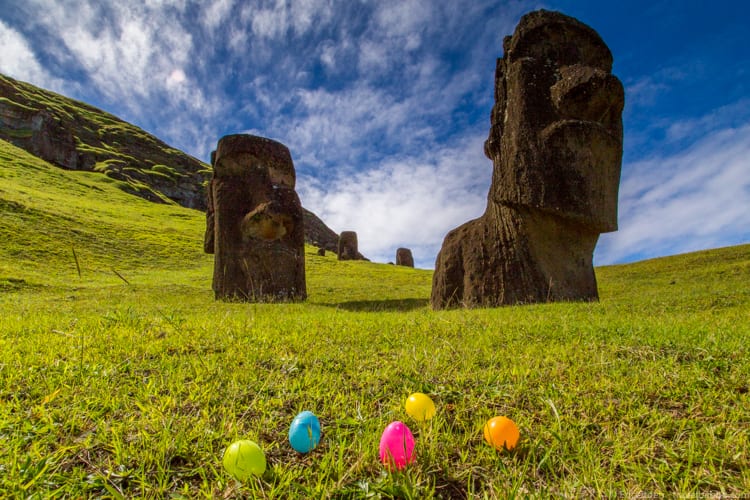 While the whole trip was good, Easter Island was the definite highlight. The Moai (famous statues) are amazing to see up-close, and it was fun to know that we were on one of the most isolated islands on the planet – and a Polynesian island at that, more like Bora Bora and Hawaii than South America.
My Easter Island with Kids blog post is HERE.
10. Six Asian Countries in Three Weeks
Last summer my son and I already had the Faroe Islands planned, but we had a few weeks free so we booked an additional one-on-one trip – one of our biggest yet. We flew from Colorado to Seoul, saw the Korean DMZ, traveled north to south in Vietnam, saw Laos and Cambodia, relaxed on Ko Kut, Thailand, and then stopped in Hong Kong on our way home.
The trip wasn't perfect (the Golden Bridge in Vietnam isn't worth a day of your time), but it was overall a very fun adventure with a lot of highlights. We loved Luang Prabang, Laos, our DMZ tour and Ha Long Bay. And Six Senses Ninh Van Bay and Soneva Kiri are both bucket list resorts – fun to be able to add them onto a trip where we were primarily staying in simpler, boutique-type hotels.
My Asia blog post is HERE.
My blog post on Six Senses Ninh Van Bay is HERE.
My blog post on Soneva Kiri is HERE.
Domestic Bucket List Family Travel?
As you probably noticed, these are all international trips – every continent is represented on this list except for North America. We love traveling around the US and Canada as well, but none of our trips have felt epic enough to include on a family travel bucket list. While obviously you can bond with a child anywhere, I think when it's just the two of you in a unique, remote destination you team up a little more, which leads to stronger bonding and more memorable experiences. Our favorite North American one-on-one trips have been Montana, Wisconsin, Salt Lake City (much more than just Mormon sites), Cleveland and Winnipeg.
How about you? Have you taken solo trips with your kids? What was your favorite destination? What's on your bucket list?
Pin This!