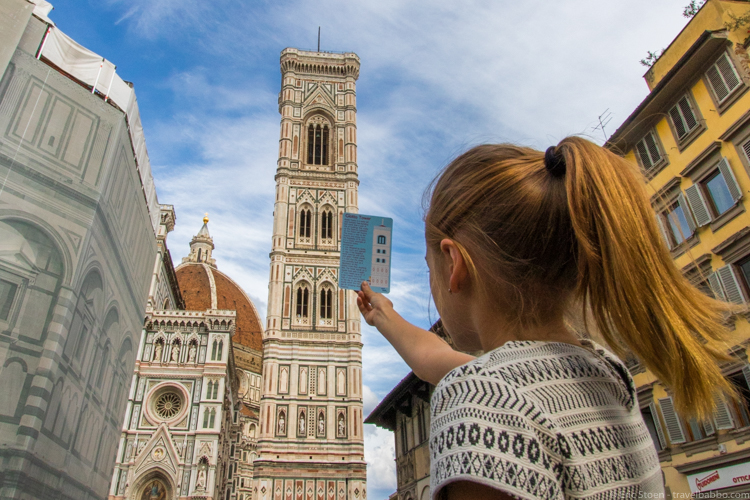 Written for wendyperrin.com
When I won Condé Nast Traveler's Dream Trip contest, it was based on my essay about wanting to take my kids to Florence, a city I loved but that I didn't think of as kid-friendly. Wendy and her WOW List expert Maria Landers from Concierge in Umbria crafted a great two-week trip for us—so great that Florence quickly became our family's favorite destination, and we've now returned to the city every summer since the prize trip.
I write about all of our favorite things in Florence in this post, and our favorite restaurants here. But my advice to families heading to Florence for the first time? Embrace what Florence is known for—namely art, architecture, history and food. Here are my recommendations for how best to do that with kids:
Embrace the Art
Art is everywhere in Florence—in the public squares, in the museums, and even on street signs. Our kids loved the Bargello, Academia, and Uffizi Museums with Elvira, our extraordinary guide arranged by Concierge of Umbria. At each museum we were able to skip the long lines and we had decidedly kid-friendly tours, focusing on lesser-known important pieces, as well as the major works. We never spent more than an hour in any museum, and every stop involved not only seeing the art but also interacting with it. Elvira arranged scavenger hunts and sketching sessions for us around town. After my kids saw David, they went out to patio of the Academia and drew photos of what they thought Goliath looked like. And our private tour through the Uffizi's Vasari Corridor was extraordinary. Our kids still remember the corridor above their heads every time they cross the Ponte Vecchio.
We've also done private art sessions. Context Travel (whose founder, Paul Bennett is another Trusted Travel Expert on Wendy's WOW List) set up a fresco making session with a Florentine artist. And through Arte al Sole the kids had a sketching class combined with a scavenger hunt through the Boboli Gardens. The best thing about the Arte al Sole class? We, the parents, weren't involved at all. We dropped the kids off with their art expert Andi and picked them up three hours later at the entrance to the gardens. It's the only time we've separated from the kids in Europe and they loved it!
Please click HERE to read the rest of the article on wendyperrin.com.
Pin This