Italy
I love Italy. I studied in Florence in college and have returned a few dozen times since then, but I've also been branching out the past few years, both with and without my kids. We spent two weeks on Lake Como. We hiked in the Dolomites. I headed to Rome for a family reunion. We've gone umbrella-hunting in Naples. And last fall I walked 90km through Tuscany on the Via Francigena.
This year's destination: Emilia Romagna. In late September I flew from Beirut to Bologna via Istanbul (note: do not fly through the new Istanbul airport with less than two hours to connect) and then took a shuttle from the airport to Ravenna. I loved the small Bologna airport – passport control was automated (for US citizens), luggage delivery was fast, and when I flew out from there a week later I took advantage of the pre-security lounge with it's own security queue (or rather, no queue at all).
Ravenna
The last time I visited Ravenna was in 1990. It was time to return! The city is known for its 1500-year-old mosaics, and you'll see them everywhere. Start with the Basilica di San Vitale, and then continue on to Mausoleo di Galla Placidia, the Battistero degli Ariani, the Battistero degli Ortodossi and the Basilica of Sant'Appolinare (in Classe – an easy bus ride away).
When you're in Classe, don't miss Classis Ravenna, the museum of the city, in an old sugar factory.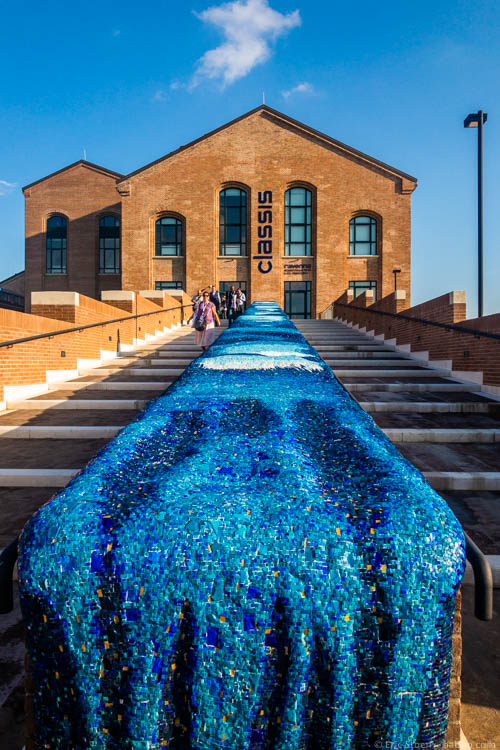 And when you're walking around town, look up at the mosaic-decorated street signs and other small signs on the sides of buildings.
Otherwise for me Ravenna was about exploring and enjoying Italy outside of the normal tourist centers (Rome, Venice, Florence). As with everywhere in Italy, it's better without day-trippers, so enjoy the town early in the morning (I walked around every day at sunrise) and in the evenings, when the cafes are alive.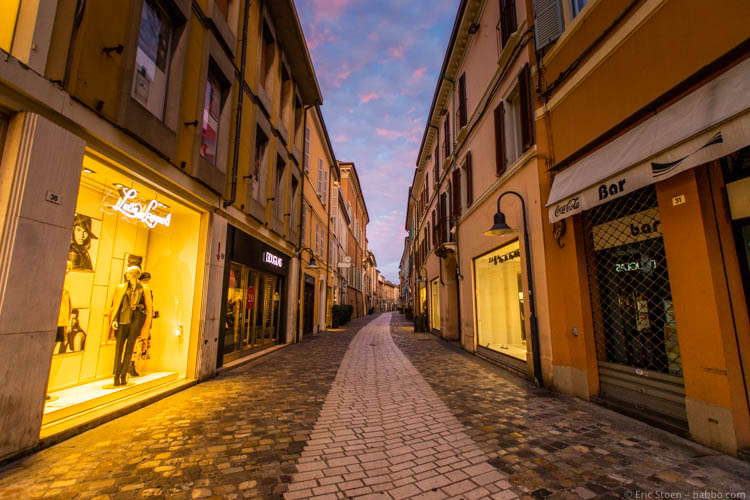 Where I Stayed in Ravenna
There are a lot of small B&Bs and inns in Ravenna's city center. I chose Chez Papa, maybe a 2-minute walk from the Basilica di San Vitale. I had an enormous room (apartment?) with a bedroom, balcony, office and sitting area, and a huge bathroom with a real shower (as opposed to the Italian bathroom setup where the shower is just a curtain near the toilet and the entire bathroom floods). I loved the location, and breakfast (always with due cappuccini) was excellent.
Forlimpopoli
Only slightly out of the way between Ravenna and Rimini, Forlimpopoli is the birthplace of Pellegrino Artusi, the Father of Italian Cuisine. Artusi was a businessman who traveled around Italy in the 1800s and documented local recipes everywhere he went. In 1891, after testing each recipe with his maid Marietta, he put together the first Italian cookbook.
So why go to Forlimpopoli? To make Artusi's recipes of course! We headed to Casa Artusi and, with Marietta Corrada, made #51 (cappelletti) and #71 (tagliatelle). I loved this experience! Corrada was the Italian grandmother that I never had – lovely and encouraging even when my pasta was obviously not up to Pellegrino's standards. And then we dined on everything we made. Highly recommended.
Rimini
Rimini is primarily thought of as a beach town, but visiting at the end of September the beach-going tourists had left, and even the iconic ferris wheel had moved on to its winter location. So I traveled deeper to see what else Rimini had to offer and I was impressed.
First, it's the end of the Roman Road. Just a short walk down the main pedestrian street brings you to the Arch of Augustus – the oldest surviving Roman arch anywhere.
Second, Rimini is the birthplace of Federico Fellini, and there's an expanded Fellini Museum opening in 2020 (the 100th anniversary of his birth). For now head to Cinema Fulgor, the renovated theater where he saw films as a young child. Fellini films play regularly.
Third, there are still elements of Rimini's history as a fishing village. There's excellent seafood everywhere, but there's also Borgo San Giuliano, the old fisherman's neighborhood near the Tiberius Bridge. Cross over the bridge from town and turn right. Most houses have tiles with the names of the fishermen who used to live there. Everything is perfectly nicely maintained. And, just to make things even more interesting, there are murals on a lot of buildings representing Fellini's films. We walked through the area at sunrise and again at night, and cycled through as well.
Rimini struck me as Italy for Italians, especially with no other tourists around. It was life as usual – the morning markets, the large squares where students gathere, people cycling to and from work. I loved immersing myself in the culture and cuisine for several days.
Where I Stayed in Rimini
The DuoMo Hotel is…interesting! The location is perfect, right in the middle of everywhere that I wanted to explore at sunrise, and it was a short walk back from dinner every night. And the included breakfast is excellent. The interesting part: it's easily the most modern hotel I've ever stayed at in Italy. The reception looks like the deck of a spaceship. The bathroom in my room was curved. I'd stay there again based on service and location, but the design didn't do much for me.
When we're choosing hotels, I always try to go with the best location and the iconic, historic hotel. Unfortunately in Rimini the iconic hotel, The Grand Hotel, is near the beach, and especially in the off-season I would rather be in the city center than at the beach. It may be a great choice for your family though if you plan on spending a lot of time at the beach, or if you're basing in Rimini and exploring Emilia Romagna every day by car.
Where to Eat in Rimini
We ate very well in Rimini! Breakfast each morning was at the DuoMo Hotel. Lunch was at the Grand Hotel (above). And our two dinners were at La Marianna near Borgo San Giuliano (excellent seafood) and on a catamaran with East Coast Experience. Chef Mirko De Lirio's food onboard was some of the best that we had anywhere.
Santarcangelo di Romagna
I went on an afternoon e-bike ride from Rimini to Santarcangelo di Romagna with Bike Tour Rimini to see lesser-traveled Emilia Romagna and loved both the experience and the town of Santarchangelo. If you haven't been on an e-bike before, I highly recommend it – for kids and adults. You're still peddling and selecting your gears – the motor simply provides an extra boost when you need it for hills.
Paolo led us along dirt paths and rural roads for approximately 12km until we reached Santarcangelo, left our bikes and explored the town on foot. On the surface it's a charming Italian village – cobblestones, gelato, etc… But beneath the surface, or rather in the sandstone around the town, are over 150 caves. Going back hundreds of years families had personal caves that they used as cellars, and then during WWII they used them as shelters. The caves all used to be interconnected, but now most are private and enclosed. If you stop by the tourist bureau they'll be happy to open up a cave or two for you to walk through.
And be sure to stop by Stamperia Marchi for a Mangano demonstration. A Mangano is basically a human hamster wheel that's used to press and stretch fabric. Following the demonstration of the Mangano, you can see fabrics being hand-stamped in the traditional fashion.
San Marino
San Marino is Europe's third-smallest country, only 61 sq km, so it isn't technically in Italy, although it's surrounded by Italy. I'm including it here because you'll most likely go through Emilia Romagna to visit, and because it's a perfect addition to an Italian itinerary.
If you like Italy, you'll love San Marino. The country has been independent for 1,700 years, and it has its own culinary specialties and unique government, but otherwise it feels largely Italian – with castles. As with everywhere else (you'll notice this theme throughout my website), don't do a day trip to San Marino! It gets a lot of day-trippers, and honestly it's not that enjoyable when the walkways are crowded with shopping tourists. In the afternoon we went on an adventurous e-bike ride throughout the country, and then rode back in time to enjoy the sunset with very few others around.
Besides the ebike ride, what else is there to do in San Marino?
Cook!
We made piadine (the local flatbread) and pasta at Consorzio Terra di San Marino. An enjoyable cooking class.
Explore!
Walk everywhere, and don't miss the three towers of San Marino (Guaita, Cesta, and Montale) and the Witches' Path between Guatia Tower and the Cesta Tower. Tour them during the day (except Montale, which isn't open to the public) and then return at night to watch the sunset.
Eat!
We had an amazing lunch at La Terrazza (at Hotel Titano) and a perfect dinner at Michelin-starred Righi.
Get a Passport Stamp!
Get a souvenir stamp! For five Euros you can head to the Tourist Office and get your passport stamped.
Where I Stayed in San Marino
The Grand Hotel is centrally located in the Old Town. I had a room on the first floor and my view was blocked by trees, so I'd recommend requesting a higher floor. Another option is the Hotel Titano – I was very impressed with a friend's room there.
How to Get to San Marino
If you have a car, simply drive in from Emilia Romagna. The drive is less than half an hour from Rimini. There are parking lots near the Old Town, but you may be better off parking down below at Borgo Maggiore and then taking the cable car up.
There's also daily bus service from Rimini.