On our 13-hour flight back from Sydney this weekend, I started working on my round-up post of our favorite things in the world from the past year. Some are easy, since there's usually one view from a hotel room that stood out, one breakfast, one resort, and so on. But when I got to Best Kid-Friendly Activity and turned to my six-year-old for her thoughts, she quickly listed half a dozen things from the past year that she thought of as extraordinary. That made me happy, given that our main travel goal is to find really cool kid-friendly things to do in unique places, and I realized that I couldn't narrow it down to one this year. So, in consultation with all three kids, here are the best kid-friendly activities that we've found around the world over the last several years.
Our Favorite Kid Activities (in no particular order)
A Day in the Life of a Rice Farmer, Bali
At Bali's Four Seasons Sayan, they've put together a very fun Day in the Life of a Balinese Farmer activity, with full-day and half-day options. We chose to do the half-day. My 10-year-old and I met up with a Four Seasons guide at 8am, hiked through rice fields to the nearby village of Sayan, toured the small village and learned about local customs, and then returned to the resort. All along our hike the guide picked leaves and flowers and showed us what he and his friends did with them growing up, turning leaves into whistles, blades of grass into missiles and flowers into facial decorations to name three. So fun! Arriving back at the Four Seasons Sayan, we had a private breakfast in a small pavilion near the river and then met with the resort's rice farmers, who taught us everything that goes into growing rice, including seed preparation and planting. We then waded into a muddy field and planted rice!

Following the planting (harder than it looks to make perfect rows), we were given fresh coconuts and soaked ourselves pouring coconut water from a moderate height into our mouths. Again, so fun! We then walked to a nearby massage villa where we got excellent hour-long massages – a pretty cool way to wrap up the morning. We had been told to bring a change of clothes for after the massage. The reason – during our massage they laundered our clothes and shoes from the walk and returned them to our villa. A very cool touch! And then at the end of the experience we received a photo book documenting everything.
A Treasure Hunt through the Louvre, Paris
We always look for ways to make museums kid-friendly, including booking skip-the-line tours with family-friendly guides, bringing drawing materials and doing interactive activities. Our scavenger/treasure hunt through the Bargello was a top highlight from our Conde Nast Traveler prize trip to Florence, but our favorite treasure hunt anywhere was through the Louvre with Paris Muse. Our guide Laura met us outside and whisked us past the queues into the museum. She showed the kids the famous pieces like the Mona Lisa but didn't dwell on them, instead spending time with important but lesser-known works. At each stop the kids did word puzzles, which continued the treasure hunt, and at the end everything came together leading to a prize. It was extremely well-designed and exactly what families need to see one of the world's great museums without dealing with crowds or bored kids. I keep hoping that they design a similar family tour of Musee d'Orsay.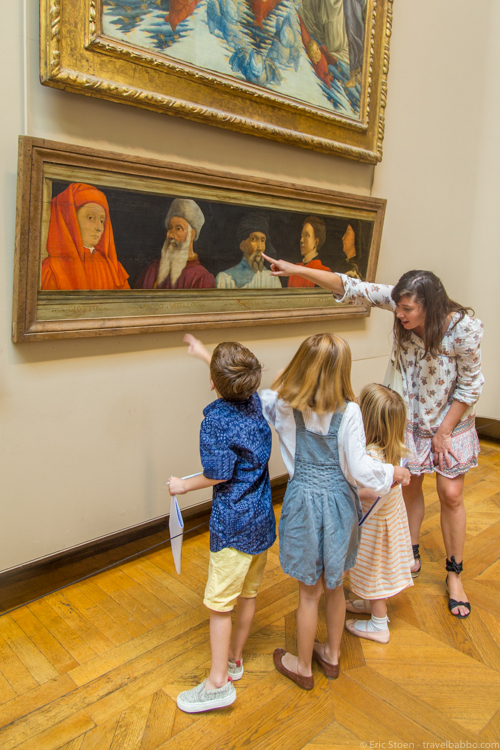 X-Wing Mini Segway Tour, Brisbane
We see Segway tours seemingly everywhere we travel and my kids have always wanted to do one, but the typical minimum age is twelve. Enter X-Wing Mini-segway tours! I found this while looking for activities in Brisbane on TripAdvisor, and was surprised to see that the minimum age was six. I signed up immediately with my six-year-old.
We showed up, met with Scott our guide and picked out our mini-segways. Technically these aren't Segways – they're a little smaller, but it's the same self-balancing, two-wheeled concept. After a quick safety lesson we hopped on, became quickly proficient at balancing, and then headed along the Brisbane river. I was initially nervous about running into people, and was especially nervous about my daughter losing control, but the mini-segways are easy to maneuver, and my daughter expertly zipped around people, bicycles, strollers, dogs and other obstacles. It couldn't have been a better half-hour, and Scott's tour as we rode along was excellent. I wish that we had chosen the one-hour option, and I with that we hadn't left this until our last day in Brisbane – we would have signed up again.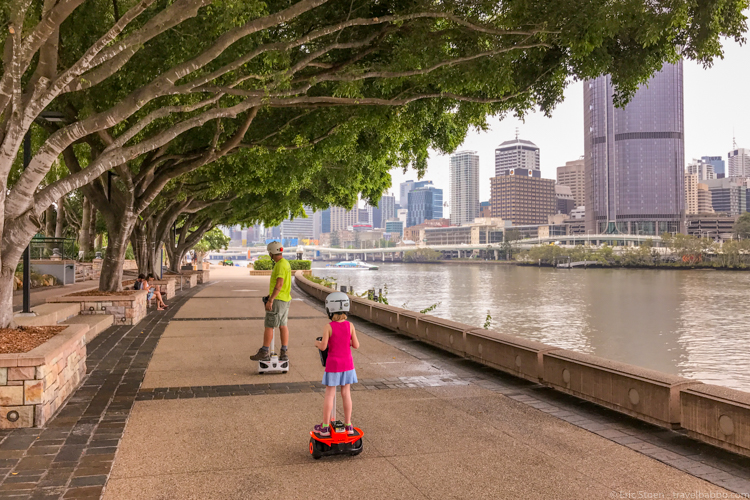 Falconry, Ashford Castle, Ireland
Staying at Ashford Castle, we walked over to Ireland's School of Falconry on the castle grounds and met up with our falconry instructor Conal. He fitted the kids with gloves and taught them the basics of hunting with Harris Hawks – basically the hawks fly far away, you put food hawk food (chick parts or small rodents) in your glove and hold out your arm, and the hawks fly to you to eat before taking off again. The falconry would have been fun anyway, but the setting put the experience over the top – walking around the castle grounds and through a forest of moss-covered trees as the birds flew off and returned was very cool! You can find more details in my post on our stay at Ashford Castle.
Kayaking
We've had some amazing experiences kayaking around the world, from watching the sunrise in a small bay in Palawan to ocean kayaking in Belize and Jamaica to paddling around icebergs in Antarctica and circling overwater bungalows in Bora Bora. I love when resorts provide kayaks for free to guests – it's very kid-friendly to be able to grab a kayak and stay out as long as your child wants, whether that's ten minutes or two hours, without worrying about minimum rental periods or mandatory return times.
Horseback Riding
Our kids love being on horseback anyway, but there's something really fun about riding overseas. This year my wife and oldest daughter rode Icelandic horses, a smaller breed of horse, outside of Reykjavik at Laxnes Horse Farm, and then we all rode Irish Cobs in the forests around Ashford Castle in Ireland. Both experiences were excellent, and we're going to start looking for places to ride as we're selecting future vacation destinations.
Context Travel's Drawing London Workshop
We've done walking tours in at least a dozen cities around the world. Virtually all entertained and educated our kids (and us) about our locations, but only one taught our kids skills that they still use daily: the Drawing London tour/workshop from Context Travel. Edward Collet, an illustrator for the New Yorker, the Economist and others, took us on a short walking tour of London and to two London museums. At the British Museum he brought out his art supplies and showed the kids how he approaches sketching. Months later our kids are continuing to refine the techniques he taught them, and we've now invested in the same pencils and erasers that Edward uses – with excellent results.
Becoming a Maasai in Kenya
Ok, so our kids didn't actually become Maasai, but for several days they spent time with Saruni, a Maasai warrior, at Kenya's Little Mara Bush Camp, doing archery, beading and other activities, going on nature walks, and learning all about the Maasai and their culture. They even dressed in shukas and were given Maasai names. These were ostensibly kids club activities, but this went way beyond any kids club that we've seen, and it was the essence of traveling deeper. When the kids think back on their two weeks in Africa, I love that they remember the people as much as the animals.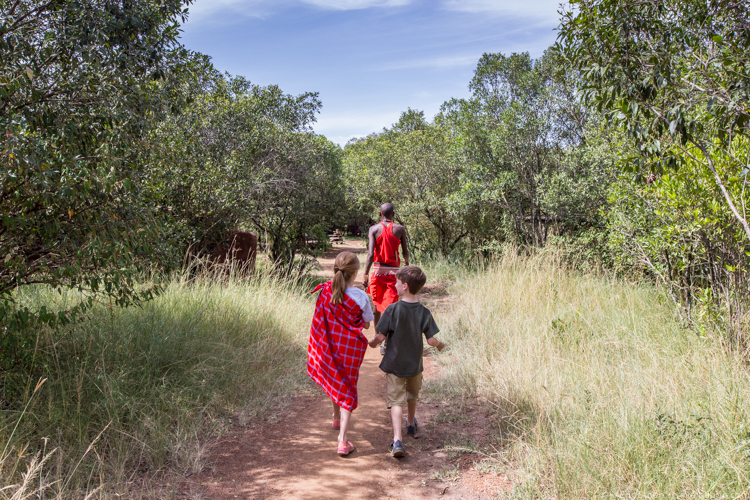 Cooking Classes
We've done cooking classes with the kids all over Italy as well in France, Mexico, Thailand, Hungary and Taiwan. From pasta to macarons to goulash, we've had a great time cooking (and eating) everything. When you pick a vacation destination, go to TripAdvisor, search for Things to Do in that location, and then click on Classes and Cooking Classes. Find something that sounds fun and book it! Your kids will learn new techniques and they'll develop a better appreciation for food and flavors.
Paragliding at the Six Senses Zighy Bay, Oman
When my 10-year-old and I were planning our around-the-world trip, we added Oman and the Six Senses Zighy Bay to our itinerary solely because of the paragliding entrance. It didn't disappoint! Roughly two hours after leaving Dubai, we arrived at a mountain overlooking Zighy Bay. We were met by the resort's paragliding instructor who strapped my daughter to the tandem paraglider and they took off running, quickly flying up into the air. We didn't have much wind so the flight down to the resort only lasted ten minutes or so, but it was still the coolest hotel entrance ever, and I love that they let kids three and up participate.
Other
These are simply my top ten kid activities from the past few years, but we've found a lot more around the world that we love. I'm always updating my Top Spots page with specific recommendations everywhere we travel. And if you find something that's worthy of this list (or even more fun/cool/unique) please let me know below. I'd love inspiration for future trips!
Finance
None of these activities were more than a few hundred dollars and several were free, included with our hotels/resorts. Of course a lot of these are location-specific, but don't be daunted by airfare or lodging searches that initially bring up expensive rates – most places in the world in the world can be reached economically if you plan ahead. I wrote about making family travel affordable here.
Pin This!