Important
Note: this post is dated. Universal is no longer requiring masks outside, and inside you only need to wear masks if you're not vaccinated. Things seem to be back to normal at Volcano Bay.
What to Expect at Volcano Bay with COVID-19 Restrictions
Volcano Bay at Universal Orlando just reopened (at the end of February 2021) after its first seasonal closure. I wrote this post when Volcano Bay reopened last June after the initial COVID lockdown, and Universal has confirmed that all procedures from last year remain in place, so this information should still be accurate. As always, if you head to Volcano Bay and find that anything is different, please let me know and I'll update this post.
Modified Opening Hours at Volcano Bay
Volcano Bay opens daily at 10am. Officially Universal says that Volcano Bay closing times "vary", but last year the park typically closed at 5pm.
Volcano Bay Capacity Is Limited
Universal has been reducing Volcano Bay capacity since last June. They haven't provided specific Volcano Bay park capacity numbers, but if you're able to get in, the reduced capacity is a good thing. Have fun with fewer people around.
Ride Capacity Is Limited
Every attraction is limiting the number of people at any one time, including pools and rivers. And you won't be paired up with others on multi-person rafts – it will just be individual family/friend groups.
Some Rides May Not Be Open
Universal has said that if there are rides at Volcano Bay or the other parks that they don't feel can be operated within their COVID-19 guidelines/requirements, they're going to keep those closed. In reality I haven't heard of any Volcano Bay rides being closed every day.
Volcano Bay Masks: Face Coverings Are Required, but Not on Rides
Officially: Bring a face mask, or you'll be able to purchase one in the entrance area. These are required when you are unable to socially distance. Face masks are not required (or allowed) on rides and slides or in the pools.
Unofficially: Friends have reported that really the masks are just needed on transportation to Volcano Bay, when you're going through the entrance, and when you're anywhere near restaurants and food stations. People are generally not wearing masks otherwise, including when walking to/from rides.
A Temperature Check Is Required
There is a touchless temperature scanning before you're admitted to Volcano Bay. If you're 100.4 degrees or higher you will not be admitted.
But really, if you or anyone you're with isn't feeling well, don't go to the parks in the first place. Wait until you're healthy and you know you're not going to be possibly infecting others. Please!
Physical Distancing Is In Effect
As with everywhere else, try not to get within six feet of others. Beach chair setup and lines at rides reflect this new reality. Lifeguards are enforcing distancing in the water.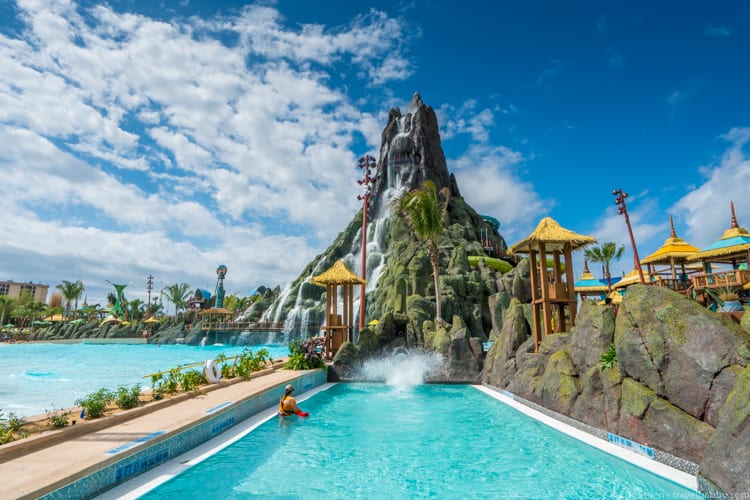 Keep Your Hands Clean
You've gotten used to this the past year, so keep going with it. Wash your hands often (20 seconds is the current guideline) and use hand sanitizer. There is hand sanitizer at some ride locations.
Be Nice
Please don't be mean or rude to staff members who are enforcing Volcano Bay mask and distancing guidelines. This will continue to be the normal operating procedure for the foreseeable future. Everyone wants to maintain a healthy environment. Try not to get frustrated.
Your Volcano Bay Feedback
Have you visited Volcano Bay recently with COVID-19 guidelines in effect? What did you think of the new procedures? Did the reduced capacity make up for the distancing and Volcano Bay face mask requirements?
Other Volcano Bay Links