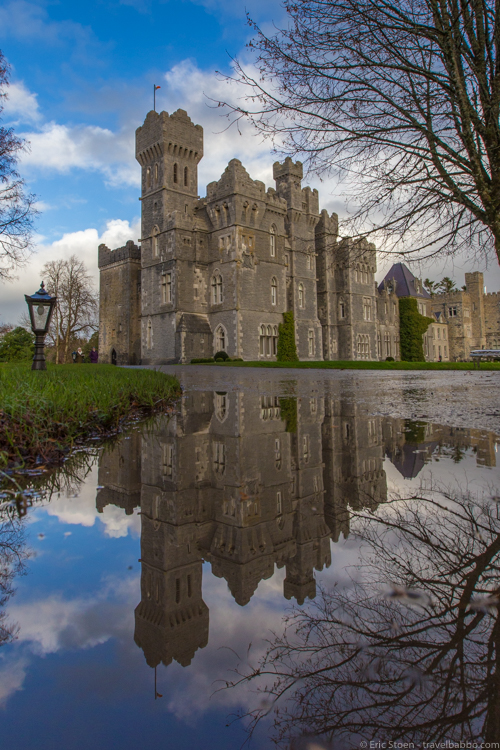 An Ashford Castle Review
I definitely can't take credit for discovering Ashford Castle. In the past year it's been ranked in the top 10 in virtually every list of European resorts, and I've watched as other travelers posted from there on Instagram. After spending two nights at Ashford Castle with my wife and three kids this month, I can tell you it's worthy of the praise. And it's even cooler in real life than it is on Instagram.
We visited in the middle of our American Thanksgiving break, flying to Dublin, continuing on to Ashford Castle, and ending in Kinsale. Ashford Castle was a perfect stop between Dublin and Kinsale, but two nights was too short. We easily could have stayed four nights, if not five.
So what makes Ashford Castle so amazing? A lot of things:
It's a Castle!
I can't overstate how cool it is to spend the night in a castle! If you're picturing stone walls and drafty rooms, think again – the resort has spent over $75 million on renovations, creating a luxury hotel experience true to the 888-year-old architecture.
The (Kid-Friendly) Rooms
I've written before about what I look for in a kid-friendly hotel. Ashford Castle delivered. We stayed in connecting suites that were perfect for a family of five. They also have deluxe rooms for families of four and standard connecting rooms. Waiting for us in the room were kid-sized robes, chocolate disks customized with the kids' names, homemade juice, toys (fairies and swords) and even castle-themed bedtime stories with our kids integrated into the plots. Impressive! We slept well.
Falconry
Ireland's School of Falconry is on the castle grounds. We headed over at 3pm, met our Falconry Instructor Conal, learned the basics of hunting with Harris Hawks, and then walked around the castle grounds and through the forest (straight out of Harry Potter) with two hawks, Joyce and Stoker. The general pattern was this: we would release the hawks, who would fly far ahead of us and land in the trees. We would then put hawk food in our gloves (mice or chick parts) and hold our arms out. The hawks, who were also looking for prey but not finding much, would see our arms, fly back to us, land on our gloves and eat the food. The kids absolutely loved the experience. I did too! It would have been a fun experience anywhere in the world, but with the castle ambiance and forest atmosphere, it was a magical 90 minutes. Oh, and we also got to handle and feed a European Eagle Owl, Dingle, which was very cool as well.
Horseback Riding
On our second day we walked roughly 10 minutes over to Ashford Outdoors, also on the castle grounds, for horseback riding. My wife and kids ride often and brought along their riding boots and breeches. I was comfortable in normal boots and jeans. We were assigned to five horses based on our riding ability, rode around an indoor arena for a few minutes to get comfortable, and then headed out into the forest. My six-year-old and I went on a one-hour ride and my wife and other two kids (nine and ten) went out for two hours. It was a perfect experience – so nice to be riding somewhere green, given that all we have in California right now is dust.
Chess
There's a chess board in the main hall where my kids spent hours. They like chess anyway, and playing in a castle made it even more fun. I loved that the painting over the board shows two girls and a boy – appropriate for the players below them.
Breakfast
Breakfast is included in the room rates and is excellent – pretty much the best of Irish food (hams, scones, etc…) with anything else made to order. We particularly loved the breads and juices.
Afternoon Tea
We always do Afternoon Tea when we're in London – a nice excuse to dress up and let the kids use their best manners. Ashford Castle's Tea felt appropriately British, in a perfect setting overlooking the lake. And it's kid-friendly, with sandwiches and pastries specifically designed for younger guests (our kids chose teas off the adult menu).
Our Tea started at 3:30pm and lasted roughly two hours. We didn't eat dinner that night, simply snacking on the leftover scones that we brought back to the room, so although it's presented as an afternoon activity it can easily substitute for a meal.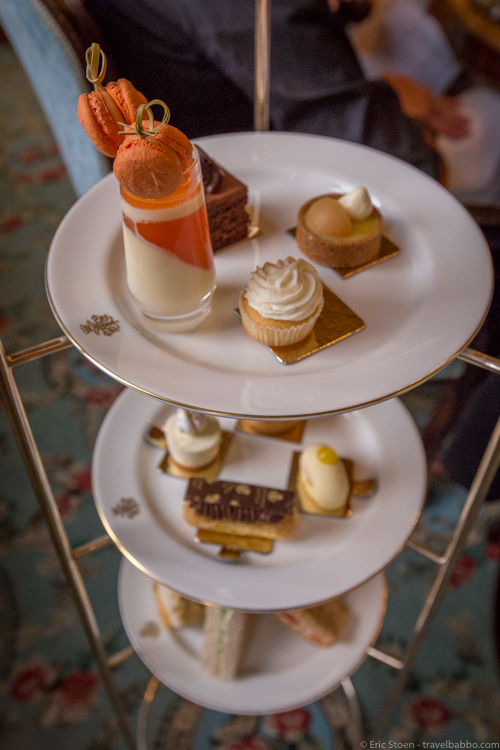 The Grounds
We loved walking through the castle grounds and forests, with the fall colors and constantly changing views of the castle and the lake (Lough Corrib). And with tunnels and towers everywhere just begging to be explored, it couldn't have been more fun for the kids.
Summary
There are a lot of hotels around Europe that we love (see my Top Spots list), but Ashford Castle is now our favorite resort destination. We easily could have stayed longer, since we only experienced a small percentage of what's available at the castle – we never made it to the cinema or onto the lake, and we would have loved to go kayaking and cycling and try archery. We also saw families heading over to tree climb and zip line, both of which sounded fun. And we missed seeing the resident Irish Wolfhounds, since we were riding during their appearance. We have at least a dozen reasons to return!
There were a lot of other families there when we were, and I wouldn't hesitate to recommend a visit for any age. Thanksgiving was a perfect time to visit. It rained a couple of times when we were there, but not enough to prevent us from taking part in our scheduled activities. Horseback riding was cold – we all wished we had brought gloves.
Finance
We paid standard pricing for our rooms and activities, although the Ashford Castle provided us with a complimentary afternoon tea. Looking at random dates on the resort's website, rooms for two are as low as $302/night and rooms for a family of four as low as $455/night. Riding was $370 for the five of us. Falconry costs $53-69 per person (at current Fx rates) for families of four or more.
Ashford Castle Booking Links
It's probably best to book direct at Ashford Castle's website, but it never hurts to check pricing on Travelocity as well. Click here to read reviews on TripAdvisor.
Have you been to Ashford Castle? What were your favorite activities?
Pin This!