I've now traveled to Bali with my daughters three times the past few years. My oldest daughter was 9 and 10 during our trips. My youngest was 9. Per my post on the best places to go with kids at every age, Bali is perfect for 9-10 year olds, and for all the same reasons that adults like it, except for the partying! There's the Hindu-based spirituality, the stunning landscape of terraced rice paddies, the monkeys, the arts and the beaches. Plus the weather's always warm.
Bali with Kids: The Logistics
There are no non-stop flights from the US to Bali, so you have to travel through…somewhere. There are a lot of options. We've now done it three different ways:
Trip One
I didn't want to take my daughter out of school for more than a week, so we planned six days on the island, a day for a layover somewhere and two travel days. I chose to route via Sydney, even though no airlines would let me do it all as one ticket. There were a few reasons for choosing Sydney. First, it worked well to fly out after school on Friday to maximize the vacation time, and the United flight to Sydney left LA at 10:40pm. Second, since I have frequent flier status with United, this was a way to hopefully get us upgraded for as much of the journey as possible. Third, price-wise it was one of our best options, especially since I was hoping for upgrades. And fourth, Sydney is a great city and it's always enjoyable to go through there, even if it's just for a day. I've previously warned against using multiple tickets on one trip, but I took the chance booking LA-Sydney on United and Sydney-Bali on Virgin Australia, and it all worked out great. In Sydney we had roughly three hours to clear immigrations and customs, check in with Virgin Australia, go back through immigration and security and get to our gate. We made it with about an hour to spare. And yes, United upgraded us for both of the 13-14 hour flights.
Coming back, we took a red-eye from Bali to Sydney on Friday night, spent 24 hours in Sydney, and then flew back to the US Sunday morning. I hate those overnight flights, since Qantas' seats are uncomfortable for sleeping, and the flight's not long enough to sleep well anyway.
Trip Two
The second trip my daughter and I were on our around-the-world trip, coming from Dubai. We flew from Dubai to Yogyakarta on Emirates, spent a day/night at Borobudur, and then took a short/cheap Air Asia flight direct to Bali. Continuing on, we did the red-eye to Sydney again, but opted for business class this time. We still didn't sleep well. Seriously, avoid the Qantas red-eye if you can.
Trip Three
My youngest daughter and I did it completely different. We flew from LA-Auckland on Air New Zealand, which is a nicely-timed overnight flight, and then spent 30 hours or so in Auckland, going to see a U2 concert while we were there. We then flew Emirates from Auckland to Bali non-stop. From Bali we continued on to Singapore on a cheap Air Asia one-way ticket, and then 24 hours later flew ANA from Singapore to LA via Tokyo. I love Singapore for layovers, and this one worked out well.
Activities with Kids in Bali
Every trip we spent roughly half of our time in Ubud (Bali's cultural/arts center) and half at the beach – generally Seminyak and Jimbaran – and did roughly the same things. We spent a lot of time in Ubud, walked around rice fields, swam below waterfalls, saw Balinese dances, did yoga, got massages, and spent a lot of afternoons/evenings at the beach. Here are our favorite things to do in Bali with kids:
The Monkey Forest
We've now been to the monkey forest in Ubud five times in three trips. My daughters love it. The first two trips we were able to purchase bananas in the forest. My daughter loved holding the bananas up high and letting the monkeys climb up her to get them. It's stressful walking through the forest hiding bananas, since the monkeys are intimidating, but overall it was a fun, unique experience.
Our last trip however we discovered that they no longer sell bananas in the monkey forest. It's far more relaxing without monkeys coming after you! My daughter still wanted to get up close, though, so she sat down at one point and just waited. After two minutes two monkeys started climbing on her (good) but very quickly they got annoyed and one bit her (bad). She still loved the experience, but you probably shouldn't encourage your kids to get monkey bites in Bali!
Kite Flying
We bought a large pirate ship kite on the beach in Seminyak for 140,000 Rupiah (US$11) and after putting it together with help from the hotel staff and the kite seller, had a great time flying it for hours. The wind was perfect – not enough to be blowing sand around, but easily enough to keep the kite aloft.
Hiking through the Rice Terraces
Our first trip we had a driver from our hotel drive us around the central part of the island, and about half an hour from Ubud we arrived at the Tagalalang Rice Terrace. It's become fairly commercialized there, but luckily there were no other tourists around and we had a great time hiking as far as we could, down one side of the valley and up the other side.
Our last trip, we had our driver take us by the Rice Terrace on the way from Ubud to Seminyak mid-way through our trip. It's a little out of the way, but was still fun. It's definitely gotten even more touristy, with swings and Instagrammable signs, but mid-November we still had the terraces largely to ourselves. And we got lunch at a small cafe overlooking the rice terraces, and it was one of our best meals of the trip.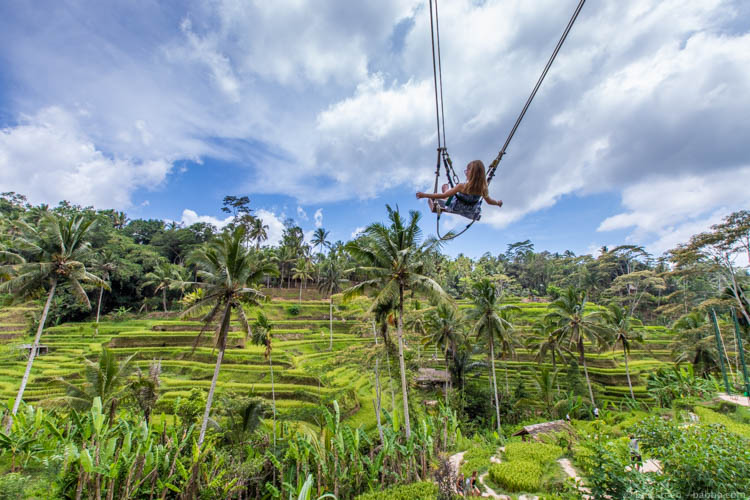 Yoga
Most of our hotels offered complimentary yoga, and we've taken advantage of it several times. Our best experiences: standard (but hot) yoga overlooking the rice fields at Chedi Club; and anti-gravity yoga at Four Seasons Jimbaran.
Waterfalls
There are a lot of waterfalls in Bali. Go to at least one! Our last trip it worked out really well to stop at the Tibumana Waterfall after the rice terraces on the way to Seminyak. There weren't many people there and it was an easy walk up/down for my 9-year-old. The water was perfect.
Shopping
Seminyak felt a lot like a European beach town, with similar brands, but the Ubud area is still charming with a lot of unique crafts, antiques, batik, and markets. We typically take an extra duffel and fill it up, and our last trip we actually shipped two things home – ceramics from Gaya Ceramic and a large Buddha statue, purchased in Ubud and shipped from Seminyak.
Plunge Pools
At virtually all of our hotels (see below) we've had private plunge pools. It's remarkably kid-friendly – having the opportunity to go swimming anytime in the privacy of the villa. We always take advantage of it to cool off in the hot weather.
Fish Feeding and Fish Spas
Our first hotel in Seminyak had koi ponds throughout the property and we were able to get fish food from the bell desk and feed the fish as often as we wanted. We did it each morning. And in Ubud at least once a day we head to the fish spas with tanks of gara rufa fish that eat the dead skin off of your feet. It's slightly ticklish at the beginning but we love it, and our feet are very smooth by the end of our trips!
A Balinese Dance Performance
There are dance performances in Bali every night, both at hotels (especially larger hotels) and at temples throughout the island. Simply talk to your hotel about what dance to see (Legong, Kecak, etc…) or stumble upon a temple where they're selling tickets out front.
Sunsets
The sunsets from Jimbaran and Seminyak are always amazing. We typically don't go to the beach clubs, but there's always a fun vibe with music coming from the clubs, locals playing football, people surfing, and perfect reflections.
Where to Stay in Bali
We've now stayed at or visited eight resorts in Bali. Our thoughts:
Tanah Gajah (Ubud) – formerly the Chedi Club Tanah Gajah
The good: We loved our Tanah Gajah villa with a private pool, the Balinese architecture/ landscaping and elephant theme, and the setting right in the middle of rice fields. The service was excellent. The food was great and the restaurant was very kid-friendly. My daughter took advantage of the free yoga and we loved the free daily laundry service. The bad: There were no kid-sized robes or slippers in the room, and no list of nearby family-friendly activities. They gave my daughter a stuffed elephant at check-out after I asked if we could pay for the one in the room, but that was the only kid-friendly touch. Although we loved the resort, I wish they had done more to make kids feel welcome.
Note: after I sent the above comments to the hotel, they responded that there should have been an activity list in the room and sent me their standard kid-friendly list, which is great. They also are switching the stuffed elephant gift to check-in, and they have ordered kid-sized robes and slippers. How great is that? With those changes, I wouldn't hesitate to recommend the hotel to families going forward.
Four Seasons Resort at Sayan (Ubud)
In 2018 Four Seasons Resort at Sayan was named the top hotel in the world by Travel+Leisure. I wouldn't go that far, but it's a beautiful property, overlooking the Ayung River, and as with most Four Seasons properties there's a good balance between luxury and kid-friendliness. The villas only sleep three, but they also have family suites that can sleep up to five. The pool isn't as kid-friendly as other Four Seasons where we've stayed, but we had a private plunge pool so we didn't need to use the main pool. There's a great kids club including a treehouse fort, and the Rice Farmer for a Day Experience is excellent – one of our favorite resort activities ever. An added bonus is the location, very close to Gaya Ceramic. We toured Gaya's studio and workshop and viewed a ceramics class for young kids (roughly 8-12) that my daughter really wants to return for.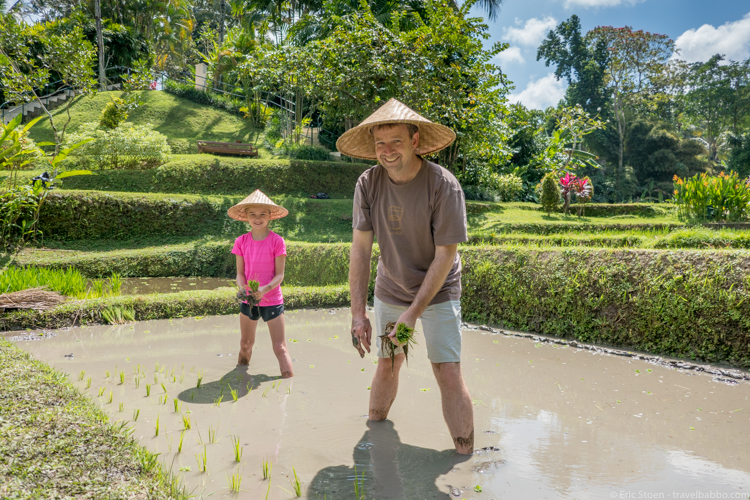 Komaneka at Monkey Forest (Ubud)
Our previous trips we had stayed outside of Ubud (at Chedi Club and Four Seasons Sayan) and used the hotel shuttles to come into Ubud several times. Our last trip we decided to stay in the middle of Ubud instead. Our verdict – mixed. We liked being able to walk to the monkey forest, fish spas and lunch/dinner. But we missed the beautiful setting of the resorts outside of the city.
Komaneka at Monkey Forest was nice. The service was excellent, our massages were great, and breakfast was very good. Our villa and plunge pool were good – not as nice as Chedi Club or Four Seasons, but far less expensive. Unfortunately the rice field next to the pool was dead (already harvested) when we visited – bad timing.
Kayumanis at Jimbaran
Kayumanis at Jimbaran is perfect. We had an amazing two-villa complex with a private pool. The hotel's restaurant (Resto Jimbaran) is beautiful, and I had one of my favorite meals ever there. And my daughter absolutely loved Cuca next door for other dinners. The beach is only a one-minute walk away. Probably my favorite hotel in Bali.
The Legian (Seminyak)
I was extremely disappointed in The Legian. It's nice, and probably deserving of its spot as one of the top resorts in Indonesia…but not if you have kids. If you have kids, they let you know that your kids aren't really welcome. Seriously, I hadn't even checked in yet when I was handed a letter stating that kids aren't allowed in one of the pools, that they need to be accompanied at all times around the hotel, pool and beach, and that kids should only eat at the earlier dinner seatings. I've never seen anything like that, and it spoiled our entire stay. It's too bad because otherwise we liked the hotel, the fish feeding, the location, the beach and pool, the DVD selection and the breakfasts.
Note: I heard back from the General Manager of the Legian. He apologized that the check-in letter came across as restrictive, and noted that the hotel usually has kid activities like painting classes but did not have any the week we were there because of the Nyepi holiday and lower occupancy. While I appreciate the response, I don't feel that the level of kid-friendliness should depend on what week you book a stay. If the Legian has any kid guests at all, it should maintain kid activity offerings. When we were at the Four Seasons Bora Bora, we had the only kids at the resort that week, but they made it clear that they would open the kids club and arrange activities just for us anytime we wanted them. I wish the Legian had done the same.
Hotel Indigo Bali Seminyak Beach
This was a decidedly mixed stay. I booked and paid for a villa with a private plunge pool, but Hotel Indigo notified me a week before our stay that they no longer had a villa for us, and they downgraded us to a suite. They did give us a partial refund.
The hotel itself is nice. Our suite was large. Breakfast is excellent. We didn't love either of the hotel's restaurants for dinner. We did enjoy the location, right across a small road from the beach, and the resort's main pool.
Service was excellent. I asked about packing/protecting a statue I purchased and the hotel sent two employees with a lot of tape and bubblewrap to the room to wrap it up. And when my daughter came down with Bali Belly (most likely from a non-resort restaurant in Seminyak) and wasn't doing well, the hotel had a doctor come to our room. He administered an IV and provided very good care. She was better within three hours.
The Four Seasons Resort at Jimbaran Bay
We checked into the Four Seasons Jimbaran Bay just for a day, but what a day. We loved the villa with private plunge pool, the kids' club activities, the kid amenities, the beach and the food (both lunch and dinner at Sundara were excellent). I got an amazing 90-minute Balinese massage as well. And every employee we spoke with seemed genuinely happy.
Taman Wana
Friends invited us one night to dinner at Taman Wana, a collection of five villas, where they were staying. I loved the concept of a private villa with a concierge, and the villas were gorgeous. This would be a great alternative to a hotel for a family or a group of friends who otherwise would require multiple hotel rooms.
Where to Eat in Bali
We've dined at dozens of different restaurants over the years. Breakfasts have virtually always been at our hotels, but we usually escape and try local places for lunch and dinner. The places that stand out:
Dining in Ubud
Our favorite restaurants in Ubud are Kafe (for everything), Oia (for Greek) and Sugriwa's Warung (for Indonesian).
For dessert we love Tukies Coconut Shop. Get the chocolate cake with coconut ice cream!
Dining in Jimbaran
In Jimbaran our favorites are Kayumanis Resto and Cuca.
Is it crazy to go to Bali from the US for just a week? Maybe a little, but only because of the jetlag. Otherwise the flight schedules typically work out well for us, and it's a more interesting alternative to Hawaii or Mexico for a family vacation in the sun. It's a small world. Take your kids everywhere!
Pin It