RTW Tickets
I've always wanted to go around the world. I've been to more than 80 countries, and have connected as many as 10 countries in one trip, but I've never circled the globe in one itinerary. Even when I've traveled halfway around the world, to India or Sri Lanka, it was far less expensive to come back the way that I came (via Asia or Europe) than to travel the other direction to make it a full circle.
Each of my kids gets to choose anywhere in the world to go with me every year. This year my 10-year-old daughter couldn't decide on one destination. She mentioned Orlando, Paris, Bali and Sydney – four of her favorite places from previous trips. Now was my chance! Instead of having her choose one, I suggested we travel to them all, and add in a few new places as well. She, of course, thought it was a great idea.
We leave at the end of August, so this isn't a post about our trip. Rather, I found the process of planning the trip enlightening, so I wanted to talk about around-the-world tickets and what makes the most sense if you want to plan a similar trip.
Nomadic Matt goes into great detail about Round the World (RTW) tickets at this post. Each airline alliance has RTW tickets and easy-to-use booking sites:
The problem is that I don't think those tickets make sense anymore. The issues I found when looking at these sites/tickets:
I wanted the shortest flight times for each leg of our journey. Although I'm usually very loyal to the Star Alliance, in a lot of cases they didn't have the best available flights. I wasn't willing to spend more time in airports or fly more segments just to stick with one alliance and have everything on one around the world ticket.
I like using miles for free tickets – anytime I'm getting a value of at least $0.02 per mile. I wanted to use miles if I could on this journey.
I wanted to fly Business Class for some of the overnight legs.
I didn't want to overpay. These RTW sites quoted me anywhere between $4100 and $6100 per economy class ticket for our planned trip. I knew I could do it cheaper.
A Better Way to Go Around the World
We had settled on these seven destinations in six countries: Orlando; Paris; Dubai; Oman; Yogyakarta/Borobudur; Bali; and Sydney. We'd start and end in Los Angeles. I sketched out our planned travel and then evaluated the best/fastest way to get from place to place.
From LA to Orlando I booked one-way tickets on United and used United certificates to upgrade to Business Class.
From Orlando to Paris I used 110,000 United miles for free business tickets (55k each).
From Paris to Dubai to Yogyakarta, I booked a multi-leg ticket on Emirates. I've never flown Emirates before, but they have the best flights to and from Dubai. Anything else would have required connections. Because I wanted to go with Emirates for both of those legs, I tried pricing it as one ticket and as two one-way tickets. There was a nice discount for booking it all on the same ticket, even though the last part of the journey, a short flight from Jakarta to Yogyakarta, is on Garuda Airlines.
From Yogyakarta to Bali I booked extraordinarily cheap one-way tickets on Air Asia Indonesia.
From Bali to Sydney I booked the Virgin Australia red-eye. My daughter and I took the same flight last year and slept poorly in the back, so I paid a little more this time for Business Class.
From Sydney to Los Angeles I booked one-way tickets on United and used United certificates to upgrade to Business Class for the 14-hour flight.
Bottom Line
This entire booking for two people cost almost exactly US$5,000, or $2,500 per person, along with 110,000 miles. On every leg we have the shortest possible routing. We'll be on airplanes for 52 hours total, and of that 35 will be in Business Class – including three of the overnight flights. I would have loved Business Class as well on the other overnight flight – Dubai-Jakarta – but there was no way to do it economically or using miles.
If I hadn't paid more for Business Class on Virgin Australia and W Class on United from Sydney to LA to be able to upgrade, the tickets would have come in closer to $2,000 each – not bad for seven destinations in six countries on four continents, and far cheaper than booking through one of the alliances.
The Risks
I've had remarkably few problems in my last several hundred flights, but the last time I did, on Ethiopian Airlines, it was because I had booked separate tickets. On this trip we have at least 24 hours on the ground at each stop, so even if there's a flight delay we shouldn't have issues with any subsequent portion of the journey. At least that's my hope – there's always the chance that things can go incredibly wrong and I'll have no recourse since everything is on different tickets and I don't have frequent flier status with most of the airlines that we're flying.
Around the World – Postscript
We had an amazing trip, and there were no issues at all with flights. My blog post on the RTW trip is here. And then I did it again two years later with my son, but he chose very different destinations. That trip recap is here.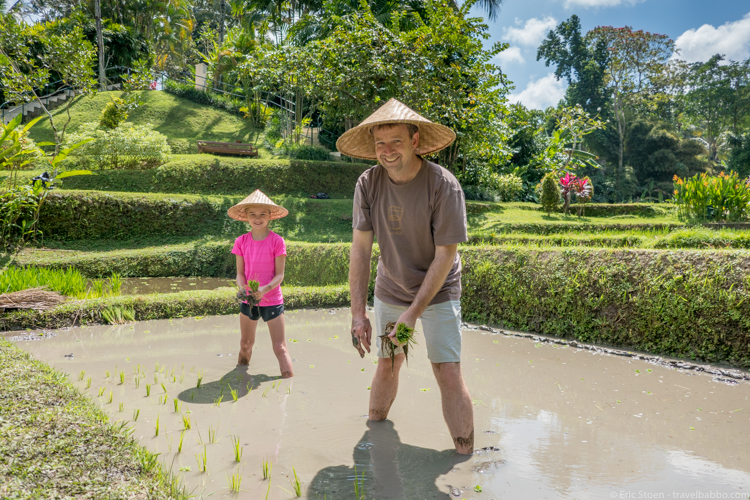 Have you gone around the world? How did you book everything? What would you do differently next time?
Pin This!