I'm always asked for tips for traveling with kids – advice to make family travel easier. There are a lot of little things we do, like booking early flights, using packing cubes, and redeeming miles to upgrade as often as possible. But there's one big thing we do, and it's my number one tip for traveling families:
We make travel all about the kids
To me this is obvious – when a trip is designed around the kids, they're going to be happier, we (the parents) will be happier, and the trip will be more successful…even when things don't go perfectly. But I frequently see people doing the opposite.
So how exactly do we make travel about the kids?
1) Our kids choose our destinations
I've always let my kids choose where we go on our annual one-on-one trips, but for our family trips we do the same. Every January we sketch out travel for the year, and we all vote – based on their personal interests of course.
We have a winter break, a spring break, three months in the summer, a week at Thanksgiving (US), and a couple weeks over Christmas. Thanksgiving and Christmas are based around visiting family, but otherwise, when school is out, we have a world of options. If we all vote for the Galapagos for one of the breaks but one of the kids isn't as excited about it, then he/she will get a little more say in our next destination. We head to Europe every summer and if the kids don't know exactly where they want to go, they'll throw out suggestions. This year it was "let's try to visit our French cousins", "let's go somewhere where we can buy waffles on the street" "let's go back to Italy" and "let's go somewhere to just relax". So I'll help narrow down the options and we'll slowly develop an itinerary – usually a mix of places we've been before and new destinations.
2) We book kid-friendly activities
I don't care if you've always wanted to spend six hours wandering the galleries of the Met. If you have young kids, don't subject them to that! Choose activities based on your kids' ages and interests, and search out kid-friendly tours. We've done scavenger hunts and walking tours throughout Europe that were specifically designed for kids. And when we've booked more adventurous trips, like African safaris and hiking in Patagonia, we've made sure we had our own guides and weren't locked into group tours or schedules. The same goes for cruise ship excursions. Being stuck with 55 people on a bus going to Pompeii for the day? Bad. Meeting up with a private guide to drive you to Pompeii and show you around at your family's pace? Good. And it's usually not much more expensive.
3) We skip three-hour meals
Nothing is worse than choosing the wrong restaurant and finding that you're locked into a very long meal with very slow service. Those Michelin-starred restaurants that serve celery foam can wait until the kids are off to college. We look for more casual restaurants, and always places that have small, non-touristy menus. And when we find a restaurant we love, we'll go back multiple times over the course of a trip. We also have picnics frequently. Nothing's better on a summer evening in Paris than sitting on a blanket by the Eiffel Tower and enjoying bread, cheese, meat, fruit and wine purchased on nearby Rue Cler while the kids run and play. And you don't have to wait 45 minutes to get the check!
4) We have downtime
Kids can't keep up an adult pace. Stop frequently at parks and playgrounds. Come back to the hotel room after lunch and relax. Break up the day a little.
5) We're flexible
Ice cream at 10am? Sure. Changing up the vacation midway? Why not? Four years ago we were in Salzburg, Austria for a week and it was raining non-stop. We quickly exhausted the great kid-friendly things to do indoors, and day trips around the area were similarly drenched, so we booked a rental car, grabbed a suitcase, and drove down to Bled, Slovenia for two days. We loved Slovenia, and it saved the trip. And last summer we were bored in Cernobbio, Italy, so even though we had pre-paid for a villa, we took a train to Florence for four nights and had a great time. You never know when you book a trip whether you'll have rain every day or a record-setting heat wave. Or maybe you booked too long a stay somewhere. Don't be afraid to change your plans.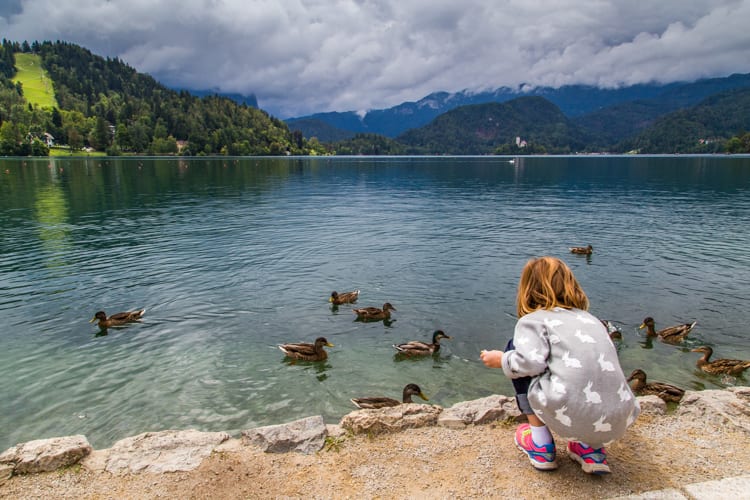 I'd love to hear from you as well. How do you make travel all about your kids?