Best European Cities with Kids
We've traveled throughout a lot of Europe with kids the past 16 years – 70+ cities in 20+ countries – and I made a short list of our favorite kid-friendly European cities. Then I deleted the largest two, London and Paris, since they're the top two European destinations for American travelers every year, and you've likely visited them already. (If you haven't, what are you waiting for?)
In no particular order, our ten favorite (slightly-smaller) European cities for kids:
Budapest, Hungary
Winter in Budapest is charming, with Christmas markets and ice skating, but we definitely prefer to visit in spring and summer. We typically combine indoor activities like cooking classes and market visits with picnics in Városliget Park and trips to the zoo, and it's always fun to take the Funicular up to Castle Hill and Fisherman's Bastion on the Buda side. If you want to do an easy day-trip, the artsy historic town of Szentendre is only 45 minutes away.
A highlight was taking a speedboat on the Danube past the Hungarian Parliament Building and other major sites (obviously those along the river) at sunset. If speedboats are too crazy for you, there are slow boat options for daytime, sunset and dinner cruises.
Don't Miss: We always purchase chimney cakes (dough wrapped around a metal cylinder, baked and rolled in cinnamon sugar) as afternoon snacks. You can get them at stands throughout the city, especially in the pedestrian areas, as well as from bakeries. So good!
Stay: The Aria Hotel Budapest is perfectly-located, and we had a great connecting room setup.
Copenhagen, Denmark
We've taken our kids to Copenhagen four times now and love it. Of course all of Scandinavia is kid-friendly, and I could just as easily include Oslo, Bergen, Gothenburg or Stockholm on this list, but Copenhagen gets the nod because of Tivoli Gardens, a great old-school amusement park.
Beyond Tivoli, Copenhagen is easily walkable, and there's an excellent metro system as well. Take a tour (the walking tour we did with OURWAY Tours was excellent, and Context Travel has tours as well) or simply walk everywhere. We always like to wander around the meatpacking district and photogenic Nyhavn.
And given how flat it is, Copenhagen is one of the best European cities for toddlers. I'd put Amsterdam and Bruges on my Toddler list as well. Flat cities and parks: you can't go wrong!
Don't Miss: At Sømods Bolcher kids can watch hard candy being made. Good luck not buying any! Head to Tivoli Gardens and Nyhavn of course. And Noma, one of the world's top restaurants, is in Copenhagen. We used to love Noma's more casual 108 Corner Cafe, but it's sadly now closed. Hoping they open another cafe.
Stay: 71 Nyhavn is perfectly-located and nicely boutiquey.
Florence, Italy
Florence is definitely not an unknown destination, but a lot of people are surprised at how kid-friendly it can be. We stay in the center of town (typically not far from the Arno on either side) and walk everywhere – the city is nicely compact. Climbing the Duomo and the bell tower are fun for kids, and while the hike to Piazzale Michelangelo for sunset is challenging, the kids' legs are shorter than ours, and their knees are better, and they can handle it! Dining is easy. What kid doesn't love pasta, pizza and gelato?
We return to Florence virtually every year and make sure that our kids have an appreciation for what Florence is known for – art, architecture, history and food – but in a kid-friendly way. There are numerous family-friendly walking tours and museum tours where you can skip the lines and see the sites and artwork that kids find the most interesting (check out Context Travel), and we include sketching everywhere we go. We've also done art/drawing workshops, fresco making, paper making and book making, and have done cooking classes for pasta, tiramisu, gelato and pizza. Our kids only make pasta from scratch now!
Don't Miss: The Stibbert Museum requires a short taxi ride to get there, but it's incredibly cool for kids, with over 16,000 pieces of arms and armor from Asia and Europe, anywhere between 100 and 600 years old.
Stay Here: We love Palazzo Belfiore. The location is excellent (in the Oltarno section of the city) and we can all stay in one apartment – with a washing machine!
My full blog post on everything that we love in Florence is here. Our favorite restaurants are here. And I have half a dozen other posts on Florence is well if you use the search bar at the top of the page. Definitely one of the best European cities for kids.
Istanbul, Turkey
We waited years to take our kids to Istanbul, simply because we felt like it was a little riskier than visiting other European cities. We shouldn't have waited. We loved everything about the city – the history, the sites, the food, the hotels and the people. And yes, we felt safe everywhere we went, even at night. Definitely one of the best family holiday destinations in Europe.
Istanbul has the same cobblestones and hills as most European cities (and yes, it's half in Europe and half in Asia), so you may have issues with a stroller, but otherwise getting around is easy via taxi, bus, metro, streetcar and ferry. Most one-way trips are less than 2 TL ($0.35). Simply get an Istanbulkart and load it with a few dollars.
My blog post on everything we did in Istanbul is here. Skip the Grand Bazaar.
Don't Miss: My kids still talk about the Şerefiye Cistern as being their trip highlight.
Stay Here: We were very happy at both hotels we stayed at, but if I had to pick one I'd go with Ciragan Palace Kempinski, simply because we loved the location right on the Bosphorus and within easy walking distance from Ortaköy.
Naxos Town, Greece
The Greek Islands are our favorite place to travel in the summer. There's nothing like spending several weeks simply enjoying island life – waking up late, having breakfast at the hotel, heading to the beach, having an amazing two-hour lunch at an outdoor cafe, having downtime in the afternoon, heading out for drinks in the late afternoon, having another perfect meal of Greek seafood and tzatziki, and then repeating it the next day – all the while surrounded by white buildings with blue shutters, and looking out at the Aegean Sea.
Of all the islands we've visited (close to 10), we prefer Naxos. There are no cruise ships (thousands of day-trippers ruin the vibe), there are very cool ruins in town, there's an amazing hotel that's perfect for families (below), the ferry to other islands (Paros, Santorini, Mykonos) is right in town, and the airport is only a short drive away. Europe with kids doesn't get any better.
My most recent blog post on Naxos is here.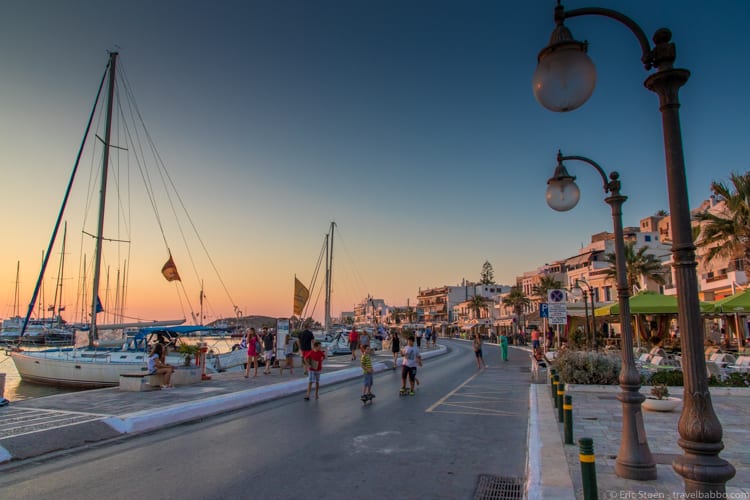 Don't Miss: We love walking up to the castle virtually every afternoon and having drinks at 1739 as the sun sets over Naxos Town. We get sangria and the kids opt for the homemade lemonade.
Stay Here: We stay at the Nissaki Beach Hotel every time we visit Naxos. The location is perfect – on a (very kid-friendly) beach and just a few minutes' walk from town. Excellent breakfasts and dinners too.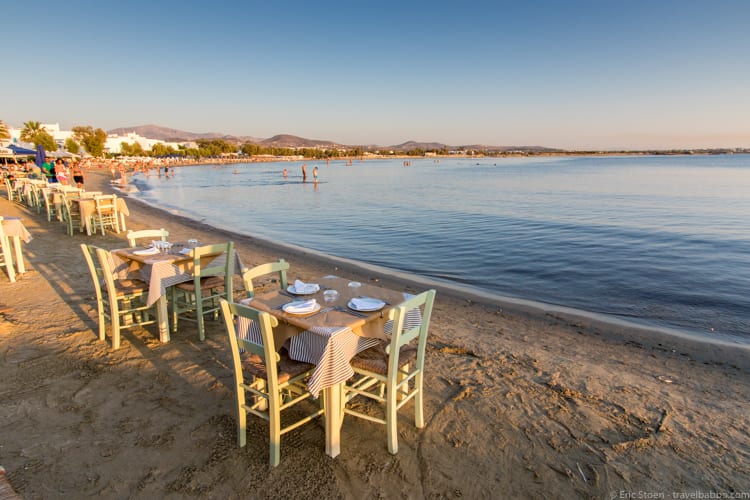 Kinsale, Ireland
Kinsale is our favorite town in Ireland. Fly into Cork and drive 25 minutes south, or start or end your Wild Atlantic Way drive in Kinsale. We've visited several times now and we never get tired of exploring the small town, heading to Charles Fort, hiking around Sandycove and/or heading out to Goats Island, and having drinks at the Bulman Pub. And Kinsale is a good base for exploring all of County Cork.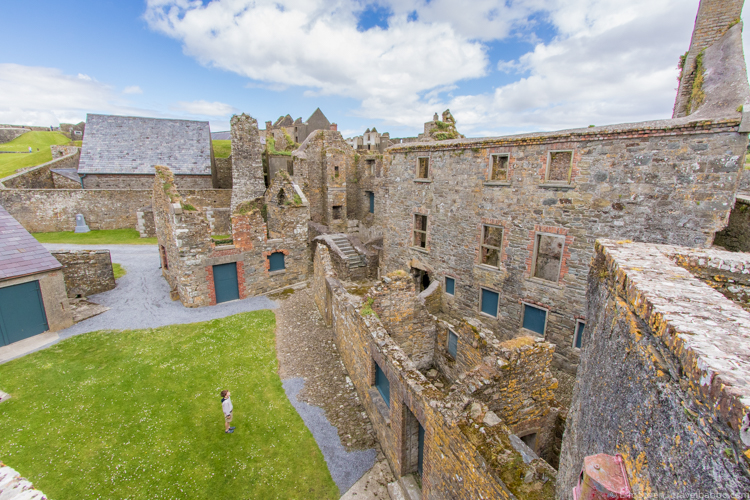 Don't Miss: Do a Ghost Tour through Tap Tavern.
Stay Here: Actons Hotel Kinsale is the top-rated Kinsale hotel on TripAdvisor, and is perfectly-located, next to The Town Park and a very short walk to the middle of town.
My blog post on everything we love in Kinsale is here.
Salzburg, Austria
We've visited Salzburg in both the summer and the winter and, while snowy winter nights are cozy, we prefer the summer. Mozart was born in Salzburg and the Sound of Music was filmed in and around the city. If your family enjoys either, you're set! You can visit Mozart's birthplace, his home, and the cathedral where he was baptized. Or attend a concert. And there are Sound of Music tours that take you to various movie locations. Our last visit we actually stayed at Hotel Schloss Leopoldskron, which features prominently in the film.
We always enjoy spending time in the gardens of Mirabell Palace, and our kids loved exploring Festung Hohensalzburg, one of the largest medieval castles in Europe – even with the climb required to get there from the city. The Toy Museum is a good place to spend an hour, especially if it's raining. And visit the outdoor markets in the center of town. We rarely eat lunch in restaurants – the street food is too good. Good day-trip options include Hallstatt, Austria's oldest and most picturesque village, and Berchtesgaden, Germany, with its family-friendly salt mine tour (another good thing to do if it's raining).
Don't Miss: The Salzburg Festival every summer includes child-focused events and performances. Our kids all enjoyed the two operas for children that we attended – professional performances shortened to an hour and fifteen minutes or so and easy to follow.
Stay Here: While we liked Hotel Schloss Leopoldskron, we didn't love how far it was from town. Check out Hotel am Dom, which is well-located in the center of Salzburg and seems to allow three to stay in its rooms. If you happen to find a hotel in town that allows 4 or even 5 in any rooms, or that has connecting rooms, please let me know! Salzburg is family-friendly, but most of its hotels aren't. TripAdvisor could be a good resource as well.
Bruges, Belgium
Bruges isn't perfect – it gets crowded in the summer and the restaurants close very early by European standards – but we love the city. It's compact and walkable and is basically the best of Europe – cobblestones, history, parks, playgrounds, squares and a bell tower you can climb. Plus there are waffles everywhere! And it's flat, so it's easy to push strollers around.
Don't Miss: Have a picnic! It's not very kid-friendly to have to eat every meal in a restaurant. Stop by a small grocery store and a bakery and then walk to a playground, have a quick meal and let the kids run around. We've found Bruges to be one of the best places to do this.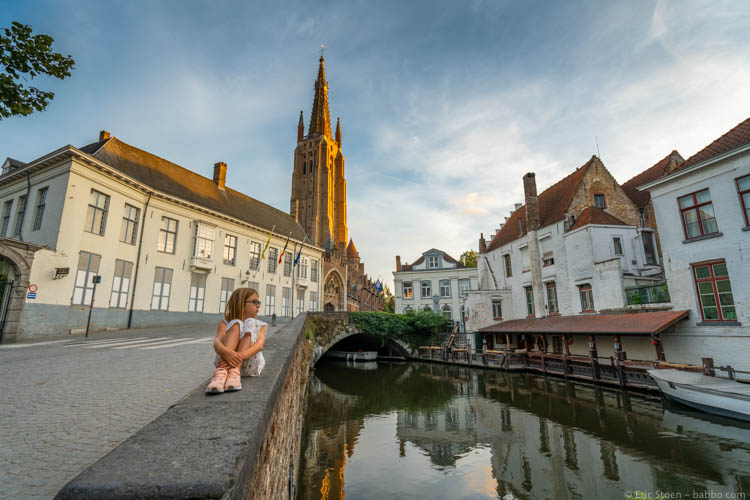 Stay Here: We really enjoyed Hotel de Orangerie. It's perfectly-located, and we had two rooms next to each other that had more space that we needed.
Zagreb, Croatia
Zagreb remains our favorite city in Croatia. The city is compact, with parks, fountains, squares, markets and pedestrian streets, and we can easily spend two days relaxing and exploring, wandering down side streets and getting food as we go – from market stalls, cafes and street vendors. It's worth walking by the cathedral, and don't miss Lotrščak Tower, an easy climb with a great view.
The best reason to visit Zagreb, though, is for Plitvice Lakes National Park, one of the world's most beautiful sites and only two hours from Zagreb. Plitvice sees over 1 million visitors a year, but it's still largely ignored by Americans traveling to Europe.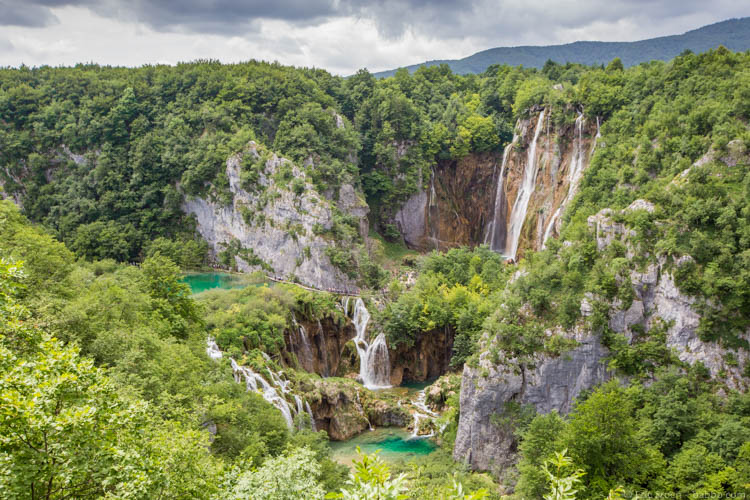 The park consists of a series of 16 interconnected lakes, cascading into each other via waterfalls, with wooden walkways along the lakes as well as stairs for some of the steeper climbs. There are also boats linking the shores of the larger lakes. The lakes are gorgeous, virtually all turquoise or green-colored. We arrived at Plitvice at 11am and didn't leave until 5pm. The entire time we simply walked from lake to lake – well I walked, but my son ran most of the time! We also took two boat rides and had lunch at one of the park's restaurants.
A note: Plitvice Lakes National Park is great for kids starting at four or five years old. Three-year-olds may be ok, but they'll get tired. Younger kids should be in a carrier. The paths are NOT stroller-friendly!
Don't Miss: Zagreb's Tkalciceva Street was our everyday destination for snacks, meals and smoothies. There's a playground nearby as well.
Stay Here: I love iconic hotels. In Zagreb that means the Esplanade. Great location and luxury at a non-luxury price.
My blog post on Zagreb and Plitvice Lakes National Park is here.
Tórshavn, Faroe Islands
For my 10th city I could easily include Prague or Amsterdam, but I'm going to mix it up a little and suggest Tórshavn, the capital of the Faroe Islands. It's small and fun to explore, and there are mini football (soccer) pitches everywhere. Take a ball with you!
And take day trips. We stayed in three hotels and a B&B over the course of a week, but you can base in Tórshavn and do day trips to anywhere on the six interconnected islands and even several islands reachable only by ferry and helicopter. The scenery is stunning everywhere, your kids will love the sheep, and virtually every hike can be as easy or difficult as you want it to be depending on how far you go.
But the best reason to visit the Faroe Islands is that it's not yet over-touristed, and given the limited number of hotel rooms and rental cars, probably won't be in the near future. Florence and Budapest in the summer are crowded. You'll see very few other tourists in the Faroe Islands.
Don't Miss: The highlight of our trip was an overnight visit to Mykines with Go Local Faroe Islands. It's a short ferry ride away, and only a few people at a time can stay overnight. Amazing having thousands of puffins to ourselves!
Stay Here: Given that none of the hotels in or around Tórshavn get great reviews on TripAdvisor and we didn't like Hotel Foroyar, I'd opt to stay in the middle of town next time. Hotel Hafnia doesn't look like a bad option.
Your Turn
What are the kid-friendliest European cities that you've been to? Where do you return every year? What's on your European bucket list?
Travel Insurance
We had never purchased insurance when traveling to Europe with kids – neither travel health insurance nor trip interruption/cancellation coverage – but after my wife's recent knee injury, I've learned the hard way that travel insurance is necessary! We now have an annual policy through G1G. I'm impressed by their coverage and pricing, although luckily we haven't had a claim yet.
Pin This!