Rosewood Mayakoba with Kids
We've been searching for a perfect kid-friendly hotel since, well, our kids were born. The Mauna Lani in Hawaii was our default destination every year for winter break or spring break, and it used to be extremely kid-friendly, but in recent years they've done away with virtually all of their kid activities and amenities. So we went looking for a new place – a warm destination no more than five hours from LAX, with beaches and pools and a welcoming atmosphere for kids. Based on my friend Wendy Perrin's reviews, we headed to the Rosewood Mayakoba in Playa del Carmen, Mexico.
To quote from Mary Poppins, it was practically perfect in every way. We were extremely impressed by every element of the hotel. From the room to the pool to the food to the service, the Rosewood Mayakoba does things right.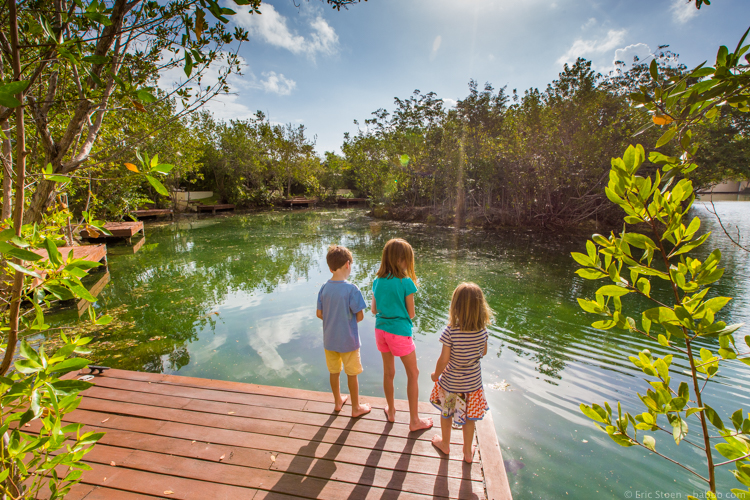 The Room at Rosewood Mayakoba
When we checked-in, I was slightly disappointed not to be upgraded…until I saw our room. The room was extraordinarily large, with plenty of space for five of us even with the extra bed that they brought in. Their normal occupancy is four in a standard room, but I was happy that they waived that for us. **Note: I've been told by several readers that Rosewood has refused to waive the max-four occupancy for them, even when one child is very young. That's disappointing – it would have been a waste of space for us to be in two suites. Definitely write to them and plead your case. It does NOT hurt the overall experience for families of five to stay together, and the room is easily large enough.**
If you need even more room to spread out, there's an upstairs private patio with a large sunbed – a perfect place to watch the stars at night. And because we stayed at the very beginning of my travel writing career, I only took one photo inside our room, as we checked in and had kid gifts waiting for us (below). I'll photograph it better next time!
The bathroom at the Rosewood Mayakoba was amazing. Our kids loved the huge tub. The hotel set up a bubble bath for them at one point complete with balloons, but even if they weren't bathing they were using the tub as a fort and play area. And I've written before about how nice it is to have kid-sized items in the room. The Rosewood Mayakoba didn't disappoint. Not only did they have robes in three different kid sizes waiting for us (which fit each kid perfectly), they had matching slippers and even kid-sized hangers in the closet. Why can't all hotels think like that?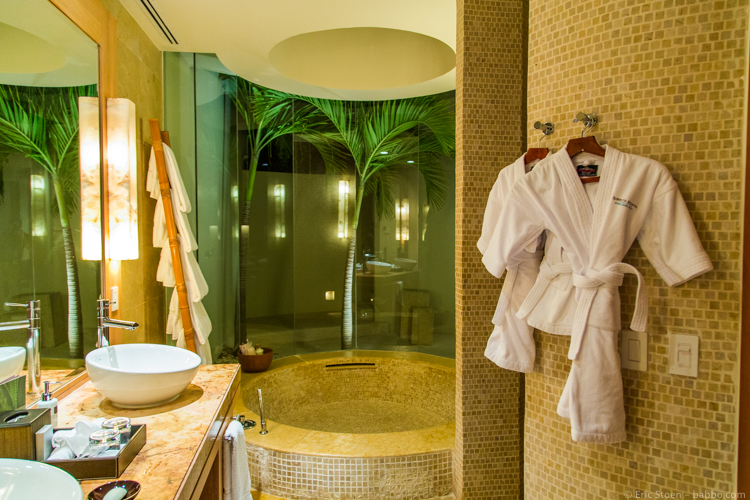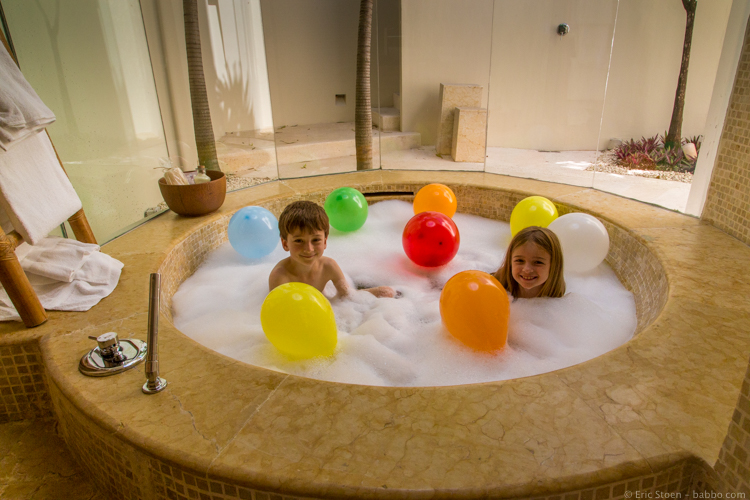 But the best thing about the room was the private plunge pool. It was great for the kids to be able to jump in and swim for a little bit without having to pack up and head to the main pool near the beach. They took full advantage of it, swimming several times a day.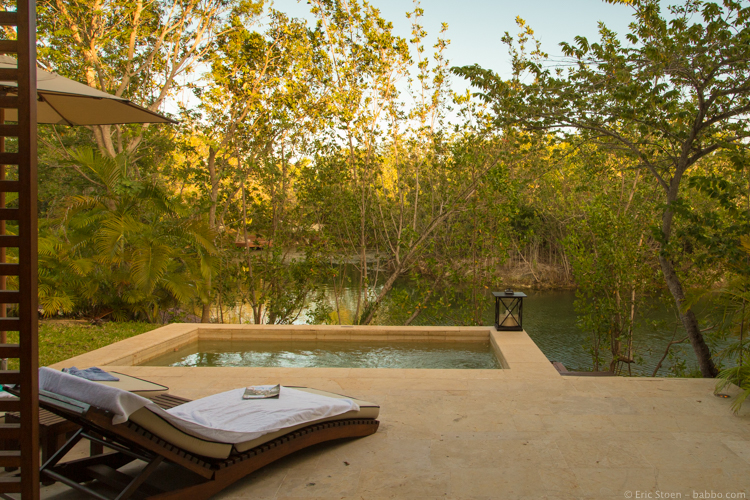 The Pool and Beach
Because we had a pool at our room, we only headed to the larger pool and beach four times or so during the course of the week. There are actually two pools – one near the lobby area that's meant to be quiet, and the more kid-friendly one near the beach. Our kids are well-behaved, but just to be safe we only used the beach pool.
The pool was great in the afternoons with the sun slowly going down and the day cooling off a little. We were always there too late (3:30 onward) to get snow cones from the cart near the pool, which was a little disappointing, but at the same time, the kids probably would have ruined their appetites if they had been able to do that! My other very minor complaint is that the pool wasn't perfectly kid-friendly. There is a large, shallow pool perfect for little kids. And then there is a connecting pool that's five feet deep with no shallow area at all. Two of our kids are good swimmers, but even then it's nice to have a gradually sloping area into the deeper portion of the pool for them to be able to stand up.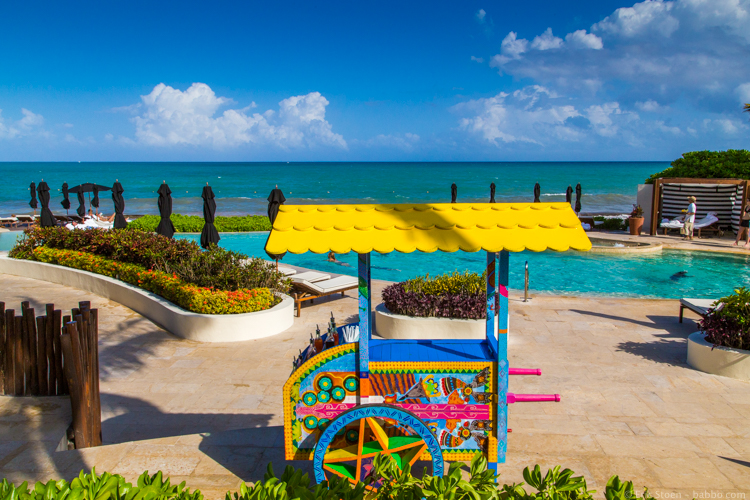 The beach is very nice, although the water looked a little too rough most of the week that we were there to take out the (free) kayaks and standup paddleboards. Next time.
Whether we were at the pool or beach, the service was excellent. As soon as we sat down we were always brought towels and a bucket of ice with bottled waters and an Evian facial spray that the kids loved playing with.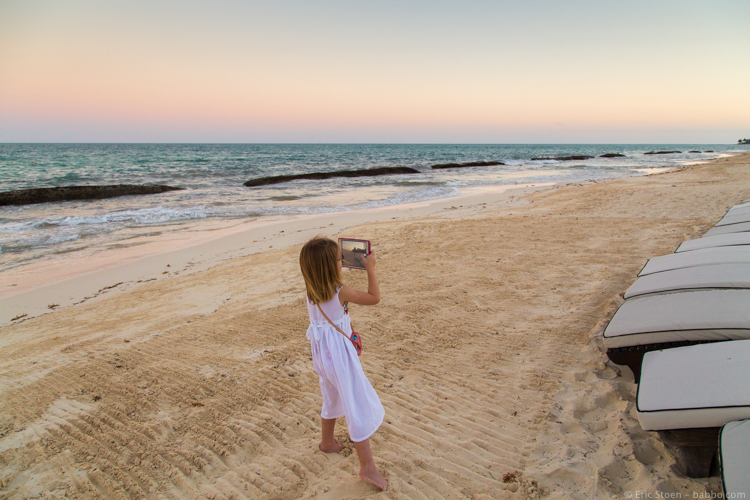 The Restaurants at Rosewood Mayakoba
In seven days we dined at the Rosewood Mayakoba for five breakfasts, three lunches and seven dinners, spread among the three main restaurants. The food options and quality were excellent. The food isn't inexpensive, but the kids' meals were all very reasonably priced ($5+/- for most). And when our kids ordered from the adult menu (since they're mini-foodies), the hotel discounted their meals 50% – another really kid-friendly element.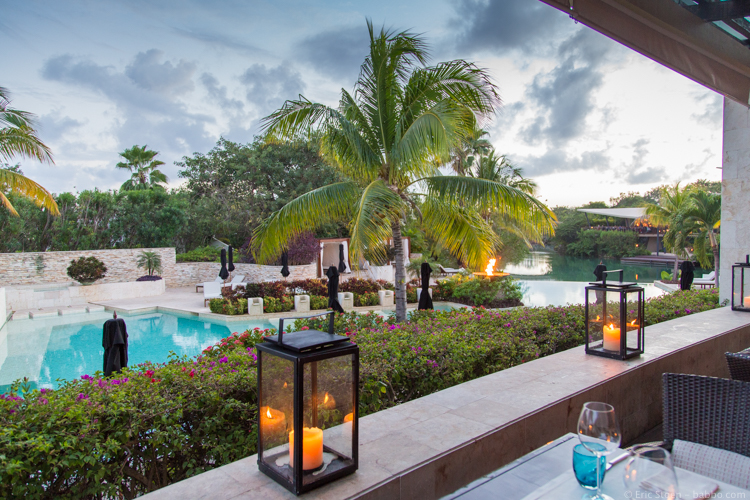 The Service
While the Rosewood Mayakoba is extraordinary, the service is what sets the hotel apart. And the staff provides this level of service without ever being formal – just extremely professional, and extremely kid-friendly. Our daughter turned five the day after we arrived. We had arranged for the hotel to have a piñata and cake for her, but they went above and beyond. Virtually every staff member we passed wished her a happy birthday – even people who we hadn't previously met! At breakfast, they surprised her with a cupcake and candle. At lunch, they brought her two special desserts. And then in the afternoon, another small cake was delivered to our room with a very nice happy birthday message. Wow.
Beyond the birthday, the staff at the Rosewood Mayakoba was no less welcoming to our kids. Most staff knew our kids' names and greeted them. At check in our kids received necklaces and small toys. There were beach bags, Frisbees and beach balls waiting for us in our room. Every night after dinner the kids couldn't wait to see what carved animal figure would be waiting for them on the bed.
Housekeeping was the best we've ever seen. It went beyond the normal cleaning of the room. All sheets were changed daily. There were a huge number of fresh towels so that the kids could use the pool as often as they wanted. Our toiletries kits were always zipped up when we returned. Our iPhone charging cords were rewrapped perfectly every day. And there was always fresh fruit in our room – in fact it was replaced too often. One day there was a pear that we didn't eat because we wanted it to get a tiny bit softer, and the next day it had already been replaced!
The restaurant service was also the best that we've seen – up there with the finest restaurants. All silverware was replaced after every course. Dishes were served simultaneously by five different waiters. There were always fresh breads brought after we sat down, amuse-bouches from the chefs, kid-specific amuse-bouches for the young ones (an amazing detail) and chocolates with the bill. Waters were always kept topped off, but never over-filled for the kids. It was literally perfect service.
The Rosewood Mayakoba Kids' Club
The range of activities at the kids' club looked great, including ceramic painting, piñata making, cooking classes, movie nights and eco-tours. Our kids did the eco tour one day and made pizzas and ice cream. They also painted one day. They didn't spend much time there, but they enjoyed everything that they participated in.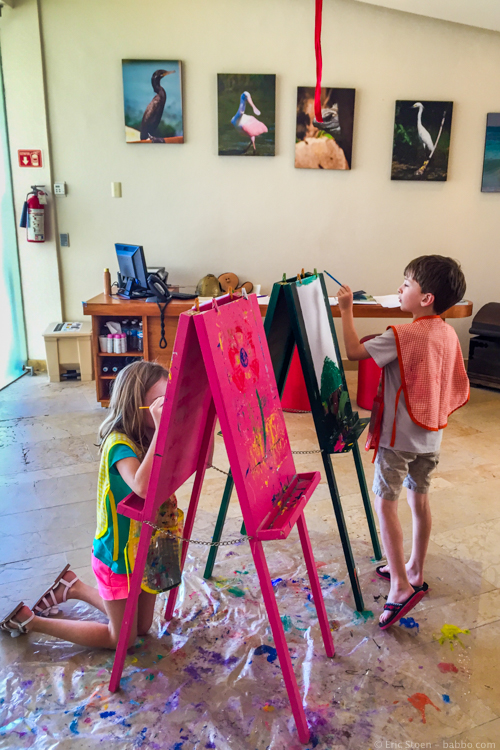 The Price
The Rosewood Mayakoba is a luxury resort and it's priced like one. However, for us, it worked out really well. Because we were replacing our annual trip to Hawaii with this one, I kept mentally comparing the prices to the Mauna Lani. And for a family of five, they actually were almost the same – largely because the Rosewood Mayakoba let us have five people in one room, whereas the Mauna Lani always made us purchase two connecting rooms. So the room prices evened out. Food was probably a little more expensive at the Rosewood Mayakoba, but it was also better. It helps that we booked through a travel agent (the great Lauren Maggard at SmartFlyer), which meant that two adult breakfast buffets were included every day.
Plane tickets were far less expensive to Cancun than to Hawaii, which added up to nice savings. Other transportation worked out about the same price-wise. In Hawaii, we always rent a car. In Mexico, we used hotel transportation to and from the airport and took taxis into town.
There are also a lot of things included in the room price that are extra at the Mauna Lani and other hotels. Kayaking and stand up paddle boarding is free. The kids' club is free. And we had a butler assigned to us our entire stay who made our restaurant reservations, checked in on us around the resort, went shopping for us in town for a couple of things that we wanted to take home, and even bubble-wrapped everything breakable. While the idea of a butler was intimidating, in reality, it was done in such a non-formal way that it put us at ease.
Excursions / Day-Trips
We did a full-day tour to Chichen Itza (one of the seven wonders of the world) and Valladolid, arranged through Your Private Tour, spent a day at Xcaret, and went into Playa del Carmen twice. Chichen Itza was great, and it was nice to get there right when it opened to have it almost to ourselves before the tourist buses arrived. Xcaret was enjoyable but was extremely expensive – think Disneyland prices. Playa del Carmen is a lot more touristy than when we were there just six years ago, but we had two really good lunches in town – at La Perla Pixan Cuisine and Yaxche.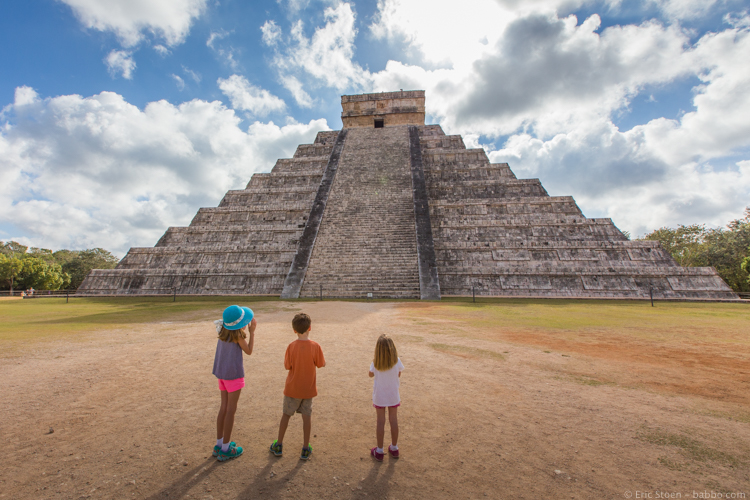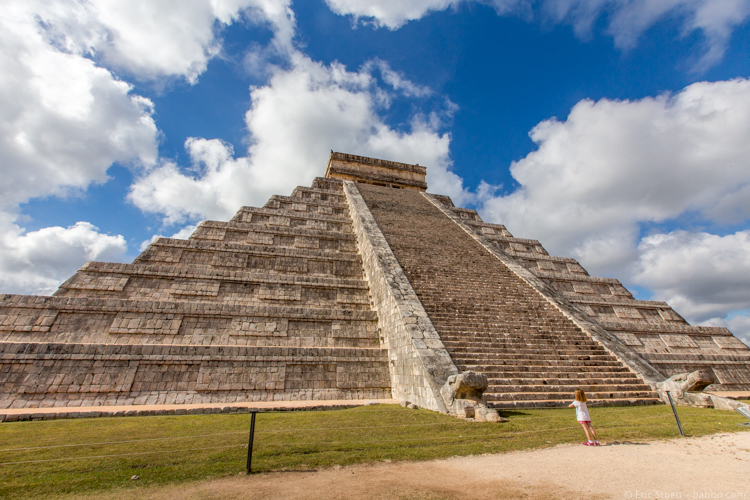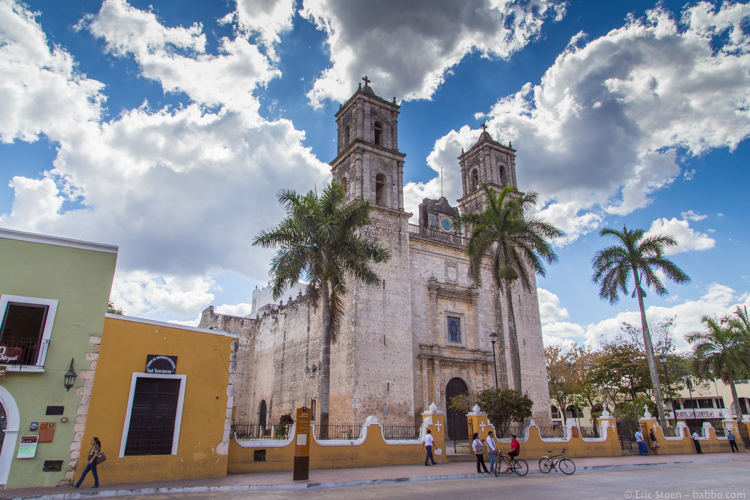 Summary
Overall this was an excellent vacation at the kid-friendliest resort that we've found yet, and it's a good alternative to Hawaii – especially for families of five. The kid-friendliness is especially ironic (and impressive) as the Rosewood Mayakoba is also listed on Conde Nast Traveler's list of the most romantic hotels in the world. We'll be back – the kids are already asking for a return trip!