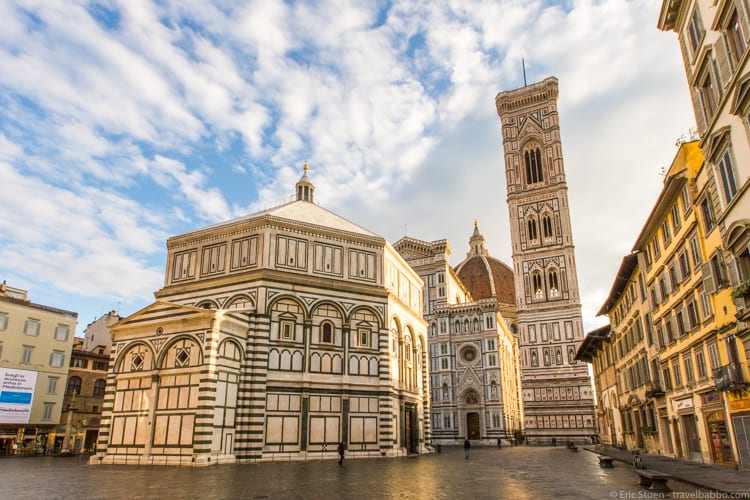 A Day Trip To Rome | A Day Trip to Florence
You're on a cruise ship traveling up the Italian coast and you're docking in the port town of Civitavecchia solely to head to Rome for a day, or in Livorno to visit Florence. Or you're staying elsewhere in Italy and thinking about taking the train to Rome or Florence for a day. Of course you're going to want to visit. Both are amazing cities, full of history, art and architecture. Why not go?
This is why not.
Because you'll hate them.
I see this all the time – internet comment threads full of people saying that they hated Florence or hated Rome, or they didn't see what was so special about the cities. Invariably they visited for a day and left. Of course they hated them. Because you can't see Rome and Florence like that.
When you travel to Rome or Florence on a day trip, here's what you get:
You're there in the middle of the day, and at the hottest time of the day.
You're there with thousands of others who are also on day trips.
You're crowding into piazzas and trying to get photographs of the main sites from the same perspectives as everyone else.
You're waiting in lines with all of those people.
You're spending several hours round-trip traveling between the ship and city just to experience those crowds.
And here's what you're missing out on:
The beauty of seeing the cities uncrowded. That happens early in the morning.
The atmosphere at night. When day-trippers leave, the lights come on. People stroll leisurely to dinner. There are musicians in the street. And none of the piazzas are crowded.
But mostly you're missing out on the magic.
You're walking on the same cobblestones as Julius Caesar and Michelangelo and Dante. You're gazing up at the Colosseum and the Duomo. You're retracing Audrey Hepburn's steps from Roman Holiday. It's magical. But it's not in the middle of the day. In fact "magical" is one of of the words I hear most often when referring to Florence and Rome, but it's a word that I've never heard from a single person on a cruise ship who took a day trip to either city.
And you're not discovering that amazing taverna and then returning to it. You're not getting to know the person at the bar who gives you your cappuccino every day. You're not becoming (a little bit of) a local.
Of course, this is one of the downsides to cruises in general: they drop you off at a port with thousands of others and you have only enough time to see a limited number of sites. It's definitely not traveling deeper. But at a lot of cruise stops you can at least get a feel for the destination and decide if you want to return. I've thoroughly enjoyed stops in Norway, Scotland, and other quieter destinations. But Rome and Florence are largely about the sites. So everyone wants to see the sites. And then the sites aren't magical.
So don't head to Rome and Florence with everyone else on your ship. Do a private tour to smaller towns in Lazio, Umbria or Tuscany instead. Or simply explore the coastal towns where the cruises dock. We loved our day in La Spezia, Italy, when virtually everyone else on the ship went to Florence or Pisa. Then return to Florence and Rome when you have at least a few days to spend in each city. The magic is there. You just need to spend the night to find it. 
And the same is true if you're thinking about doing a day trip from Florence to Rome, or a day trip from Rome to Florence. You can do it, but you're far better off spending the day traveling deeper into the city where you're already based.
Where to Stay in Rome
We loved the Albergo del Senato. The photo of the Pantheon above was taken from our room. I think it's the best location in the city – in the middle of everywhere you'll want to walk.
Where to Stay in Florence
I have a post on all of our favorite things to do in Florence, and in there I list our favorite hotels.