The Truth About Family Travel
My goal is to inspire you to take your kids to incredible places, and through my writing I try to portray the excitement of family travel and the benefits that come from it. When I think back on a trip, whether it's a week later or a year later, I remember the good things and rarely think about the hassles. I'm naturally a glass-half-full kind of guy anyway. However, I don't want to be misleading and make it seem like it's all perfect and always easy. Here are a few things I've left out.
Our Kids Fight
Our kids fight with each other when they're at home – not all the time, but a fairly normal amount for three kids under ten. This is amplified when we're traveling. First, it's really just the three of them for weeks or months at a time, with no friends or social schedules to mitigate tensions. Second, we're in smaller spaces. Whether it's connecting cruise ship cabins or a hotel room, there's not much room for time away from the group. Plus, we're far more aware of the kids' behavior and noise levels than we would be at home. I'm always on the kids to settle down, in fear of getting a call from the hotel manager or (as happened in Paris) a note slipped under our door by the grumpy lady in the apartment below ours. The photos that I post on Instagram that always show them getting along? Well, that's because those are the fun, memorable, photographic moments. I don't take pictures when the kids are fighting – that would only make things worse!
Our Kids Hate Really Hot Days
When it's hot out (over 90F / 32C), the kids get grumpy. Our day trip to Rome from Florence a couple of years ago was miserable. It was very hot and we walked A LOT. The kids were so exhausted that not even afternoon gelato could save the day. Naxos this summer was in the high 80s most days and in the low 90s a couple of times and humid, and it knocked us out – we had to spend a couple of hours in the room every day after lunch. And it's been true in a lot of our other destinations as well – when we're in Hawaii we always need to get out of the sun for a couple of hours during the day, Paris during the summer is tough when there's a heat wave, and we've had bad days in Florence, Orvieto and Santorini too. At home when it's hot, we can simply stay inside. It's not that easy on vacations. If we have a pre-purchased excursion to Pompeii, we're going to Pompeii, and if we're only in Ephesus, Turkey for one day, we're going to the ruins, regardless of the heat.
We Have Car Accidents
My wife and I learned how to drive stick-shifts (manual transmission cars) differently. In the Colorado mountains, I learned that you always leave the car in gear when you turn off the ignition. My wife, at sea level in California, learned to park in neutral, using the emergency brake to keep the car from rolling. When we rented a car at the Florence airport at the start of our month-long villa stay, we were not only given a car with a stick-shift, but a brand new car – exactly what you don't want in Italy. Well, I had parked the car at the villa one day, and my wife was the next one to drive it. She got in and, as the kids were still getting in, started the ignition…without pushing in the clutch. The car predictably lurched forward, the door closed on my daughter's hand, and the car ran into and over an Italian Cyprus before coming to a stop. My daughter was fine, but the new car and the cyprus not so much.
Postscript: Our villa owner, despite losing a lovely tree, took it upon himself to make sure that we got the car repaired before returning it. His friend Luigi (seriously!) had a garage a couple of towns away, and we dropped the car off for a day. When I picked it up, it looked perfect, and it only cost us 50 Euros. I don't think we're going to be as lucky next time!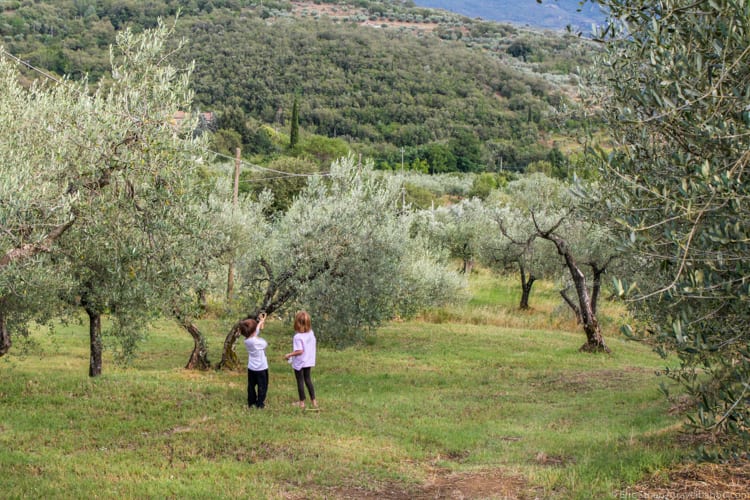 I've Lost a Child in a Foreign Country. Twice.
When my oldest daughter was five, I took her to Hong Kong's Ocean Park. One of the last things we did was to check out the aquarium. The aquarium is a large spiral – starting at the top, you slowly head down a long, circular ramp several stories until you exit through the gift shop. Towards the top there's a little side area for kids that goes off to the side, parallel to the main walkway. I don't remember it being longer than 30 feet or so? My daughter headed into that area and I kept walking to the spot where the two paths merged and I waited for her. And I waited. After a few minutes, I wondered why she wasn't exiting and went to find her in the side area. No daughter. That's when my heart started beating A LOT faster and I started running. I ran down a level or two, and then headed back up to make sure I hadn't passed her since there were a lot of people. Then I ran down another level or so and went back up – I couldn't imagine that she could have gotten very far. For at least fifteen minutes I ran the levels of that aquarium until I was positive that she wasn't inside. Then I looked around the gift store and she wasn't there. That only left…the entire amusement park. Luckily, when I exited the gift shop and started frantically looking around, a Chinese man came up to me and asked if I was missing my daughter. Note: if you are going to lose a red-headed five-year-old, do it at a place where everyone else is Chinese!
A year later she got lost again, this time in Paris, and again I was the parent in charge when it happened. We were renting an apartment a block from the Eiffel Tower and three blocks from the Champs De Mars playground. I was working in the apartment, my daughter was reading, and my wife and two younger kids were at the playground. At one point I called across the apartment to see if my daughter wanted to walk over with me to meet up with the others. There was no response. She had already decided, some 10 minutes earlier, that she wanted to go to the playground and instead of telling me, simply slipped out the door to head to the playground herself. So I (once again) took off running. I ran to the playground and…she wasn't there. My wife hadn't seen her. So I ran back to the apartment, searching the park and the base of the Tower. When I made it back to the apartment, there she was, sitting outside in the courtyard. Apparently she made it as far as the Eiffel Tower, got turned around and was trying to get her bearings when a family asked if she was lost. That made her start crying. Luckily, she was able to lead the family back to the apartment building and even remembered the gate code to get into the courtyard. I thanked the family that helped her and they left, but they had already called the police just to be safe. So two officers came and interviewed me and took all of my information. Somewhere in a file cabinet in Paris there's a Bad Parent report with my name on it.
We Have a Daughter Who Wishes She Were In Another Family
My five-year-old is the third child. Being the third child, she doesn't get to make a lot of the family decisions. And because she doesn't make the decisions, she frequently rebels against family decisions, especially when we travel. This summer she threw a lot of mini-tantrums, usually when we were walking somewhere. At one point in Naxos she stopped walking to lunch, said that she would NOT walk any further, and said that she wanted to be adopted by a Japanese family. I have no idea why she thought that a Japanese family wouldn't ask her to walk as much? But she was insistent that life would be better with her Japanese family. Fast forward one week to Florence. We weren't staying at the Four Seasons Florence, but I wanted to see the property so I arranged a tour. Two of the kids were fine with the half-hour walk from our hotel to the Four Seasons, but my youngest stopped several times along the way refusing to walk any further. It wasn't pretty. Through a little coercion and some carrying, we finally made it to the hotel lobby, but she was NOT happy about being there. I asked her if she still thought life would be better with a Japanese family. Big mistake. She yelled at the top of her lungs: "I DO NOT WANT TO BE ADOPTED BY A JAPANESE FAMILY!". Her voice bounced off the stone walls. Everyone in the hotel stopped talking. It was horrifying. Funny and horrifying. We won't be checking in anytime soon.
And if she's not refusing to walk, she's frequently running…away from us. When she was two she started taking off from us in shopping malls. We would wait to see at what point she would stop to look back. She never would. This has continued through our travels, and she always chooses the absolutely perfect times. She's run away from Parisian passport control lines, going under the ropes while we had to zig-zag past dozens of people to retrieve her. It's happened at airport security – last month at the Florence airport we had reached the front of the security line and handed over our tickets when she took off running and made it all the way back to the check-in counters. That was fun! And it's happened on a Disney Cruise, right when my wife and I were going in different directions. I thought she was with my wife. My wife thought she was with me. Twenty minutes later we met up and both asked the other where our daughter was. If a Chinese theme park is a good place to lose a kid, a Disney cruise ship is an even better place! The ship personnel had seen her wandering around and checked her into the kids club.
So what's the truth about family travel? Most of it is going to be great. Just don't get frustrated by the bumps in the road, or the few times you may lose a child! People always ask me if the actual travel portion (planes, etc…) is as easy as I make it out to be. Really, it is – we don't think twice about 12-hour flights. The kids are used to leaving home at 3am and entertaining themselves all the way to our destinations, no matter how long we're in transit. When they were under two it was harder, but travel is cumulative, and once the kids had flown a few times they learned the ropes and it got really easy. Take your kids everywhere! Even when it doesn't go perfectly, at least it usually makes for a good story!
What's your most horrifying family travel experience that's now a good story, or at least a lesson for others?