Things to Do in Ojai, California
Ojai has long been a perfect Los Angeles weekend getaway. The town of 7,500 is less than two hours from LA, but worlds apart, set in a valley of sage and oak and surrounded by orange and avocado groves. It's easy to find activities for couples, given the town's spas, shopping, organic dining and yoga retreats, but it's highly underrated as a kid-friendly destination.
We've been bringing our kids to Ojai for years. Here are all of our favorite things to do in Ojai, whether you're coming as a couple or coming with your kids.
Libbey Park and Playground
Right in the middle of downtown is Libbey Park. There's an amphitheater that attracts surprisingly good acts, but the best feature for kids is the playground – probably the best playground we've seen in any small town. Our kids can play for hours, and given that the park is surrounded by shops and restaurants, it's easy to spend half a day downtown. Pick up Ojai Ice Cream, Sanders & Sons Gelato or Bliss Frozen Yogurt nearby for a quick treat, and if you need caffeine, Ojai Coffee Roasting is less than a block away!
Ojai Restaurants: Kid-Friendly Dining
Boccali's Pizza and Pasta on the east end of town is surrounded by fields and groves and has the best atmosphere for kids, with outside dining and room for kids to run. Our kids prefer the pizza at Ojai Pizza, though, near the park downtown. We love the sushi at both Hakane and Sakura and typically alternate between the two. Sakura is downtown so it's a little more convenient. Osteria Monte Grappa is also downtown, in the arcade, and has an outdoor patio with access to the nearby park where your kids can play while you're waiting for your food.
In nearby Meiners Oaks both Papa Lennon's and Farmer and the Cook are excellent, with outdoor patios and relaxed live music several nights a week. Papa Lennon's has Italian cuisine, while Farmer and the Cook serves organic farm-to-table Mexican during the day and pizza Thurday through Sunday evenings. If you're looking for higher-end restaurants that are kid-friendly, we like Nocciola.
And I now have a separate post just with restaurant recommendations in Ojai: A Local's Guide to the Best Ojai Restaurants.
Kate's Bread
The best bakery in Ventura County is only open one hour a week – specifically noon to 1pm on Sundays! Place an order on Kate's website in advance – katesbread.com.
If you're simply picking up your order, you can arrive anytime between noon and one, skip the line and walk into the kitchen through the door on the right to find your order. However, it can be worth lining up since Kate makes pizzas that you cannot pre-order, and she sometimes has sausage rolls and other goodies that aren't on her website. I typically arrive at 11:30 or so to get a spot towards the front of the line.
Ojai Hikes
Ojai is surrounded by mountains and there are more than a dozen easily-accessible trails. Shelf Road is a local favorite, just above downtown and easy to explore on foot or on two wheels, and with or without kids. The views are excellent, and there are several paths that head up from Shelf Road if you want more exercise. Fox Canyon Trail around the Valley View Preserve is my kids' favorite. Other excellent hikes are Horn Canyon Trail and Twin Peaks, both of which begin at the Thacher School on the east end. The Ojai Valley Land Conservancy's Trail Finder app is an excellent resource.
Horses
The Ojai Valley Trail Riding Company offers one and two hour trail/canyon rides. One-hour rides are perfect for kids 6-12. Older kids and more experienced riders can handle the two-hour rides. And there are pony rides around their ranch for kids younger than six. Always one of our favorite things to do in Ojai.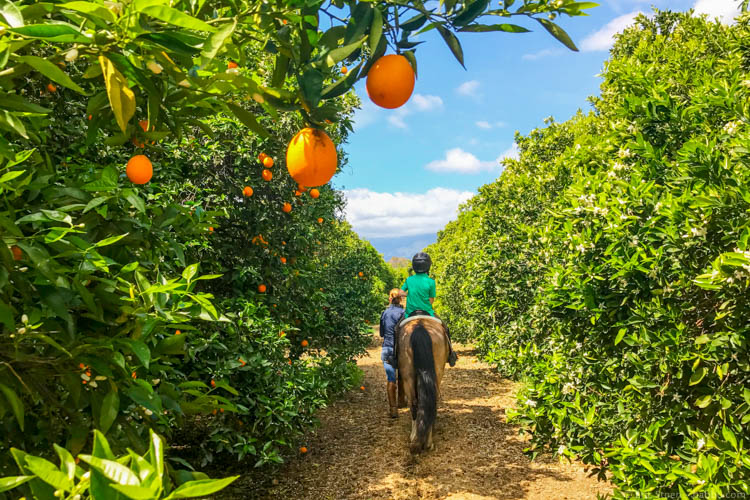 Ojai Pixies
The local speciality is the Pixie tangerine. If you visit in March or April, you'll find Pixie-themed dishes in restaurants, Pixie margaritas, Pixie spa treatments and Pixie-based activities at the hotels. You can always purchase Pixies at the local grocery stores and at the Sunday Farmer's Market in town, but for a more authentic experience head to Friend's Ranch for a grove tour and tasting. They run tours from January through April.
The Farmers Markets
And speaking of the farmers market, there are actually two in Ojai: one on Sundays from 9am to 1pm with local produce, meats, breads, cheeses and gelato, and another every Thursday from 3pm to 7pm with produce, breads, local crafts and hot food (sandwiches and pizzas mainly). They're both downtown and hard to miss. Sunday's more for shopping, Thursday's more for relaxing, eating and listening to live music.
Links:
Serendipity Toys
Ojai still has an old-fashioned toy store right in the middle of town, and it's perfect! Serendipity Toys has been behind the Arcade for 40 years.
Sunset in Ojai: The Pink Moment
Ojai's sunsets are gorgeous, culminating most nights in the "pink moment," when the mountains surrounding Ojai turn orange/pink/red. You can appreciate the sunset from anywhere in Ojai, but Meditation Mount east of town is a particularly perfect spot. Take a blanket, sit on the grass and soak it all in! Very kid-friendly, as long as your kids know how to relax.
Note: Meditation Mount now has a reservation system for sunset meditation/reflection/wandering. Their visitation calendar is here.
And More!
And there's more to do! The Mob Shop leads bike tours for all ages. Or drive a few minutes east to Ojai Olive Oil to taste oils and vinegars – our kids love the tastings! Summer Camp, in a converted gas station, is on the left as you're coming into town and is worth a stop. And Bart's Books, located downtown, is a unique outdoor bookstore with an eclectic children's section. Fig is a fun, eclectic store downtown. The Ojai Visitors Bureau (downtown) can always provide specific family recommendations and maps.
And of course Ojai has A LOT of day spas. I've tried several and my favorite is Ojai+Fox Spa, easily walkable from anywhere downtown. I always go for 60-minute massages from Tamara, but they have a lot of services available.
Ojai Hotels: Where to Stay in Ojai
There are a dozen or so hotels and inns in Ojai. We've found that the two most kid-friendly places are opposites, the Ojai Valley Inn and Spa and Caravan Outpost. If you're looking for five-star luxury, pools, a spa and a kid's club, head to the Ojai Valley Inn. If you're feeling a little more rustic and want to sleep in an Airstream, go for Caravan Outpost. They even have trailers that can sleep families of five. Now the similarities: both properties are magical in the evenings, with Caravan Outpost's campfire and the Inn's outdoor dining and oak trees strung with lights, and both have complimentary bicycles available for riding into town. I love the Inn's Picnic & Pedal program – borrow a bike, grab a picnic lunch, blanket and map from Libbey's Market at the resort and head off on an adventure. And Caravan Outpost is located right at the start of the Ojai Bike Trail, so you won't see traffic on your way down to the park. They even have bikes for kids.
The Best Time To Visit Ojai California
Ojai is gorgeous year-round, but spring and fall have the best weather. The smells from the orange blossoms, and the ubiquitous wildflowers, make March and April my favorite months to visit Ojai with kids.
The one advantage to summer: the warm nights, perfect for outdoor dining.
Weekends are always more crowded than weekdays. A lot of businesses and restaurants are closed Mondays and Tuesdays.
Pin This!