Cool Hotels
I spend an inordinate amount of time choosing hotels when we travel. My criteria:
We want to be in the best location – when your child has to go to the bathroom in a European city, your hotel room is the easiest possible option if it's nearby!
We want the best view. Because Instagram. And because it's fun to look out from your room and see famous sites and watch local life.
We want the historic, iconic hotel. Lake Louise is all about the Fairmont. The Fullerton Hotel in Singapore used to be the main post office. You can feel the history at the Peninsula Hong Kong. Those are the places I want to stay.
But no matter how amazing a hotel is, it's primarily a place to base out of when you're seeing a city…except when it's not! Sometimes a hotel is the reason for the trip, a property so cool and amazing that it's worth flying halfway around the world to stay there. Years ago I wrote a post for Travelocity on eight destination bucket list hotels that we love. Here's my updated list, bumped up now to 10 cool hotels. Ok, 11.
Al Maha Desert Resort & Spa
Dubai Desert Conservation Reserve, UAE
Al Maha is located 45 minutes from Dubai, but you feel like you're in the middle of nowhere! We went on camel rides, participated in early-morning falconry, hiked the dunes, had dinner in the middle of the desert and far more. A true oasis.
Four Seasons Resort Bora Bora
Bora Bora, French Polynesia
Four Seasons Bora Bora is very kid-friendly for an iconic honeymoon resort in the South Pacific! Highlights were water sports, snorkeling with stingrays, a barbecue on a remote beach, and gazing out at one of the prettiest views in the world. My kids especially liked the long walk to dinner on the boardwalk every night. My blog post is here.
Giraffe Manor
Nairobi, Kenya
If you love giraffes, Giraffe Manor is as good as it gets! Breakfast with endangered Rothchild's giraffes was amazing, as was afternoon tea on the terrace with giraffes and warthogs, and dinner in the hotel's paneled dining room (sans giraffes). Our room was perfect for a family of five – the only downside being that it wasn't upstairs so the giraffes didn't poke their heads in! Truly one of the world's great bucket-list, coolest hotels. My blog post is here.
Ashford Castle
County Mayo, Ireland
Ireland's Ashford Castle is incredible. First, it's a castle, so you get to sleep in a castle! Second, the food is excellent. Third, there are enough activities to keep you busy for days, including falconry (so fun), horseback riding, hiking, zip lining, archery, fishing and afternoon tea, and our kids played game after game of chess in the main hall. My review is here.
Six Senses Zighy Bay
Musandam Peninsula, Oman
The Musandam Peninsula is separated from the rest of Oman by the UAE, and there's really only one reason to go: Six Senses Zighy Bay. We were picked up in Dubai, driven to a mountain near the hotel, and then paraglided in to check in! Our villa was a private plunge pool was amazing, and we loved cycling around the property, watching the sunset from the Sabatyn plateau, tubing and relaxing. My blog post is here.
The Broadmoor
Colorado Springs, Colorado
I grew up less than a block from The Broadmoor and spent virtually every afternoon at the hotel feeding ducks with day-old bread from The Tavern, hanging out at the toy store, taking a pedal boat out onto the lake and reading comics at the drug store, and I saw almost every movie in the theater. Now I love returning with my kids. We play at the playground. We spend hours at the gorgeous pool and on the lake. We take cooking classes. And we hike and visit waterfalls just minutes away. My post on one of our stays is here.
Mashpi Lodge
Ecuador's Cloud Forest
Mashpi Lodge isn't near an airport – you have to drive 3+ hours from Quito. But our stay was one of our favorite hotel experiences ever, so the drive is worth it! The views over the cloud forest are stunning and the activities are amazing for adults and kids alike: hikes to waterfalls; night safaris; more butterflies and hummingbirds than you've seen before; morning bird-watching, with coffee; and a lot more. My blog post is here.
Soneva Kiri
Ko Kood, Thailand
Soneva Kiri is pure island relaxation, with some of the best food we've found anywhere. You can take a boat to a nearby stunning beach, have tea in a nest high in the trees, learn to make coconut oil, swim to a waterfall, take a sunset cruise and lots more, and you get around via golf cart and arrive on a private plane. Oh, and there's unlimited free ice cream and chocolate. My review is here.
Tierra Patagonia
Torres del Paine, Chile
Tierra Patagonia is stunning both in its architecture and its setting within Torres del Paine National Park in southern Chile – one of the world's most beautiful destinations. We went horseback riding and hiked to find animals and caves and loved absolutely everything about our stay. And its sister property Tierra Atacama is just as amazing, but in the desert instead of the mountains. My post on Tierra Patagonia is here. My post on Tierra Atacama is here.
Six Senses Laamu
Laamu Atoll, Maldives
I almost didn't include Six Senses Laamu here, since I already have Six Senses Zighy Bay on this list, but every one of our Six Senses stays around the world has been amazing, and this is our favorite resort in the world. Pure overwater relaxation in an amazing setting with some of the prettiest water you'll ever see, and we love exploring on bicycle. We've been twice so far and would return annually if it wasn't halfway around the world! My posts are here and here.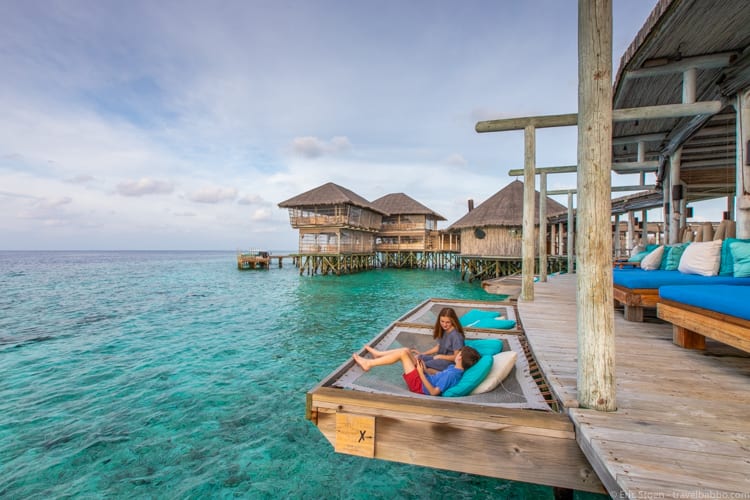 Bonus Cool Hotel: Kolarbyn Eco Lodge
Skinnskatteberg, Sweden
Every hotel on this list is indeed a bucket list destination – most are remote, all have amazing rooms, views and activities, and…they're all higher-end properties. So I wanted to include a far lower-priced alternative, Kolarbyn Ego Lodge. It's still a bucket list hotel but definitely not luxurious. In fact there's no electricity or wifi, and you cook your own food. But I loved the forest huts, the lake and floating sauna, the fires for cooking and keeping the huts warm, and the overall feeling of being (largely) on my own in the middle of the forest. It's included in my Sweden blog post.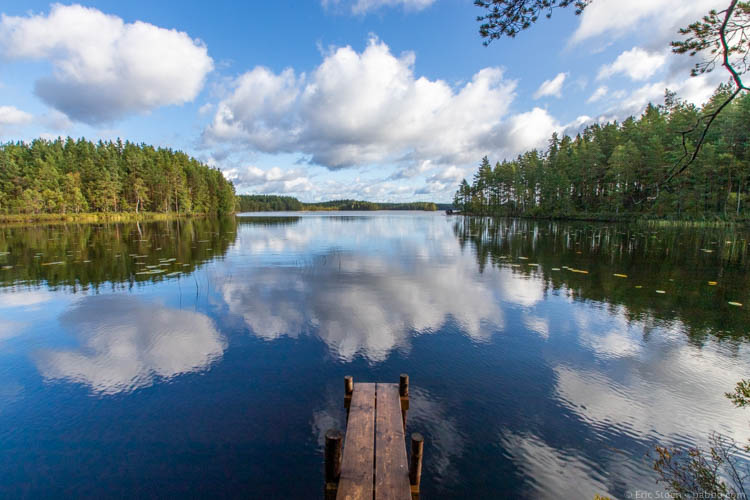 Cool Hotels: Your Turn
What are your ultimate bucket list / cool hotels? What's the most amazing place you've stayed?