The Best Age to Travel the World
A question I get a lot is: what is the best age to take my kids to _______. Fill in the blank with anywhere: Hawaii; Europe; Africa; Australia. The answer is to some extent specific to the place, but it's also specific to the family. Some families aggressively avoid long flights with kids under two or three. Others continue their travels shortly after their kids are born. It's often a choice among adventure with some hassles, a little less adventure with fewer hassles, or opting out completely for a few years.
Airplanes
Let's get this out of the way first, since it's what a lot of parents think about when pondering travel with young kids. When our first child was born, our pediatrician told us that it's hardest to fly with kids between 6 months and 2 years old. He had a point. Around 6-7 months kids start crawling and they don't want to sit still on an airplane for a long period of time. That didn't stop us though. We took each of our three kids to Europe during that age range – my oldest at nine months, the middle at 11 months and the youngest at 15 months. The flights weren't easy, especially for my wife (see my tips for flying with kids). But are we glad we went? Absolutely. It's never fun walking around a plane with young kids, or hoping that they don't decide to start screaming. But the flight is always over in 12 hours or so regardless of how good, or bad, your child is. Then it's on to the vacation. Don't worry too much about the flights – they're a (sometimes uncomfortable) means to an end.
Jet Lag
As with airplanes, I'm not concerned with jet lag. Until the kids were six or so, every time we would travel to Europe we would have two or three kids wide awake from roughly 2am to 5am the first or second night. Young kids aren't going to be able to entertain themselves so it requires active parental involvement. But once we got past those few hours, we were good the rest of the trip.
At around six or seven, though, something magical happened – our kids no longer got jet lag. My wife and I may be up for a couple hours in the middle of the night, but the kids are, almost without exception, now sleeping through the night and are immediately on European time. I have no idea how they do it. And when I took my daughter around the world in two weeks at the age of ten, she never woke up jet lagged – she instantly adjusted her body to wherever we were, through 24 time zones. My jet lag tips are here.
Destinations
The much larger focus should be on where in the world is appropriate for a child. I've had to deal with ages frequently – not because of what's easiest, but because of specific age restrictions. My son and I had wanted to go on the LEGO Inside Tour since hearing many years ago. We waited until he was seven and it was an incredible experience – well worth the wait. My review is here. Unfortunately LEGO has since changed its minimum LEGO Inside Tour age to 10. I'm glad we went when we did.
Likewise, we've wanted to go to the Four Seasons Tented Camp Golden Triangle in Thailand for over a decade, but the minimum age is 10. As soon as our youngest was 10, Covid hit so we're still waiting to go. And years ago I wanted to take my daughter to Longitude 131 in Australia when I was sketching out a trip to Uluru, but it also has a minimum age of 10. Usually there's a good alternative hotel nearby, but sometimes the best hotel and one central to a travel experience simply doesn't accept kids, and there's nothing you can do but wait a few years to go there.
I do appreciate when hotels have an age requirement, but they lower the minimum age during specific periods so that families can visit. Jicaro Island Lodge in Nicaragua does this. Typically no children under 12 are allowed, but between March 15 and April 15 (spring break) and July 1 to August 20, they allow 8-11 year olds.
My most frustrating age-related hotel experience was at the Sandals Halcyon Beach in St. Lucia. I was invited to a friend's wedding and she asked me to take photos at the ceremony. Great, I thought, I'll bring my 5-year-old daughter – she loves weddings. My call with Sandals went like this:
"Can I bring my daughter to a wedding there?"
"Yes, but you can't stay here since it's a couples-only resort."
"OK, no problem, we'll stay elsewhere and come in with a day pass."
"That's fine, but you can't bring a camera in on a day pass."
"Really?"
"Yes, no cameras are allowed if you're not staying at a Sandals resort."
"OK, are there any Sandals Resorts for kids where we can stay and then come in for the wedding at Halcyon with a camera?"
"Yes, you could do that if you were staying at a Beaches Resort."
"Great, book me there."
"I'm sorry, we have no Beaches Resorts on St. Lucia."
So basically, there was no way to go to a wedding at Sandals with a child and a camera. In making this an impossible place to bring my daughter and camera for a one-hour wedding, they also damaged the entire hotel brand as far as I was concerned. Is it fine to have their own policies? Sure. But will I ever consider staying at a Sandals or Beaches resort in the future? Nope.
So what age do I recommend for different areas? Based on my experience taking the kids to more than 60 countries and all seven continents, here are my thoughts:
The Best Age for Europe, North America and Australia – all ages
Overall, as a California-based family, we've felt the most comfortable in Europe, Mexico and Canada with very young kids. Some countries are more child-friendly than others – it's not easy to find a public restroom in Paris when your child desperately needs one, or a dad-friendly diaper changing station in the Netherlands. But I wouldn't hesitate to take children of any age anywhere in Europe or North America. Transportation works well, the food options are extensive and very child-friendly, and people everywhere there seem to enjoy kids. We've found great playgrounds in virtually every European town we've been in, from Heraklion, Crete to Oslo to Paris to Salzburg, Austria to Cortona, Italy. Not all cities are stroller-friendly – think cobblestones and narrow sidewalks – but that just means you need to walk a little slower, which is the best way to see European cities anyway. For very young children, slings and Baby Bjorns work great.
I was also very impressed with Australia. I took my daughter to Sydney when she had just turned four. We had a great time. She particularly enjoyed seeing/touching the Opera House, holding a koala, and petting wallabies and kangaroos. She was offered free "babyccinos" at every coffee place we stopped at – basically just foam or steamed milk with chocolate shavings. And even though we were supposed to purchase tickets for her most places (kids 3 and under are free on public transportation), I was highly encouraged by every ticket seller to say that she was three, even when I was trying to be honest.
And the North American National Parks are similarly kid-friendly for any ages. Of course if you want to hike your kids should be a little older, or you need to be willing to carry them. But if you've always wanted to road trip around the US or Canada and explore the parks, go ahead and take the kids.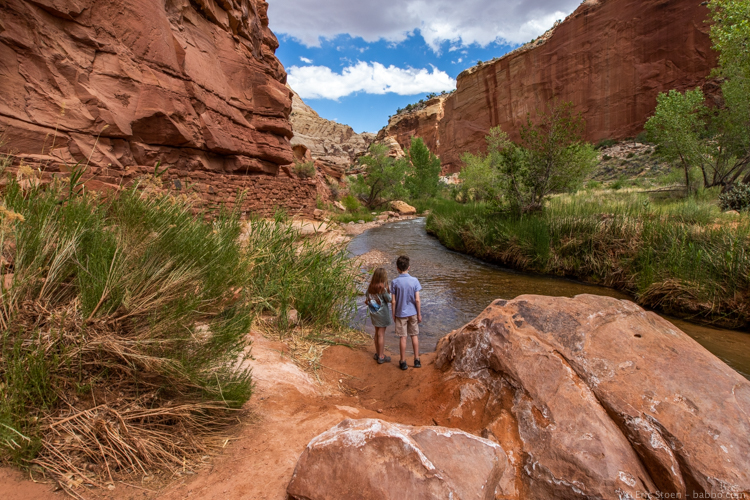 The Best Age for South America – six
I took my son to Santiago, Chile, Easter Island, and Iguazu Falls, Argentina when he was six. It was a GREAT trip. We had fun walking everywhere, seeing the sights and learning about the history. Easter Island was amazing because of its remoteness and of course for the Moai. Iguazu Falls was pure adventure. I don't think that it would have been as good a trip if he had been younger – he just wouldn't have appreciated it as much. And 40 hours on airplanes in 12 days is a lot for anyone, but especially for younger kids.
For more active trips to South America, eight is a good age. Our daughter at 7 complained a little on long hikes in Patagonia and the Atacama Desert, but at 8 she was great hiking around the Galapagos. And I traveled down the Rio Negro in Brazil's Amazon Rainforest with an 8-year-old and it was my favorite kid trip ever.
The Best Age for Antarctica – eight to ten
Some places are surprises. When I called National Geographic about the minimum age for their trips to Antarctica, I was told that there's no minimum age but that they've found that at eight or so kids are really able to entertain themselves on the ship and appreciate the experience. After going there with my daughter, I agree completely. It's extraordinarily kid-friendly and a perfect place to take an eight-year-old (my post is here). I wouldn't have wanted to have much younger kids since they would have been a little bored on the ship and their legs would have gotten tired on the multi-hour Antarctic hikes.
Our second trip we went with Adventures By Disney, with a minimum age of ten. Every kid is different so I can't really argue that, but overall 8-10 seems reasonable.
The Best Age for Asia – six
Hong Kong was another interesting destination. I took my daughter when she was five and studying Mandarin in school. It was fun to see the city through a child's eyes, and we did all sorts of things that I hadn't done in six trips there before – HK Disneyland, Ocean Park and Lantau Island – in addition to the standard things like Victoria Peak, the Star Ferry, the temples and the markets. It was a great trip, but I think my daughter was a little young to really appreciate the culture and the food. As with my son in South America, six would have been a better age to introduce her to Asia. I verified this when I took my son, at 8, to Hong Kong, Thailand, the Philippines and Taiwan, and my daughter, at 9, to Bali. Those trips were just a little more enjoyable. And my youngest daughter, at 7 and 8, LOVED Tokyo and Kyoto.
The Best Age for Oceania – six
All of our kids loved Bora Bora, but our six and eight year olds got a lot more out of it than our four-year-old. Our youngest was too small to enjoy the water sports, and the long walk back to our overwater bungalow from the beach and pool was tiring for her. The Four Seasons Resort Bora Bora was very kid-friendly, but if we were to advise other families we would tell them to wait until their kids are at least six.
The Best Age for Africa – six
Africa is similar to developing Asia when it comes to ideal ages. I have friends who have taken their kids on safari every year since birth and had no issues. But based on my experience of taking my kids at 6, 8 and 10 to Tanzania and Kenya, I would say six is a good age. My daughter had a great time seeing all of the animals, and she was even fine on 10-hour game drives. That would have been a lot of time in the Land Cruiser for younger kids. My safari post is here.
The Best Age for Disney Cruises – three
Cruises are an experience not necessarily tied to any destination. We've done three Disney Mediterranean cruises – when our kids were 1, 3 and 5, when they were 4, 6 and 8, and again at 6, 8 and 10. My general guidance is that the Disney cruises are best for kids over two based on our experience, and three based on the comments below (Disney has apparently changed its kids club ages since our first sailing). If you're taking older kids on a cruise and as a result a very young sibling is coming along, you can make that work – there are nurseries and activities for even the youngest of travelers. And if a cruise is appealing because of the destinations and you're planning on leaving your baby in the nursery while you go onshore, go for it. But I wouldn't take a very young child and think that he/she is going to get much out of the experience. My review of our Disney cruises is here.
The Best Age for Activities
All children are different, so you're the best judge as to whether your kids are ready for more active holidays. These are the ages that our kids seemed comfortable with various activities:
Bicycling: 8
Hiking (long hikes): 7
Hot Air Ballooning: 7
Kayaking (solo): 7
Mini-Segways: 6
Paragliding: 10
Parasailing: 6
Camel rides (solo): 12
The Best Age for Travel: Summary
All travel is good, and the benefits are cumulative. Difficult 10-hour flights at one year old lead to extraordinarily easy 15-hour flights at five years old. But there are better, and easier, places to go than others. A lot of the world can be seen from birth, with some places better saved until kids are six and others until they are eight. But that's just been our experience. What great, or awful, trips have you had with your kids when they were younger? What are your recommendations on the places I mentioned or others?
And as a follow-up to this post, I created a list of the destinations I would recommend at every age, from birth through 16. If you want suggestions for traveling at specific ages, my post is here. And if you want suggestions of places to travel based on month instead of on age, I created this post.
Travel and Health Insurance
If you're traveling with your kids, seriously think about getting insurance. We didn't think a lot about insurance until we had an incident (at a destination not far from home) and it was a very expensive lesson. I searched around and found an annual policy through G1G that covers us for medical problems when we're traveling, but also for travel delays and cancelations – even those related to Covid. There are other companies too. Search around, and make sure you're covered!
Pin This